Scorned Ex Takes Revenge on Range Rover…or Does She?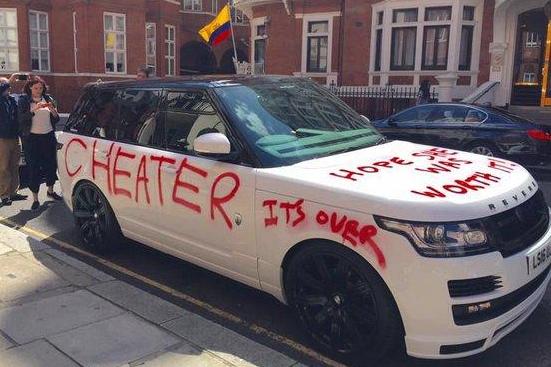 VOTE NOW! Is this Funny or Offensive?
Posted in:
Ex Takes Revenge on Range Rover
May 18, 2016 – If you're Beyonce and someone cheats on you, you release Lemonade. Other women have to just spray paint their ex-lover's Range Rover.
A woman was supposedly seen defacing the luxury car outside of Harrod's in London. The car sat on the street corner being photographed once the words "CHEATER," "HOPE SHE WAS WORTH IT," and "IT'S OVER" were plastered all over. Photos of the car started popping up online showing the scorned lover's revenge.
Quite the picture this one paints. https://t.co/rre9mZzStz

— George Takei (@GeorgeTakei) May 16, 2016
Twitter user @kloidaaa initially posted the incident with the caption "Crazy woman outside of Harrods," but it can no longer be found on her page.
The white Range Rover Revere reportedly has a starting price of over $100,000, which made comments about the incident even more prevalent. BBC News, however, is reporting that this all may just be a hoax.
"It could be a publicity stunt with no spurned lover at all," they wrote on their site. "A TV network has been attributed to the incident, to promote a comedy drama series about adultery and divorce."
A similar stunt was done a couple years ago by a company called Omelete to promote Bravo's first season of Girlfriends' Guide to Divorce.
If it's a publicity stunt, it's gotten attention. If it's real, we hope she at least tagged the right car. What's the FOO vote? Funny or Offensive? VOTE and COMMENT below…
UPDATE: Much to our disappointment,  "a luxury auto design and enhancement workshop confirmed it had painted the car in an advertising stunt for the new Revere Range Rover Vogue."