Blake Livelys Matter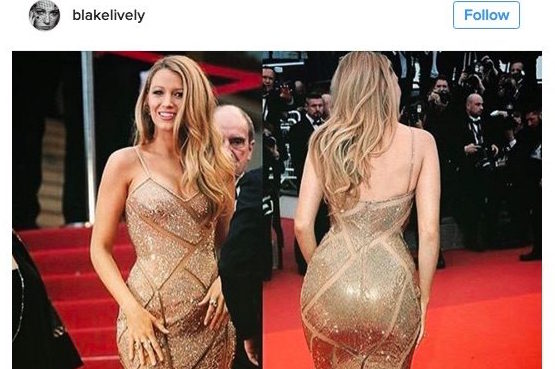 VOTE NOW! Is this Funny or Offensive?
Posted in:
Blake Lively's 'LA Face With an Oakland Booty' Post Causes Blacklash
May 18, 2016 – Human Laura Ashley dress,
Blake Lively
, caused a stir on social media after
posting this
 photo with the caption: "LA face with an Oakland booty" to her Instagram account. Lively's reference to the popular 90's track by Seattle's second most famous rapper, Sir Mix-a-Lot, is being called "racist" by some. Critics see the blonde actress' comment as
reinforcing specific stereotypes about black women's sexuality and desirability
. Arguing that the classic song's problematic lyrics traffic in tired notions of the superiority of women with conventionally European facial features but a presumably African American body type.
"Unbelievably problematic," one Instagram user wrote of Lively's remark, "using women of color's bodies as a joke. I guess you just want people to know you're racist and you don't give a s–t."
"No ma'am! Take the booty pads off. Look white gurls you already the standard of beauty let us black chicks have something," another fired back.
 Predictably, some Lively fans found the photo nothing worth getting upset over. One grammer offered: "
Lol 2016 where people get offended by anything and everything, suck it up." While another defended the actress stating: "blake [sic] you are perfection, keep it up."
The trigger-warning friendly photo was taken on the red carpet at this year's Cannes Film Festival and, as of this writing, neither Lively nor her reps have responded to the online criticism.
The photo caption is only the most recent racially-charged controversy for the former Gossip Girl star. The 28 year-old actress was roundly condemned for having her 2012 wedding on the grounds of a South Carolina
slave camp
called Boone Hall Plantation and for using her lifestyle brand to celebrate beauty and grace of women "
during the Antebellum period
" meaning before the Civil War meaning the wives and daughters of slave owners.
Whether the Blake Lively Oakland Booty caption is harmless humor or using black women's bodies as a punchline is for you to decide. Funny or Offensive? VOTE and COMMENT below…