Facebook, Apple, YouTube Remove Alex Jones' Info Wars Content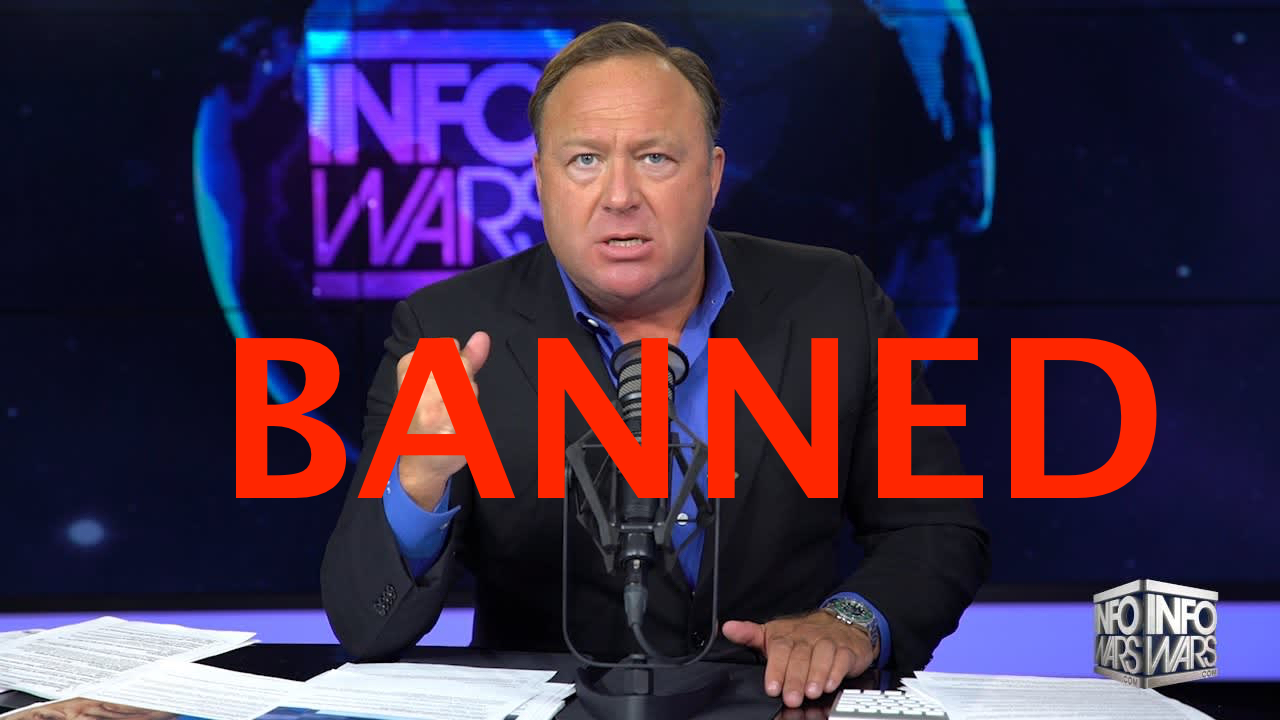 VOTE NOW! Is this Funny or Offensive?
Posted in:
Info Roars
August 6th, 2018 – Facebook, Apple, and YouTube have all taken steps to combat harassment and hate speech by banning Alex Jones' videos and podcasts from their social media platforms.
The decision to remove problematic content has been gaining support over recent months. Facebook, which has long struggled with combating fake news, took a small step last week by removing four videos after determining they violated hate speech and bullying policies. On Monday, the Zuckerberg-led site announced that they had unpublished the Alex Jones Channel page, the Alex Jones page, the InfoWars page and the Infowars Nightly News page.
Facebook said that users continued to report content from Jones' pages, and that as a result of "accumulating too many strikes" they finally took a stand.
"Upon review, we have taken it down for glorifying violence … and using dehumanizing language to describe people who are transgender, Muslims and immigrants, which violates our hate speech policies," the company said in a statement.
Buzzfeed News reported on Sunday that Apple had taken down five Info Wars-related podcasts from iTunes and its podcast app.
"Apple does not tolerate hate speech, and we have clear guidelines that creators and developers must follow to ensure we provide a safe environment for all of our users," the company said in a statement to The Washington Post. "Podcasts that violate these guidelines are removed from our directory making them no longer searchable or available for download or streaming. We believe in representing a wide range of views, so long as people are respectful to those with differing opinions."
YouTube, which is owned by Google, put a major dint in the conspiracy theory world by pulling the plug on several Info Wars channels. Jones had created a massive following on the platform – boasting numbers around 2.4 million subscribers with videos being viewed over 1.5 billion times.
The crackdown puts Jones, who passionately argues that the Sandy Hook shooting was a hoax and that 9/11 was an inside job carried out by our own government, in a familiar position. The host is again walking the line between claiming that those in power are trying to shut down his ability to disseminate the truth and saying that he is playing a character. Just a year ago, Jones and his lawyers were arguing that he is simply a performance artist as they battled a child custody case.
Several other tech companies weren't buying the performance artist defense and followed in the footsteps of the newsmakers from today. Stitcher and Spotify removed podcasts associated with Info Wars following documented accusations of harassment and violations of their Terms of Service.
Jones has held on tight to his Twitter account, which as of this posting, has not been suspended. He has urged followers to make their way to the Info Wars website, which he describes as the "one platform that they CAN'T ban and will ALWAYS have our live streams."
Jones believes his loss of exposure is the result of, yes you guessed it, collusion. He claims that Apple, Google, the Chinese government, the mainstream news, the Democratic Party and establishment Republicans have all worked together to bring him down.
"We've seen a giant yellow journalism campaign with thousands and thousands of articles for weeks, for months misrepresenting what I've said and done to set the precedent to de-platform me before Big Tech and the Democratic Party as well as some Republican establishment types move against the First Amendment in this country as we know it," he told The Washington Post over text messages. 
In a video posted to his website today, Jones goes into further detail saying:
"Apple and Google are now officially merged with China. They've announced that anyone criticizing the communist Chinese will be banned. They've announced that they will comply…Apple specifically…with Chinese government rules and say in Reuters that the Chinese government now runs Apple worldwide…the code keys to all Apple devices and US government military facilities, everything is comprised, office of personnel management, everything transferred, Panama Canal, all deep water ports, 98% of rare earth minerals, over 300,000 anchor baby women a year coming in having babies form China, having it all paid for, most of them wives of members of Chinese intelligence, all 50 US public universities are basically run by the Chi-comms, that's even mainstream news…we are wide open." 
BREAKING: YouTube Terminates The Alex Jones Channel pic.twitter.com/urRih3SSUa

— Alex Jones (@RealAlexJones) August 6, 2018
Do you think these online platforms made the right decision? Where do you draw the line between free speech and hate speech?