Family Places Dead Teen's Body With PlayStation and Doritos For Funeral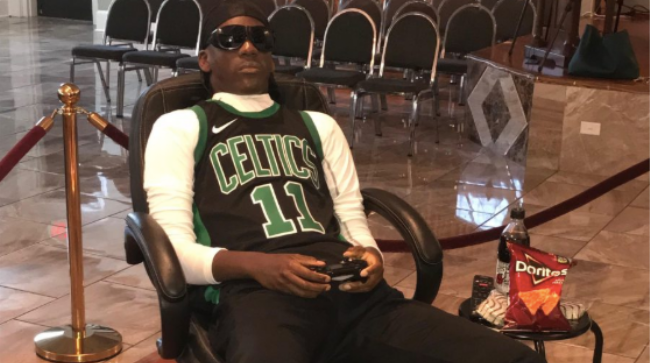 VOTE NOW! Is this Funny or Offensive?
Posted in:
July 12th, 2018 – A family in New Orleans tragically lost their teenaged son to gun violence and decided to remember him in a non-traditional way during his funeral. Renard Matthews, who was just 18-years-old when he was shot while walking the family dog two weeks ago, was embalmed and his body was set in a computer chair so family and friends could see him as he had lived.
An avid gamer, Matthews was posed with a PS4 controller in hand. To the side were his favorite snacks: root beer and Nacho Cheese Doritos. Instead of a suit, the basketball fan wore a Boston Celtics jersey, Kyrie Irving socks, and Nike sandals.
NOLA family chooses unique but loving way to say goodbye to son https://t.co/bE0KzGbcAX pic.twitter.com/ZWEtvGLIup

— WGNO (@WGNOtv) July 8, 2018
The Charbonnet Labat Glapion Funeral Home arranged the wake and even set up a television in front of Matthews' body to play a Celtics video game. His mother, Temeka, said Matthews was "a bit of a homebody" and had just recently begun spending more time outside walking their new dog.
Local news station WGNO shared a video of the setup that the funeral home helped the family arrange. Since they wanted to highlight his everyday life, he was placed in a living room filled with an end table, a lamp, an entertainment center, and even some Chocolate Chip Crunch cereal.
The New Orleans funeral home has performed several non-traditional wakes in recent years, calling them "extreme embalmings." Media outlets have reported on wakes that honored the deceased by posing them with beer and a cigarette, as well as one with a taxi driver placed inside his cab with his hands on the steering wheel.
"When I walked in, I feel like I was in her house and I didn't hurt so much," Sherline Burbank said of her sister's bar-themed memorial in 2014. "Because it's more of her, and it's like she's not dead. It's not like a funeral home. It's like she's just in the room with us."
Matthews was laid to rest on Tuesday, and police have still not released additional information about his murder.
Do you think "extreme embalmings" are a helpful way to remember the real person or would you go the more traditional route? Funny or Offensive? Vote and comment now…