NFL Coach Jon Gruden Out Of A Job After Homophobic, Racist and Misogynistic Emails Surface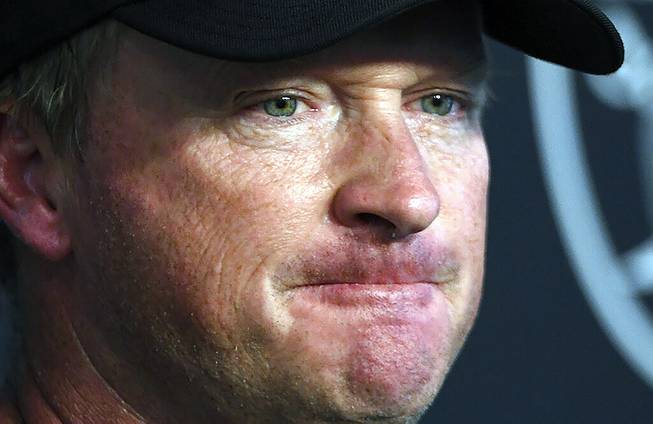 VOTE NOW! Is this Funny or Offensive?
Posted in:
Chucky Out
October 12th, 2021 – Jon Gruden, coach of the NFL's Las Vegas Raiders, has resigned following the release of multiple emails described as homophobic, racist and misogynistic. In a statement released by the team, Gruden said:
"I love the Raiders and do not want to be a distraction. Thank you to all the players, coaches, staff, and fans of Raider Nation. I'm sorry, I never meant to hurt anyone."
Already under investigation by the NFL for a 2011 email in which he used a racial trope to criticize NFL Players Association executive director DeMaurice Smith, Gruden allegedly called NFL Commissioner Roger Goodell a "p*ssy" and a "f*ggot."  According to The New York Times, however, Gruden's questionable conduct extended far beyond those comments, and that the 58-year-old "casually and frequently unleashed misogynistic and homophobic language" to denigrate NFL peers from 2010 all the way to 2018.
Gruden was previously employed by ESPN as lead analyst for Monday Night Football at the time some of the emails were sent.
"The comments are clearly repugnant under any circumstance," ESPN said in a statement.
Gruden initially apologized for the racist emails saying:
"All I can say is that I'm not a racist. I can't tell you how sick I am. I apologize again to De Smith, but I feel good about who I am and what I've done my entire life. I apologize for the insensitive remarks. I had no racial intentions with those remarks at all. But… yes, they can… I'm not like that at all. I apologize but I don't want to keep addressing it."
As the additional emails surfaced, however, it quickly became clear that the situation would be untenable and Gruden's resignation quickly followed.