Hackers Hijack ISIS Twitter Accounts With LGBT Pride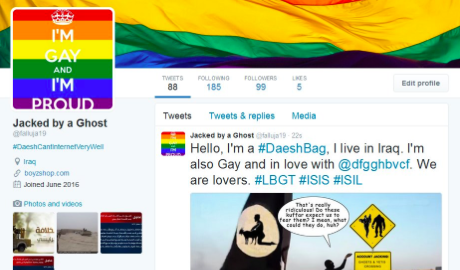 VOTE NOW! Is this Funny or Offensive?
Posted in:
Out, Proud and…Anonymous
June 17, 2016 – WauchulaGhost is making Twitter colorful.
The Twitter account is affiliated with the online hacktivist collective Anonymous and has hijacked pro-Isis Twitter accounts over the past week in defense of victims in the Orlando shooting. The jihadist content and images that once filled the accounts got replaced with LGBT support messages, gay pornography and plenty of ROY G. BIV.
WauchulaGhost holds true to what you would expect from Anonymous and reveals no personal information or geographical whereabouts. Newsweek reported an exchange with him, though, where he explained his motivation for flooding the accounts with LBGT pride.
"I did it for the lives lost in Orlando," the hacker tells Newsweek. "Daesh [ISIS] have been spreading and praising the attack, so I thought I would defend those that were lost. The taking of innocent lives will not be tolerated."
The Washington Post also spoke with "Ghost" over the phone to talk about the over 200 Isis support accounts he's hacked over the past couple months. "Daesh doesn't like porn," he told them in an interview, referring to the Islamic State in its Arabic transliteration. "They don't like women in general. We just started using it to poke fun at them and diminish their presence online."
Once the Pulse nightclub mass shooting happened, Ghost decided to turn the focus towards something else Daesh doesn't like. He overtook handles and put up images of hands forming the shape of a heart with the message "Let's make Love, Not War." In another, he displayed a declaration of love saying "Hello, I'm a #DaeshBag, I live in Iraq. I'm also Gay and in love with @dfgghbvcf. We are lovers. #LGBT #ISIS #ISIL."
Between the middle of 2015 and February of this year, Twitter cites that they have shut down 125,000 accounts that support the Islamic State militant group. WauchulaGhost says that he will continue to do what he considers vigilante crime work outside the confines of the law. "I think we're there to serve a purpose, at least I know I am," he again told The Washington Post. "My goal waking up in the morning is to see messages from Daesh, telling me they're going to kill me or cut my head off. The madder they get, the happier I get."