Stephen Colbert Draws Swastika When Talking Trump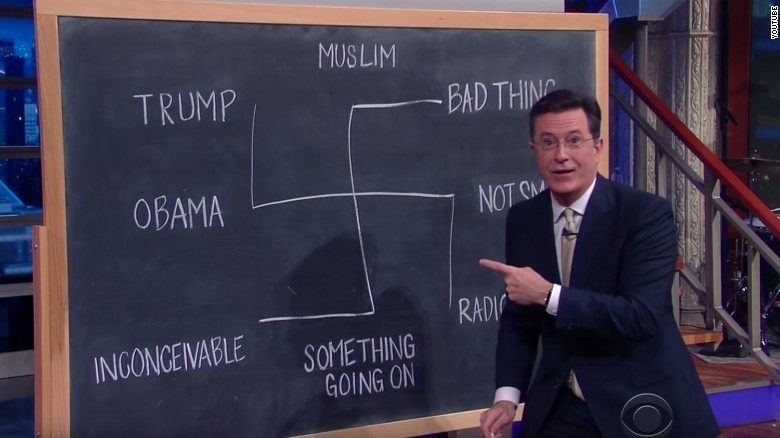 VOTE NOW! Is this Funny or Offensive?
Posted in:
We Did Nazi That Coming
June 17, 2016 – Stephen Colbert dug into Donald Trump and his reaction to the Orlando shooting on Tuesday's episode of The Late Show with Stephen Colbert. After noting the Presidential nominee's tweets, speeches and interviews about the attacks and President Obama's weak leadership, the late night host likened him to a Nazi and called him an a**hole.
Colbert played clips of Trump's interview with Fox News in which news outlets (including the now Trump-press-credential-blocked The Washington Post) claimed he insinuated Obama is a Muslim sympathizer or "something else is going on."
"Is he…is he saying what I think he's saying? And what do I think he's saying?
"Yes…inconceivable. Especially to Brian Kilmeade," Colbert said of Trump's response on Fox News. "Is he…is he saying what I think he's saying? And what do I think he's saying? Someone please get the camera off of me," he continued as he voiced what he imagined was going through Kilmeade's head.
He then played a clip from the Howie Carr Show and said "Trump clarified his vague statement by making an even vaguer one."
"He's just going to give you clues like The $100,000 Pyramid. Your clues are 'Obama' and 'something's going on," Colbert continued. "Umm, uhh, what my racist aunt would say at a picnic!"
Colbert decided he would help explain what Trump meant, so he had his team wheel out a chalkboard with the words "Muslim," "Bad Thing," "Not Smart," "Radical Islam," "Something Going On," "Inconceivable," "Obama" and "Trump" spread out. He began to workshop the words into a sentence while the chalk followed the words and formed a swastika. He erased that and took another stab at it by forming a circle around all the connecting lines and saying "I don't know what it is. But I hope Trump explains it soon, because until he does that kind of looks like he's an a**hole."
Plenty of people weren't too happy and took to Twitter to unleash on Colbert and his show, while some supporters found the bit to be funny.
What do you think of Colbert's segment? Was his diagram analysis conclusion of Trump Funny or Offensive? Vote and comment below!