Harvard Rescinds Offer To Parkland Survivor After Racist Comments Resurface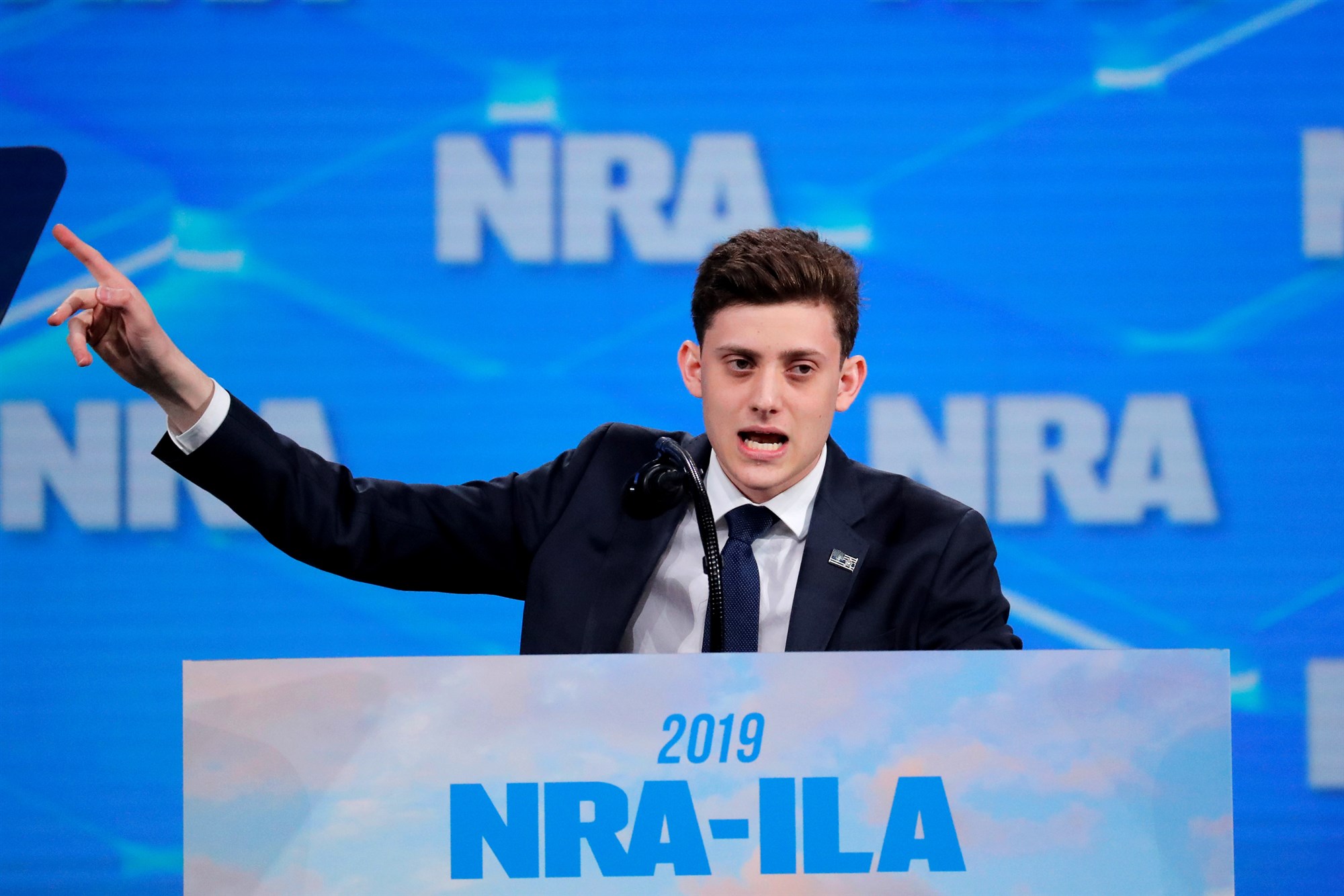 VOTE NOW! Is this Funny or Offensive?
Posted in:
Hard Pass Harvard
June 18th, 2019 – A Parkland shooting survivor announced Monday that Harvard had rescinded their admission offer after racist comments the teenager made years before resurfaced. Kyle Kashuv, 18, had acknowledged and apologized for the vile remarks in May when screenshots of text messages and Google doc study sheets showed him repeatedly using the n-word.
Kashuv was planning on taking a gap year before heading to the Ivy League school in the fall of 2020. He's now "exploring all options" following a letter from Harvard explaining their decision.
"As you know, the Committee takes seriously the qualities of maturity and moral character," the Harvard Admissions Committee wrote in a June 3rd email to Kashuv that he then posted to Twitter. "After careful consideration the Committee voted to rescind your admission to Harvard College. We are sorry about the circumstances that have led us to withdraw your admission, and we wish you success in your future academic endeavors and beyond."
In a thirteen tweet thread, the Marjory Stoneman Douglas graduate laid out the timeline of events including emails from Harvard about the offensive statements becoming public. On May 24th, the Admissions Committee emailed Kashuv of their attention to the matter and reminded him that they reserve the right to withdraw their offer.
"Harvard reserves the right to withdraw an offer of admission under various conditions, including 'if you engage or have engaged in behavior that brings into question your honest, maturity, or moral character,'" the Committee wrote while requesting an explanation regarding the now public documents.
HuffPost originally shared the Google doc study guide and text messages where Kashuv and fellow classmates used racial slurs and anti-semitic language. The comments were made in late 2017 and early 2018 — months before the tragic shooting that left 17 people dead at Kashuv's high school.
While Kashuv never explicitly called out Harvard for making the decision for political or PC reasons, he did accuse former peers and the media of choosing to attack him for opposing viewpoints. Following the deadly shooting at Marjory Stoneman, Kashuv gained notoriety for his conservative politics and support for gun rights while his fellow students helped propel the gun control movement to the national stage.
Kashuv, who briefly served as high school outreach director for the embattled conservative organization Turning Point USA, apologized for the comments calling them "egregious and callous." He shared his full apology with Harvard as well as an email to the Office of Diversity and Inclusion where he sought "guidance on how to right this wrong and work with them once [he] was on campus."
5/ I responded to the letter with a full explanation, apology, and requested documents. pic.twitter.com/yWd6FeKWOJ

— Kyle Kashuv (@KyleKashuv) June 17, 2019
6/ I also sent an email to the Office of Diversity and Inclusion to seek guidance on how to right this wrong and work with them once I was on campus. pic.twitter.com/3M1UEXXeQm

— Kyle Kashuv (@KyleKashuv) June 17, 2019
Rescinding an admissions offer, or losing a professional gig, for past inflammatory, offensive comments is nothing new. In 2017, Harvard rescinded 10 offers to potential students after they shared offensive memes in a Facebook group.
Ppl are so up in arms about Harvard rescinding 1 kid's acceptance after discovering he made racist comments online. They've done it before. It's not some new thing and he should be held to the same standard as the kids before him. Here's my story from 2017 https://t.co/GtFUzXd1Aa

— Taylor Lorenz (@TaylorLorenz) June 17, 2019
Using the N word and other slurs hasn't been acceptable for years. Harvard itself made this very publicly clear *years* ago, repeatedly. Don't whine about it now, teach kids not to be racist. https://t.co/GtFUzXd1Aa

— Taylor Lorenz (@TaylorLorenz) June 17, 2019
Aside from precedent, many people reminded Kashuv that basing admission on choices you made as a 16-year-old is literally how getting into college works.
i am shocked and disappointed to find out that Harvard rejected me based on my SATs, which i took when i was just 17 years old

— Law Boy, Esq. (@The_Law_Boy) June 17, 2019
Yikes, Harvard revoked that Parkland student's acceptance because of deeply racist language he used and he's saying, "They're judging me for something I did when I was sixteen!"

That's literally how university admissions work. They judge you by what you do when you're sixteen.

— Jennifer de Guzman Strikes Again (@Jennifer_deG) June 17, 2019
U.C. Berkeley wouldn't have reconsidered my application if I had apologized deeply for failing trigonometry and promised to do better if they admitted me.

(Hahaha, as if I applied to Berkeley.)

— Jennifer de Guzman Strikes Again (@Jennifer_deG) June 17, 2019
Kashuv, however, continues to characterize the decision as Harvard not allowing him to grow as a person. He went on to call out the school for once including slave owners, segregationists, bigots and antisemites in their faculty. If they can grow as an institution, why can't he as an attending student, he wondered.
12/ I believe that institutions and people can grow. I've said that repeatedly.

In the end, this isn't about me, it's about whether we live in a society in which forgiveness is possible or mistakes brand you as irredeemable, as Harvard has decided for me.

— Kyle Kashuv (@KyleKashuv) June 17, 2019
Charlie Kirk, founder of Turning Point USA, echoed that thinking in a tweet of support for Kushav. "What @KyleKashuv said when he was 16 is indefensible, but so [is] wrecking a kid's life because of something he said when he was a child. The left will destroy anyone's life who disagrees with them. This is sick," he tweeted.
The debate between free speech PC politics and a private university's decision to uphold standards continued following the explosive news.
If I had a child going to @Harvard, I'd want her or him to have as few classmates as possible with a history of saying "nigger" repeatedly. This wasn't about free speech. It's mainly about public safety. The decision shouldn't be remotely controversial. https://t.co/NODyIRVoo1

— Jamil Smith (@JamilSmith) June 18, 2019
A lot of white people still don't get it. This isn't a gaff. You're not only embarrassing yourself. You don't owe me, harvard, or twitter an apology. You recorded yourself calling your classmates "n—rjocks." This isn't about PC. This is about abuse. Harvard is right to rescind. https://t.co/DvQuJ6rZbE

— Aymann Ismail (@aymanndotcom) June 17, 2019
Reasonable people can disagree on what Harvard should've done with Kashuv. I'm unsure myself. But the test of forgiveness in society isn't Kashuv. It's how the state treats those who need help, make mistakes, and don't have a national platform and political allies.

— Ezra Klein (@ezraklein) June 18, 2019
Harvard didn't say you couldn't grow. Harvard said you can't come to school there. https://t.co/qjj2deCxHd

— Meryl Sleep (@OffHandComments) June 17, 2019
Do you think Harvard made the right decision in rescinding admission to Kyle Kushav? Have they been consistent in their process?
C