Internet Rails Against Steve Irwin "My Plans/2020" Joke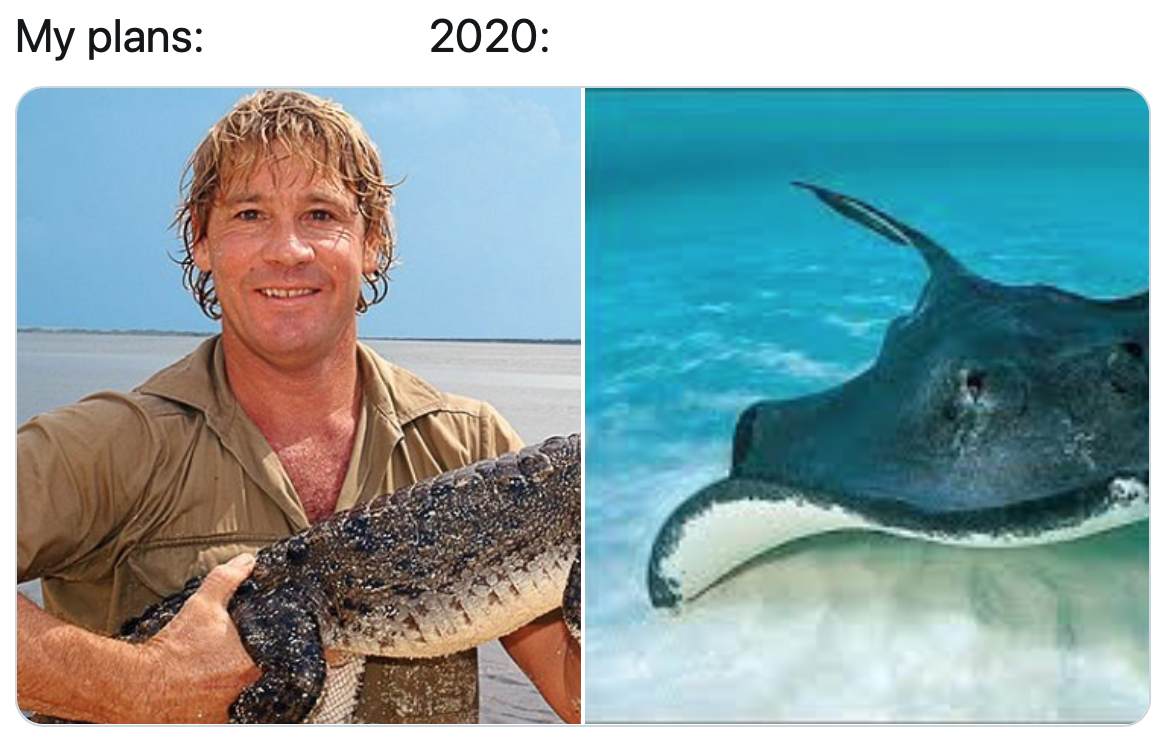 VOTE NOW! Is this Funny or Offensive?
Posted in:
Don't @ Steve Irwin
May 22nd, 2020 – COVID-19 has thrown our 2020 plans for a loop; putting it ever so mildly. Was your family planning a big European vacation? Did you have the perfect wedding hashtag locked and loaded? Unfortunately, those events aren't going to happen the way we imagined. So what's a society that's stuck inside losing its mind to do? Play along with a Twitter meme, of course.
Like most online challenges, it's unclear where the "My Plans/2020" bit began, but it's easy to follow along and participate. All you have to do is take an image from pop culture, slap "My Plans" on it, and then find a corresponding image for the "2020" caption to crush that dream.
Just don't use Steve Irwin as an example. Twitter doesn't seem to like that (except for users who literally clicked "like"). Aside from them, there was a large crowd with a much different perspective.
Twitter user @Thunder_Waithe, whose display name is The Idea of Evil, posted a picture of the late wildlife expert alongside a photo of a stingray. Irwin passed away in 2006 from a stingray piercing while filming the documentary series Ocean's Deadliest.
My plans: 2020: pic.twitter.com/E22s3rsNTs

— The Idea of Evil 🇻🇨 (@Thunder_Waithe) May 20, 2020
While some disapproving responses had an air of playfulness baked in, the sentiment was still that a Steve Irwin death joke isn't funny. And, according to one person, South Park has the calculation on when a joke about his death won't be "too soon."
Him and Kobe because I already know a sick mf is going to do it

— A. (@OriamxY) May 21, 2020
Yeah.. we joke about a lot here.. but not this pic.twitter.com/rrj7MMjrvC

— Rhon (@rhonz876) May 21, 2020
Steve Irwin is off limits pic.twitter.com/rCMXUJm3eK

— JuJu 🇩🇴🇵🇷 (@showmeurtwitts2) May 21, 2020
Delete this now. pic.twitter.com/D2rimvDV6Q

— 🐐™ (@TheFergusonCode) May 21, 2020
According to South Park, it takes 22.3 years before a tragedy is funny. 8 more years.

— Andrew James Vincent (@AJinPismoBeach) May 21, 2020
The 2020 plans meme has been steadily trending on Twitter for the past few days. Nancy Kerrigan, Jamie Lynn Spears, and a meta-Joseph Gordon-Levitt, among others, all gained traction but didn't spark quite the backlash.
My plans 2020 pic.twitter.com/Ti8u96xLlT

— ashley ray (@theashleyray) May 18, 2020
My plans: 2020: pic.twitter.com/t1mlgULg2Z

— brittany packnett cunningham does not do remixes. (@MsPackyetti) May 21, 2020
my plans: 2020: pic.twitter.com/G1XKURAhE7

— Courtney O'Donnell (@thisiscourtnay) May 19, 2020
My plans 2020 pic.twitter.com/bIRwbNIS9g

— Joseph Gordon-Levitt (@hitRECordJoe) May 20, 2020
My plans 2020 pic.twitter.com/oKENZsXB90

— Toby Herman (@tobyherman27) May 20, 2020
My plans 2020 pic.twitter.com/tA9uzoFczX

— nathan (@868nathan) May 20, 2020
While the Steve Irwin meme shocked a lot of people, jokes making light of a public figure's death are strangely nothing new. In fact, Irwin was used in a Twitter joke-spat by the Miami Marlins just last year. After losing to the Tampa Bay Rays, the team's social media team tweeted, and then deleted, an odd jab.
"yOU'RE LITERALLY THE ANIMAL THAT KILLED STEVE IRWIN LOG OFF,"
The Steve Irwin "2020 plans" joke still remains on Twitter and so does a strong squad of Crocodile Hunter fans.
May 21, 2020
TAKE THIS DOWN. THIS MAN WAS A BEAUTIFUL SPIRIT. THE DISRESPECT pic.twitter.com/MNKFSyg4jm

— IG:Theblackaries_ ♈❤Da Queen Jayy💎SHINee Month (@Sanjaywontaegi) May 21, 2020
One thing we don't play about and that's Steve

— Scam Newton (@Reesemo90) May 21, 2020
Did we finally find the line? Is a Steve Irwin death joke the ultimate "too far/too soon?" Funny or Offensive? Vote and comment now…