Jeff Sessions Rolling Papers Let You Get High With The Attorney General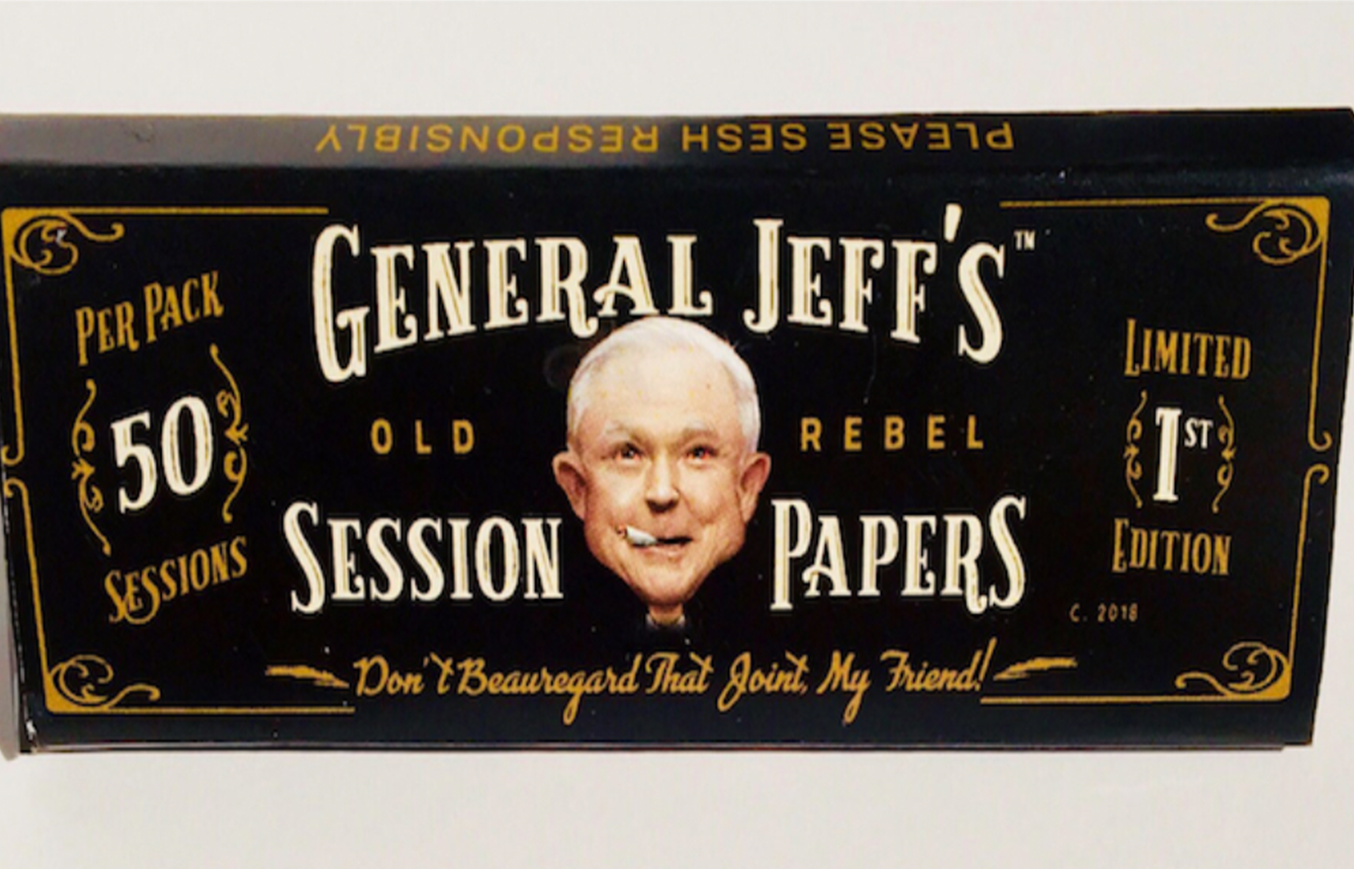 VOTE NOW! Is this Funny or Offensive?
Posted in:
"Don't Beauregard That Joint, My Friend!"
March 6th, 2018 – In the past month, Jeff Sessions has both been called Mr. Magoo and had his likeness used on marijuana rolling papers. The President of the United States dished out the former, and the latter was hashed out by a grassroots campaign aiming to legalize marijuana use across all fifty states.
The group hoping to change the Attorney General's mind on cannabis is called #JeffSesh, and they have already sold out of their initial stock of General Jeff's "Old Rebel" Session Papers. "Good, responsible, patriotic Americans" light up from time to time, according to these entrepreneurs, and those patriots have the option of purchasing the boxes in either black or white.
Whichever box you choose, you'll find our top law enforcement officer smoking a joint with slogans such as "Please sesh responsibly," "Have a #JeffSesh," and "Ideal for legal marijuana" displayed on the outside.
Sessions has a long history of being, legally speaking, anti-devil's lettuce. An analysis conducted by the Mobile Register found that his policies gave southern Alabama a federal drug conviction rate almost four times the national average. Sessions believes that "good people" don't smoke pot and has  reversed several Obama-era policies which sought to reduce the number of mandatory minimum sentences for drug offenders.
#JeffSesh has a message for the beleaguered Attorney General:
"We are not criminals, junkies or idiots.

We're good, responsible, patriotic Americans. We're voters from both parties, and no parties.

We are regular Jeffs all over the USA.

We are upstanding citizens who don't want to hide every time we want to enjoy a sesh.

And frankly, we're offended the top law enforcement officer in the nation thinks we're bad people.

#JeffSesh is the coming out party for 21st century legal cannabis users.

We bet Mister Sessions will be surprised to see what good people we are!"
General Jeff's Rolling Papers are available for $5 on #JeffSesh's website and their Etsy store, and a portion of profits from March will be donated to the Drug Policy Alliance. But if you end up rolling with one of these papers, remember that Sessions once said that marijuana is only slightly less awful than heroin. You've been warned.
Is this toke just a joke or has this group crossed the line? Funny or Offensive? Vote and comment now…