Jet Blue Bumps Burlesque Performer Over Short Shorts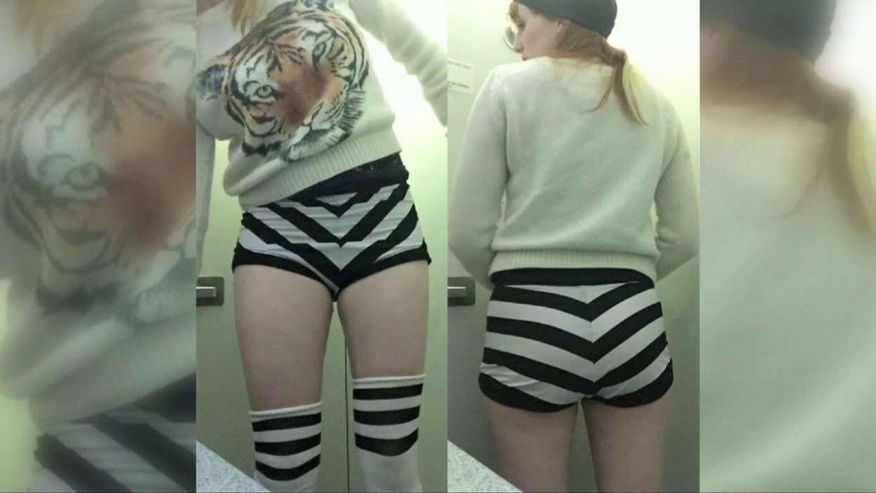 VOTE NOW! Is this Funny or Offensive?
Posted in:
Fly The Friendly Thighs

June 3, 2016 – A cross- country flight never got off the ground for one passenger after airline personnel took issue with her attire.  A burlesque performer by the name of Maggie McMuffin was prevented from boarding her Boston-Seattle flight on Jet Blue after being told the shorts she was wearing were "inappropriate."
The gate agent prevented McMuffin from taking her seat after the pilot and flight crew collectively decided that she shouldn't be allowed to board in the clothes she was wearing. McMuffin expressed surprise initially taking great exception to her treatment suggesting:
"I feel like it's just a symptom of our patriarchal society that women are sold scantily clad things and if we choose to wear them we can be punished for that." 
Ms. McMuffin had a single carry-on bag containing no other clothing but claims she offered to tie a sweater around her waist so as to conceal her provocative lady parts. The airline personnel continued to insist she change into an outfit they felt was more modest and remained steadfast in their refusal to allow her to board the flight. Despite making an earlier flight from New York to Boston on the airline without incident, McMuffin had to purchase an additional pair of shorts to wear over her existing outfit before she was allowed to complete her trip.
In a statement a Jet Blue spokesperson summarized the incident thusly:
"The gate and on board crew discussed the customer's clothing and determined that the burlesque shorts may offend other families on the flight. While the customer was not denied boarding, the crew members politely asked if she could change. The customer agreed and continued on the flight without interruption."
She was allowed to board after purchasing a longer pair of shorts from a retailer inside the terminal.
@fuckityfuckity Yes. I was told to rebook or find something else so I bought and put on these. pic.twitter.com/RgdIkjApTD

— Maggie McMuffin (@MaggieMcMuff) May 30, 2016
To the company's credit, Jet Blue reimbursed the cost of the shorts and provided a $200 travel credit for the inconvenience caused. Several commenters posted messages of support on the dancer's Twitter account. For her part McMuffin feels what happened goes beyond a simple matter of personal taste asserting:
"I would say body-shaming and slut-shaming more than outright sexism, but it is really hard to remove those two things from misogyny."
So was the burlesque booty just a part of the in-flight entertainment or should traveling families be protected from unsecured butt cheeks? Was Jet Blue Bumps Burlesque Performer Over Short Shorts Funny or Offensive? Vote and comment below….