Katy Perry Gets Speared After Mental Illness Joke At The Grammys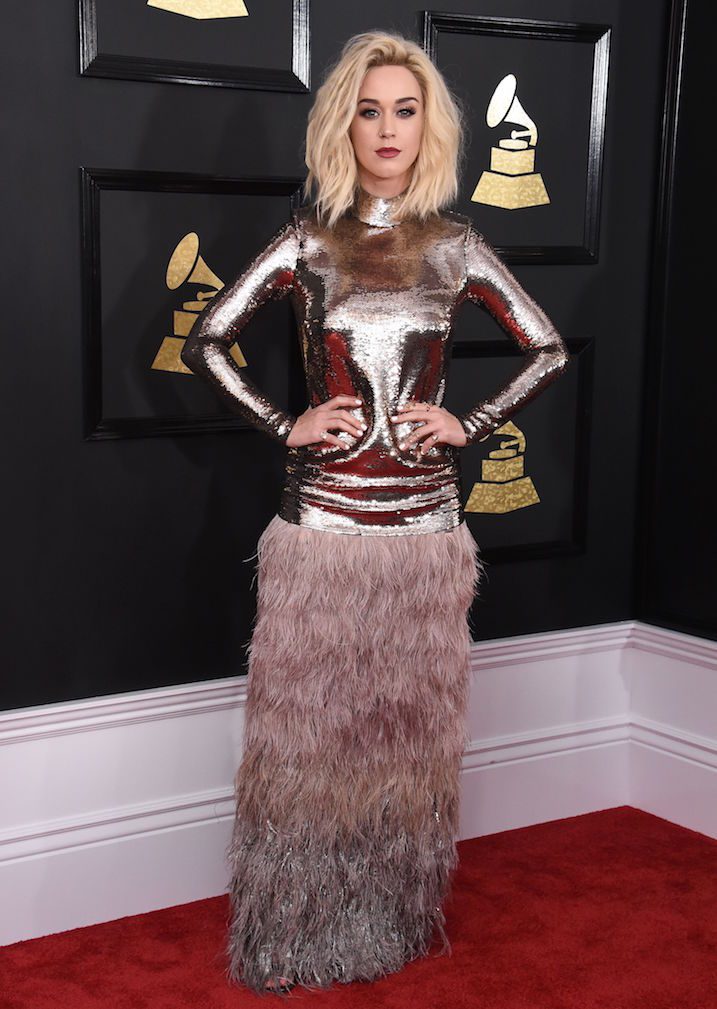 VOTE NOW! Is this Funny or Offensive?
Posted in:
Pop Goes The Activism
February 14th, 2017 – An awards show is often only as good as the drama that keeps people talking about the event days later. For the 2017 Grammys, Beyoncé losing to Adele for "Album of the Year" was the talking point that prevailed (and was actually spearheaded by the "Hello" songbird herself).
But before "music's biggest night" even kicked off, there was a story that got people talking, tweeting and debating. Katy Perry, who was in attendance to perform her new single "Chained To The Rhythm," seemed to make a joke about Britney Spears' mental health issues from 2007.
While talking to Ryan Seacrest, Perry was asked about taking time off between albums and responded with:
"That's called taking care of your mental health."
Seacrest offered up a follow-up question asking how the singer's time off had gone.
"Fantastic. And I haven't shaved my head yet," Perry replied. 
Spears notoriously made the news a decade ago during a very public explosion of her private life. She was photographed shaving her head and then hitting a paparazzi's car with an umbrella, which lead to a hospitalization and rehab stay.
While speaking with CBS, Perry again made reference to a mental breakdown when explaining her choice of hair color.
"It's like the last colour in the spectrum that I can do. I've done all of them and the only thing left to do is shave my head, which I'm really saving for a public breakdown. I'm down for that. I'm almost moments away from that, obviously."
People quickly took to Twitter to call out Perry for making light of a serious issue and also highlighted the hypocrisy of doing so while pushing a new agenda for her music. Further into her red carpet interview, the singer said she's now creating "purposeful pop" that aims to have a more serious and impactful message.
Twitter responded to the joke in real time and kept up the responses well into Tuesday.
After hearing @katyperry comments about @britneyspears mental illness I've lost all respect for her. Not cool Katy, not cool at all! #Bully

— Jessica Clark (@JessieB1705) February 14, 2017
Shame on you @katyperry. People are working so hard to #EndTheStigma of Mental Illness to save lives. You've hurt that.

— JustShell✌️ (@JustMeBelle557) February 14, 2017
Do you need help with your career @katyperry? 'Cause making a mental illness a laughing matter won't make u #1 bye ✋https://t.co/PA2nZke1F4

— Wally Bautista (@wally_bautista) February 14, 2017
@katyperry is a self proclaimed conscious activist but yet still makes jokes about mental illness. Lmao what

— XOXO, FUNKZ BUNI ♡ (@Krackdashian) February 14, 2017
@katyperry has "activist" in her bio. I dont know what's "activist" about mocking mental illness & perpetuating women cant shave their heads

— ?mikey (@TouchOfMyHand) February 13, 2017
Instead of going after Taylor Swift who sat at home with her cats, go after Katy Perry who mocked mental illness for the 3rd time today.

— katy (@alltoowell91) February 13, 2017
shame @katyperry had to take that shot @ @britneyspears earlier. makes me enjoy this performance less. Mental illness isn't a joke #GRAMMYs

— Kaylee (@J1inx1) February 13, 2017
Do you think Katy Perry was just making a playful comment during an interview or is the subject of mental health never a laughing matter? Funny or Offensive? Vote and comment below.