Katy Perry Pulls Shoes Criticized For Blackface Design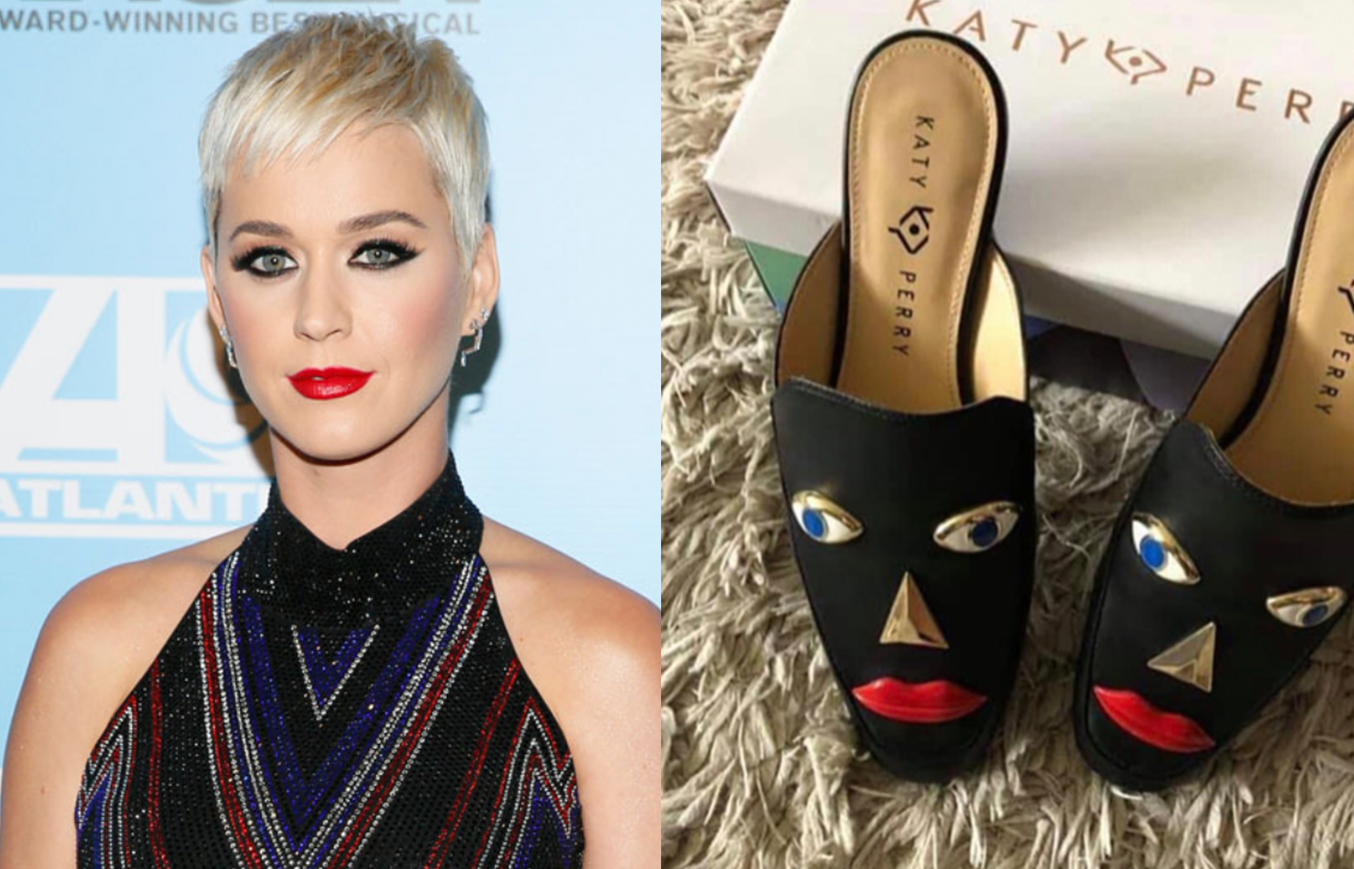 VOTE NOW! Is this Funny or Offensive?
Posted in:
Block-heel Sandals, Blackface Design
February 12th, 2019 – Fashion and politics may not often go hand in hand but politicians and designers have commandeered the market on offensive blackface scandals lately. Most recently, pop singer Katy Perry is taking heat for shoes from her line that many people say resemble blackface.
Katy Perry Collections pulled the slip-on loafers and block-heel sandals Monday, but the designs in question have actually been available since last summer. Originally, the shoes came in nine different colors (black, blue, gold, graphite, lead, nude, pink, red and silver), and a representative for Perry said they were "envisioned as a nod to modern art and surrealism."
Modern art and surrealism went out the window, though, when Twitter users began sharing the black shoes online saying that "ignorance is never a fashion statement."
Ignorance is Never A fashion statement! Apology NOT accepted😡#blackface #Gucci #gucciblackface #prada #moncler #katyPerry pic.twitter.com/KDCnkzGlgA

— Kieren Boyce (@ThatGyrlKieren) February 10, 2019
Ok Katy Perry explain these shoes SMH #blackface #KatyPerry #gucci #gucciblackface #boycott pic.twitter.com/j0dswNOSoH

— ChantillyCoco (@ChantillyCoco) February 11, 2019
Katy Perry 'Blackface' Shoe to Be Pulled from Shelves

Ok, can we just make this a rule that ANY product, service or person that is NOT Black will NOT create, promote or apply any combination of BLACK + FACE

Can we just make this a thing#causeascenehttps://t.co/5fo3wMKgJp pic.twitter.com/LRFw2bW9BC

— Kim Crayton 🏢 💻🎙#causeascene (@KimCrayton1) February 11, 2019
Perry, who will return as a judge for American Idol next month, responded to the harm people felt by saying she hadn't realized the association but was saddened to learn it.
"I was saddened when it was brought to my attention that it was being compared to painful images reminiscent of blackface," she said in a statement. "Our intention was never to inflict any pain."
The shoes were sold on the Katy Perry Collections' website, on behalf of Perry and Global Brands Group, as well as national retailers such as Dillard's and Walmart.
The apology from Perry comes on the heels of fellow designers who also recently debuted controversial blackface products. In December, Prada pulled window merchandise showing monkey-like decorations with black faces and giant lips. And just last week, Gucci removed an $890 sweater that allowed customers to pull blackface fabric over their face.
Do you think the Katy Perry shoes resembled blackface? Did she make the right call in pulling them?