Liquor Store Encourages Teachers To Hit The Bottle Instead Of The Kids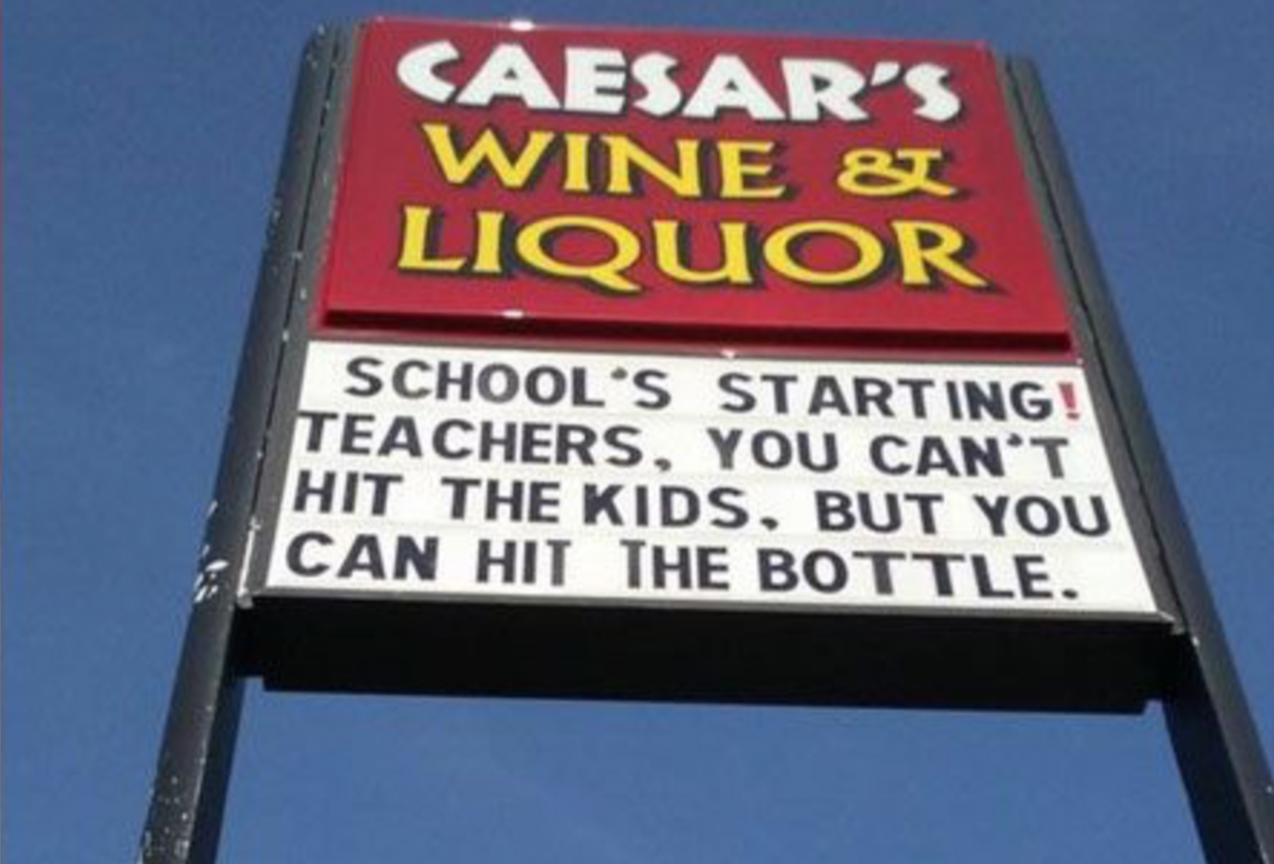 VOTE NOW! Is this Funny or Offensive?
Posted in:
Back To School Spirits
August 7th, 2017 – One Tennessee liquor store promises to leave no teacher behind with its latest promotion. The owner of Caesar's Liquor in the city of Arlington had a message for educators getting ready to shape young minds: prepare for battle. The store posted the following message to the marquee in the parking lot before classes are scheduled to resume. The sign reads:
"School's starting! Teachers, you can't hit the kids, but you can hit the bottle."
Advertising a wide selection of alcohol at "very competitive prices," Caesar's gained their desired 15 minutes of fame announcing via their Facebook page:
"ATTN TEACHERS!!!! Almost the last week before those kiddos are in your classroom!! Come see us ASAP and get your bottle!"
A Mid-South liquor store is looking to put itself on back to school lists this year.>>https://t.co/32n406SY0q pic.twitter.com/F3IeCuHUG8

— WMC Action News 5 (@WMCActionNews5) July 27, 2017
While counseling coaches, instructors and other pedagogues to put their hands around the neck of a bottle of bourbon and not a grade schooler before the end of first period may not be in the Department of Education guidelines, the motive behind the eye-catching sign may be an object lesson in basic economics. Replying to a comment on social media the owner confided:
"Big box store prices (i.e. costco) are why so many family businesses are going down. They can afford the short term loss while pushing out (local) competition, forcing people you know out of business and controlling the market down the road."
The small business owner is looking to avoid being left behind by the corporate Big Man on Campus. In any case, Tennessee's teachers should be back to drinking in the teacher's lounge without missing a single lesson.
This drink special may have been intentional, but there's a long history of retailers missing the mark when it comes to advertising their wares during the back-to-school season.
So is this poisoning the future leaders of America or just a sign of the times? Funny or Offensive? Vote and Comment now…