Eric Trump Calls Out Twitter For Censoring Job Numbers Tweet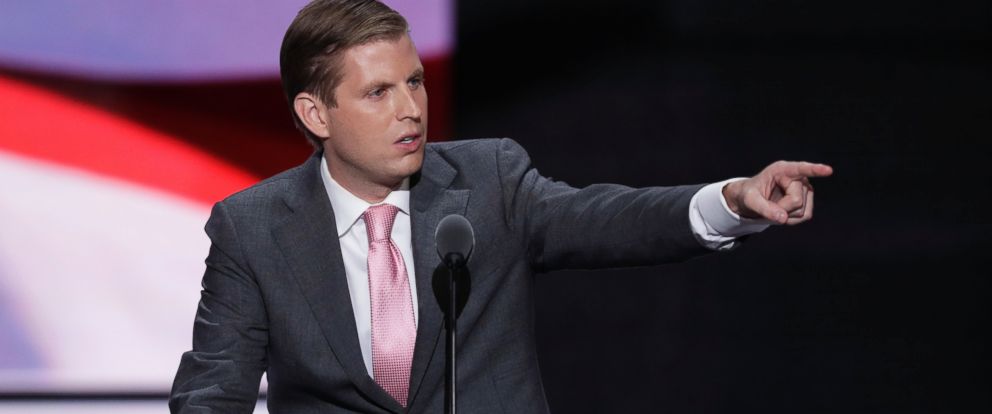 VOTE NOW! Is this Funny or Offensive?
Posted in:
Speechware Update
August 5th, 2017 – Eric Trump has called out Twitter for censorship after a retweet from Drudge regarding U.S. job numbers was briefly blocked. Eric Trump, the president's son and Executive Vice President of The Trump Organization, shared a screenshot of what happened after he tweeted the information with his over 1 million followers.
Showing side-by-side comparisons, he showed what he had originally shared and what Twitter labeled that content after he hit "tweet."
.@Twitter – Why are my tweets about jobs and the economy being censored? #Interesting pic.twitter.com/QSdcj7MjVR

— Eric Trump (@EricTrump) August 4, 2017
The warning box alerting users that "This tweet is not available because it includes potentially sensitive content" has been seen on Twitter as of March of this year. As the site began drawing criticism for its lack of assistance in combating abusive, harassing activity, it enacted new features intended to "leverage our technology to reduce abusive content, give you more tools to control your experience, and communicate more clearly about actions we take."
A lot of factors apply when the site's AI is deciding what should be blocked: whether the user posting has set updated their settings to mark that they intend to post potentially sensitive material, whether or not an account is verified, and usually followers can ultimately see blocked material if they click all the way through the post. Drudge Report is marked as a sensitive account and is also unverified.
Eric Trump's tweet is currently available in its full and original form, but that didn't stop the temporary blocking from catching social fire. The third child in the Trump line hashtagged "Interesting," a call back to previous claims from the right of how Twitter was strategically silencing positive Trump conversations. Info Wars repeatedly wrote about these allegations during the 2016 campaign saying Twitter was censoring positive replies to Trump and tweets the candidate was sending out himself.
There were many supportive replies back to Eric Trump including one encouraging people to retweet the positive replies.
Don't worry true American Patriots have your back, Eric– because #Trump45 & family has ours! #MAGAX10

— William #MAGA ??? (@gearmeister) August 4, 2017
Everybody RETWEET THE heck out of Eric's tweet & positive #MAGA comments only!!

— William #MAGA ??? (@gearmeister) August 4, 2017
On the other side of the aisle, there were those pointing out that the president himself has censored people – including "Vote Vets" – on Twitter by blocking them.
Your dad is censoring @votevets and many others by blocking them on twitter. https://t.co/reyppHrEux

— Col Doug Applegate (@ApplegateCA49) August 4, 2017
Because you have up-dated twitter and not changed your settings numb nuts.

— Unnamed Insider (@Unnamedinsider) August 4, 2017
Because they aren't accurate

— Dr.Bryan Harnsberger (@PSYCH_HYPE) August 4, 2017
What do you think about Twitter's "sensitive content" measures? Do you think it's helping combat a real problem or is this another form of restricting free speech?