Jesse Watters Going On Vacation After Ivanka Trump BJ Joke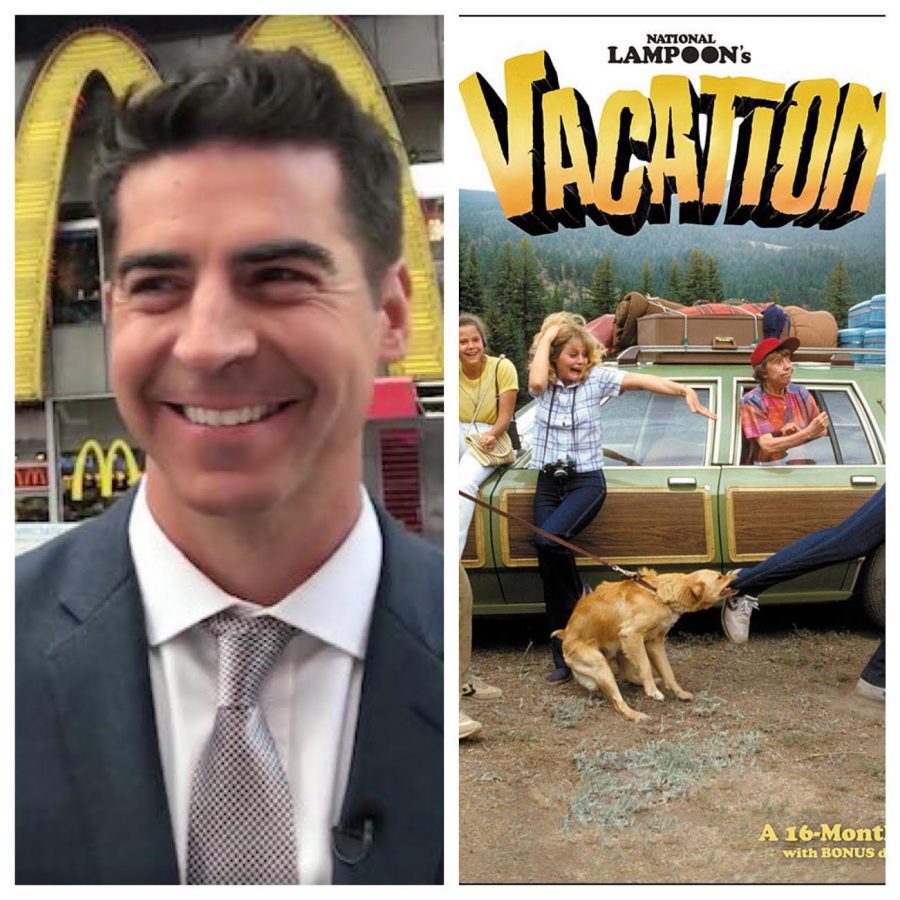 VOTE NOW! Is this Funny or Offensive?
Posted in:
Watters World Heads To Wally World
April 28th, 2017 – Fox News host Jesse Watters, who recently used his new primetime gig to make a seemingly sexualized, inappropriate joke about Ivanka Trump, abruptly announced he was taking a vacation with his family on Wednesday's episode of The Five. The declaration came just one day after public outcry to his comment about the way Ivanka was holding a microphone at a panel about female entrepreneurship.
After Watters and his fellow hosts criticized panel attendees for booing Ivanka when she claimed her father was a champion for women, Watters added this observation with a grin and hand gesture:
"So I don't really get what's going on here, but I really liked how she was speaking into that microphone."
The clip of the comment has been widely shared and discussed but wasn't addressed on-air by any of the hosts Wednesday evening. Nearing the end of the show, and after talking about a crazy baseball play, Watters casually brought up his family vacation.
"I'm glad he didn't run him over," Watters said. "Also, I'm going to be taking a vacation with my family, so I'm not going to be here tomorrow and Friday. But I'll be back on Monday, so try not to miss me too much."

"Saturday also?" co-host Kimberly Guilfoyle asked.

"Yes, and K.G. is going to be hosting Watters' World on Saturday," he said, referring to Guilfoyle.
 This vacation was not explained as planned or a result of the unwanted torrent of criticism from micgate, however many have called out the odd timing and how similarly the sabbatical is to that of Watters' mentor Bill O'Reilly.
O'Reilly took an abrupt vacation after reports of Fox News settling five allegation cases of sexual harassment with $13 million. His return ticket did not land him back at Fox, and the veteran on-air talent was dropped from the network following the news and the loss of more than 50 advertisers.
Lisa Bloom, a lawyer representing some of the women accusing O'Reilly gave a statement to NBC News saying that Watters' comment was a reminder of the culture that Fox is now scrambling to change.
"Jesse Watters' on air sexual harassment of Ivanka Trump is a vivid reminder of Fox News' smirking culture of hypersexualizing and demeaning women," Bloom said. "Perhaps Mr. Watters' 'vacation' should end the way Bill O'Reilly's did."
Brian Stelter of Reliable Sources laid out the "total coincidence" of the week's events and timeline.
. @brianstelter reports that Jesse Watters is going on vacation just a day after provoking criticism for his comments about Ivanka Trump pic.twitter.com/bKLvA0PYpu

— Max Tani (@maxwelltani) April 27, 2017
I hope Jesse Watters enjoys his vacation in peace and no one ambushes him or his family https://t.co/Sl3i6NRWHj

— Amanda Terkel (@aterkel) April 27, 2017
If Jesse Watters' lewd comments about Ivanka got him a "vacation," then Trump must have enough points racked up to retire.

— Stephen Colbert (@StephenAtHome) April 28, 2017
FOX- We cannot give you a vacation at this time!

Jesse Watters- *acts horrible*

FOX- Vacation granted!

— Tony Posnanski (@tonyposnanski) April 27, 2017
OVER REACTION https://t.co/BkvUF6v99k

— Melissa Vargas (@mrsv1991) April 28, 2017
Bill O'Reilly and Jesse Watters are really skewing my sense of what I'd have to do in order to take a vacation.

— Daniel Fienberg (@TheFienPrint) April 27, 2017
Watters has remained mum on the timing of the vacation, and Fox's only released statement seemed to downplay the scrutiny. "We don't put out press releases on talent vacations," they told NBC News. With the network reportedly carrying out a tense battle between co-president Bill Shine and the Murdoch family (who chair the Fox News Channel), every joke, quip and motion seems to be under the microscope.
Do you think the vacation was Fox's decision? Should Jesse Watters face any consequences for his comment about Ivanka Trump? Give us your thoughts!