McDonald's to Remove McCrispy Crematorium Sign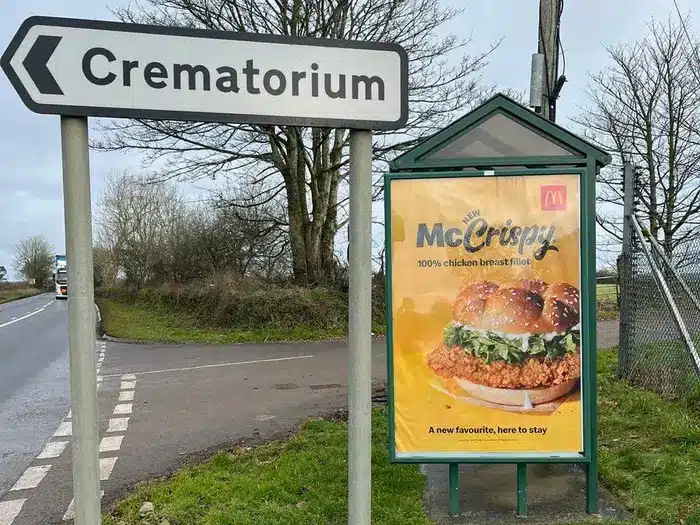 VOTE NOW! Is this Funny or Offensive?
February 12, 2023 – Fast food chain McDonald's had a bit of a mishap when it placed an ad for its McCrispy burger next to a crematorium in the United Kingdom. The picture of the sign got a laugh from some of the locals but not everyone found it funny.
"I'm sure some grieving family members won't like to see it when visiting Penmount for the funeral and cremation of a loved one," said a local woman. Another woman whose mother-in-law had been cremated at the site, said she found the ad "tasteless." 
"I think how funny it is will probably depend on how long ago you followed the crematorium sign wearing a black tie," another person said.
While McDonald's wasn't directly under fire for the coincidence, the company did take the situation seriously:
"We were unaware of the road sign in the vicinity of this bus stop. However, in light of the concerns raised by Cornwall Live, we have asked for our advertisement to be removed."
You be the judge…is the McDonalds McCrispy crematorium sign Funny or Offensive? Vote and comment now.