Melania Trump RNC Speech Accused Of Plagiarizing Michelle Obama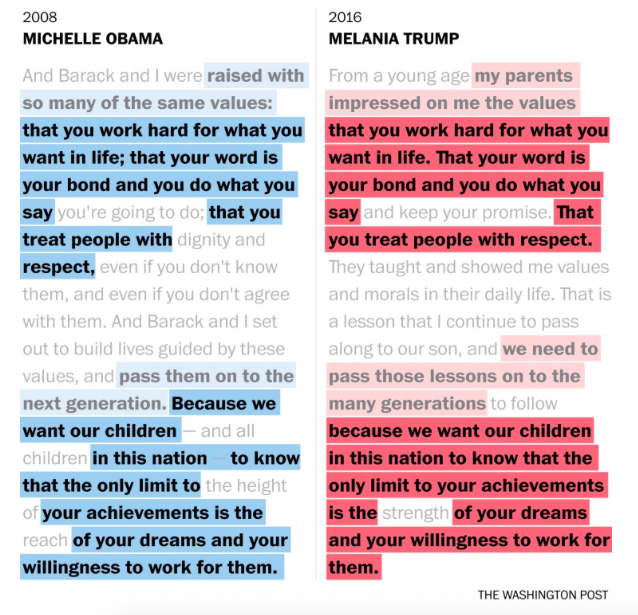 VOTE NOW! Is this Funny or Offensive?
Posted in:
She has great words, too.
July 19th, 2016 – Melania Trump headlined the Republican National Convention last night, and similar to rockstar headliners before her she seemed to make sure that the crowd would be able to mouth the words along with her. When the wife of presumptive Republican nominee Donald Trump left the stage, her speech was deemed "warmly received to a rowdy crowd." It was reported many times that she had been working on the speech for five to six weeks and was aiming to show a softer, more personal side to Trump. It didn't take long, however, for the attention to turn to how similar her phrasing was to the speech Michelle Obama delivered at the 2008 convention. Social media users, soon followed by major news outlets, started accusing Melania of plagiarizing or at the very least inadvertently echoing shared thoughts.
The striking similarities were called out repeatedly when transcripts and video of Michelle's speech were placed side-by-side to Melania's words. And while "values," "hard work" and "achievements" are common words to share, many used the verbatim phrasing and ordering of Melania's speech to accuse her and any speechwriters of plagiarism. Husband and self-proclaimed champion, Donald, took to Twitter to applaud his wife for her speech and demeanor.
It was truly an honor to introduce my wife, Melania. Her speech and demeanor were absolutely incredible. Very proud! #GOPConvention

— Donald J. Trump (@realDonaldTrump) July 19, 2016
CNN's Jake Tapper and Wolf Blitzer deemed the speech as plagiarized and suggested the speechwriter publicly admit doing so and apologize on Melania's behalf. As of Tuesday morning, though, the Trump campaign has staunchly defended the speech and sees the allegations as simply a way to demean Melania. Trump's campaign chairman, Paul Manafort, spoke to CNN about the uproar.
"There's no cribbing of Michelle Obama's speech," he said. "I mean, she was speaking in front of 35 million people last night; she knew that. To think that she would be cribbing Michelle Obama's words is crazy. I mean, it's so — I mean, this is, once again, an example of when a woman threatens Hillary Clinton, how she seeks out to demean her and take her down. It's not going to work." 
The Trump team has also released a statement hoping to reinforce the good her speech did in accomplishing the goal of making Donald Trump and his family appear softer. "In writing her beautiful speech, Melania's team of writers took notes on her life's inspirations, and in some instances included fragments that reflected her own thinking," Trump senior communications advisor Jason Miller said. "Melania's immigrant experience and love for America shone through in her speech, which made it such a success." As of today, Trump's campaign has no intention of firing any speechwriter and Melania maintains that she wrote most of it with little help.
Despite the defense put forth by the Trump campaign, Governor Chris Christie, spokeswoman Katrina Pierson ("This concept that Michelle Obama invented the English language is absurd."), people had a lot of fun poking fun at the allegation of plagiarism.
Day two of the RNC will bring more high profile political figures such as Speaker of the House Paul Ryan, Co-chair of the RNC Sharon Day, and Governor Chris Christie. It will also bring more Trump family members as son Donald Trump Jr. and daughter Tiffany Trump are scheduled to speak. And as allegations and defense continues on, we can all also sink our teeth into this thought:
Watch the CNN video below, and let us know your thoughts.