Michael Cohen GoFundMe Raises Over $140,000 In Two Days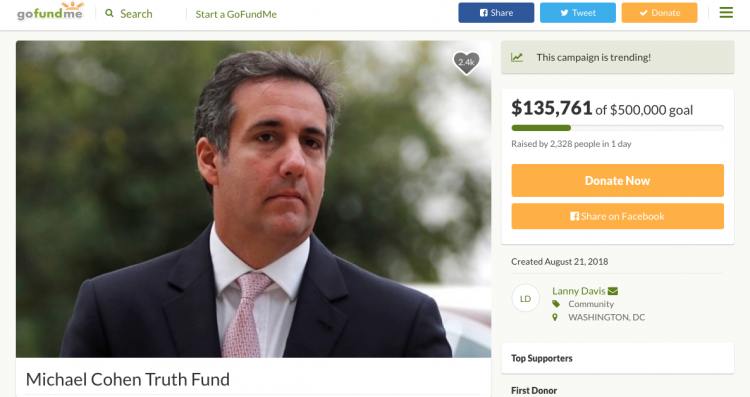 VOTE NOW! Is this Funny or Offensive?
Posted in:
"Michael Cohen Truth Fund"
August 23rd, 2018 – On Tuesday, Michael Cohen pleaded guilty to eight criminal counts of bank fraud, tax fraud and campaign finance law violations while also implicating Donald Trump as an unindicted co-conspirator saying he made payments "in coordination and at the direction of a candidate for federal office." By Thursday, the president's former lawyer had raised more than $140,000 on GoFundMe to continue fighting his legal battles.
For math fans, that's $10,000 more than Cohen paid adult film star Stormy Daniels to stay quiet before the 2016 election about an alleged affair she had with Trump. The GoFundMe page, titled the "Michael Cohen Truth Fund," was created by Cohen's lawyer, Lanny Davis.
"On July 2, 2018, Michael Cohen declared his independence from Donald Trump and his commitment to tell the truth," the site reads.
"On August 21, Michael Cohen made the decision to take legal responsibility and to continue his commitment to tell the truth. Michael decided to put his family and his country first.  Now Michael needs your financial help — to pay his legal fees.
The Michael Cohen Truth Fund is a transparent trust account, with all donations going to help Michael Cohen and his family as he goes forward on his journey to tell the truth about Donald Trump."
Up until April, Cohen was a staunch defender of the president, once saying he would take a bullet for Trump. Since federal officers used a warrant to raid his home, office, and hotel room, Cohen decided that he might not be too fond of bullets.
The former fixer has, through his lawyer, made it known that he has additional information that would be beneficial to Robert Mueller's investigation. The two men claim, however, that Cohen doesn't have the resources he needs to expose the truth. That's where the generosity of strangers comes in. Over 2,500 people have made donations with amounts ranging from $5 to $50,000.
That generosity, though, isn't being handed out by everybody. People quickly voiced their opposition to donating money to a man who bought a $6.7 million apartment in New York just last month and who once told a Daily Beast reporter to "tread "very fu**ing lightly because what I'm going to do to you is going to be fu**ing disgusting. Do you understand me?"
So don't donate to Michael Cohen's GoFundMe. He's still a multimillionaire white-collar criminal even if he is cooperating. If you want to stick it to Trump, give that money to Democrats in swing districts instead. https://t.co/AMN9tjIuoE

— Adam Best (@adamcbest) August 22, 2018
Cohen's attorney said on the @TODAYshow that Cohen "needs help" to tell the truth and then plugs his go fund me account…. are you kidding me??? How about you get a Gofuckyou account #CohenPleaDeal #Gofundme #seriously

— Wellsy (@kelseyryan55) August 22, 2018
Look, I'm as happy as anybody that Michael Cohen is implicating Trump. But just remember that he would be still right by his side threatening and bullying women if SDNY hadn't raided him and got all the evidence already. Don't give his gofundme a dime. This guy is no hero.

— Clay Yount (@clayyount) August 23, 2018
In July, Michael Cohen bought a New York City apartment for $6.7M. It rents out for $25k/month.

Today, his lawyer was out on every news station (twice) spreading the link to his GoFundMe site which has raised $125k. 🤔🤔🤔 https://t.co/1AdwsN2KWa — Holly Figueroa O'Reilly (@AynRandPaulRyan) August 23, 2018
Things to do with money

1. buy necessities 2. invest in future – – – – 103. get a new car – – – – – 198. pay student loans – – – – – – 106,876- buy a real doll to take to Chilis – – – – – 1,654,875- stand on a bridge and burn it – – – 7,545,754- Give to Michael Cohen's GoFundMe — Tony Posnanski (@tonyposnanski) August 22, 2018
CNN talked to one woman who said she would donate to the fund because "the enemy of my enemy is my friend." The amount she hypothetically settled on was $20. Her rationale?
"I give, like, $30 to World Wildlife Fund, so I can't give more to Cohen than I give to pandas."
The Michael Cohen Truth Fund has a goal of $500,000.
Will you be donating to the GoFundMe account or the "Gofuckyou" one? Is the "Michael Cohen Truth Fund" Funny or Offensive? Vote and comment now…