Minneapolis Police Officers On Leave After Decorating Tree With 'Racist' Ornaments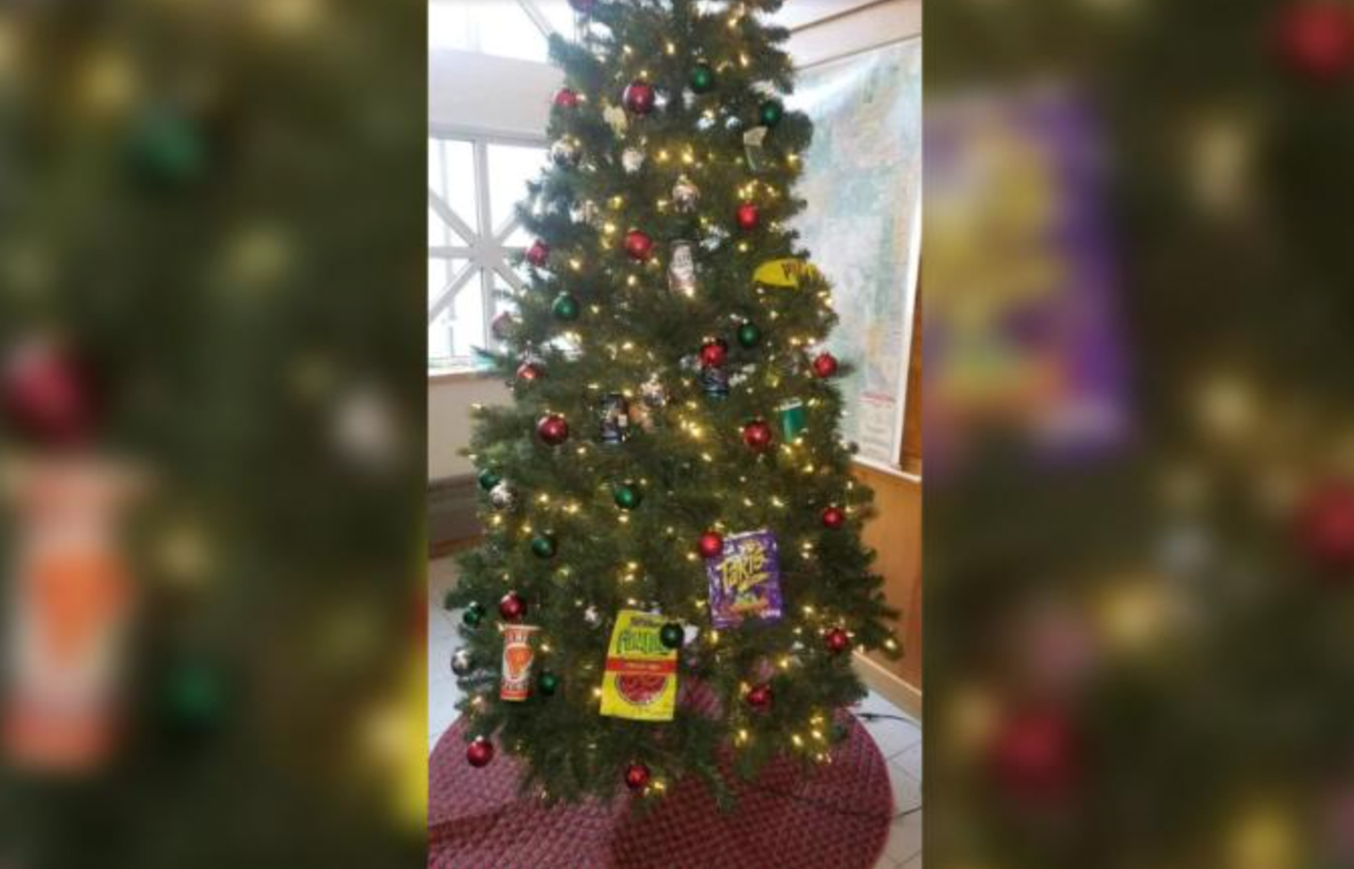 VOTE NOW! Is this Funny or Offensive?
Posted in:
December 4th, 2018 – A Minneapolis precinct inspector has been removed from his role after ornaments on a Christmas tree decking the halls of a police station were deemed racist. Photos of the incident made their way online last Friday showing a tree adorned with crumpled bags of Flamin' Hot Funyuns and Takis, a pack of Newport cigarettes, a Popeyes Louisiana Kitchen cup, beer cans, and police tape.
The two officers accused of decorating the tree were quickly put on paid leave while Inspector Aaron Biard was removed three days later. Minneapolis Police Chief Medaria Arredondo made statements to the public as well as his own staff condemning the actions and reminding officers of the greater impact these choices can have on the community they're supposed to serve.
"The culture of the Minneapolis Police Department has undergone positive change, however as this recent incident shows we still have much work ahead," he said in a statement. 

"Biased behavior by any member of the MPD in any form through words or actions will NEVER be tolerated by me as your Chief," he wrote in a memo to staff. "I will NOT defend the indefensible. One singular action that erodes trust with those we serve is a direct reflection on all of us."
Ditching tinsel in order to wrap the tree with police tape was especially troubling to critics of the decorations. In 2015, the city joined a growing list of towns across the country that have made national headlines after police shootings of African-American people. Protests continued for weeks after the fatal shooting of 24-year-old Jamar Clark.
"The yellow tape is so traumatic," Chauntyll Allen, founder of Black Lives Matter's Twin Cities chapter, said. "It's just triggering to anybody who's experienced any kind of crime in the past year. I'm appalled, I can't believe that this really happened, just to make a mockery of everything." 
Many other community leaders spoke out against the tree decorations after local residents demanded something be done.
This is a photo of a racist and derogatory Christmas tree at the Minneapolis 4th precinct. @jeremiah4north @CunninghamMPLS @Jacob_Frey We must demand an apology and commitment to build better community relations. This is unacceptable. pic.twitter.com/xNq4CUZUu5

— North by Northside (@northxnorthside) November 30, 2018
"This behavior is racist, despicable, and is well beneath the standards of any person who serves the city of Minneapolis," Minneapolis Mayor Jacob Frey said.

"When we see something like what we saw with the Christmas tree at the 4th Precinct, it is so much more than a racist prank by a single officer. What we see is the ugly racist culture that has been brewing in Minneapolis Police Department throughout its 150-year history," Fourth Ward City Councilman Phillipe Cunningham wrote on Facebook. "Reminders like this continue to infuriate me and so many in my community. They hurt EVERY gain made in improving community-police relations."
In the midst of outrage, there were plenty of people who didn't seem to understand the offense. Responding to the Twitter post, some users failed to see the racism and even said it simply looked more like a "Man Cave tree." "Cant anyone take a good old JOKE once in a while? I think they should just put up another one with Budweiser,Marlboros,beef jerky,etc," another person replied.
Mayor Frey initially guaranteed the immediate firing of the two officers who decorated the tree, but has since said that the standard investigation into the matter will determine their employment status.
While the officers remain on paid leave, the community continues to highlight the jarring difference between how police chose to celebrate the season and what it should really be about.
"This is Christmas season. This is time for peace, goodwill towards other human beings," Mel Reeves, a Twin Cities human rights activist, said during last Friday's press conference. "The message they send is they don't even like us, and that disdain doesn't take a holiday."
Did you think the decorations were just playful or should the officers have considered the context? Funny or Offensive? Vote and comment now…