Kevin Hart Out As Oscars Host; Apologizes For Old, Homophobic Jokes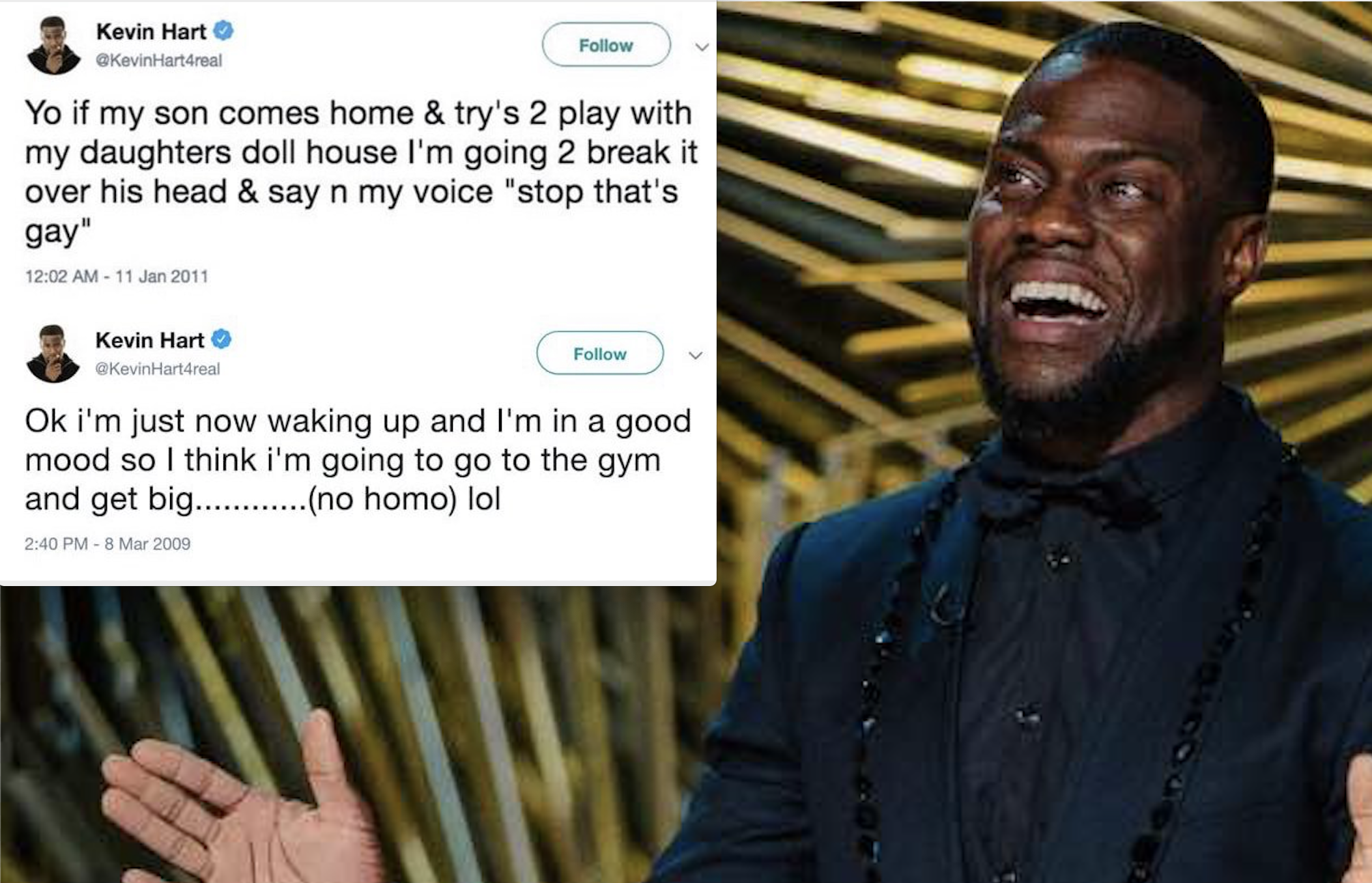 VOTE NOW! Is this Funny or Offensive?
Posted in:
And the apology goes to…
December 7th, 2018 – Kevin Hart has stepped down as host for the upcoming 91st Academy Awards after initially refusing to apologize for homophobic jokes he made years ago. The 39-year-old comedian was tapped for the gig just two days prior, and during the time in between, discussion of his older, problematic material quickly began to spread.
Two days may be a blip on the radar, but this story ended up having more plot twists than the films that will soon be nominated. Internet sleuths dug up material from Hart's 2011 standup routine – most notably when he shared how he dealt with his then-3-year-old son having a "gay moment." The solution was to "nip it in the bud."
Hart fell back on that style of comedy when he took to Twitter in 2009, 2010, and 2011. Adam B. Vary, a senior film reporter for Buzzfeed News, searched the would-be-host's profile for every time he used the words "fag," "homo," or "gay." He found a scrolls worth, but noted that that type of joke dried up after 2011 when he gained wider success.
"Yo if my son comes home & try's 2 play with my daughters doll house I'm going 2 break it over his head & say n my voice 'stop that's gay,'" one tweet read.
After seeing this @benfraserlee tweet, I did a search for every time Kevin Hart tweeted "fag," "homo," or "gay." It was…a lot. And he seems to have basically stopped tweeting those words after 2011 — i.e. the year his first stand-up movie became a hit. https://t.co/P8nTOilFgx pic.twitter.com/6uzPhnvt4F

— Adam B. Vary (@adambvary) December 5, 2018
Since the backlash, Hart has given a variety of answers, but his original takeaway was that he didn't owe anyone answers. After calling his new job "the opportunity of a lifetime," he began sharing Instagram videos explaining how he was in a place of spreading positivity and didn't want to be brought back to old news.
"Our world is becoming beyond crazy. Guys, I'm nearly 40 years old. If you don't believe that people change, grow, evolve as they get older, I don't know what to tell you. If you want to hold people in a position where they always have to justify the past, do you. I'm the wrong guy, man."
The Academy seemed to be in camp "justify the past" and, according to Hart, gave the host an ultimatum – apologize for the old jokes or lose the dream gig. For a second time, he took to Instagram saying he didn't want to feed Internet trolls over jokes he had previously discussed.
"I chose to pass on the apology," he began. "The reason why I passed is because I've addressed this several times. This is not the first time this has come up. I've addressed it. I've spoken on it. I've said where the rights and wrongs were. I've said who I am now versus who I was then. I've done it."
What he had done, however, was explain that the joke is more so about his fear as a father and that he wouldn't tell it today because people are too sensitive. In 2015, Hart told Rolling Stone:
"I wouldn't tell that joke today, because when I said it, the times weren't as sensitive as they are now. I think we love to make big deals out of things that aren't necessarily big deals, because we can. These things become public spectacles. So why set yourself up for failure?"
The public spectacle continued, and people found themselves debating a question that has picked up steam in recent years. Should artists lose jobs based off of old tweets? Digging through an entertainer's timeline is easy, and you're likely to find some material that will get them in hot water.
For Hart's case, some fellow artists were focused on why he wouldn't just re-up an apology if he claims one already exists and why he couldn't understand that his approach to this problem wasn't spreading positivity.
I am so very, very confused.

— Franklin Leonard (@franklinleonard) December 7, 2018
Homophobia is not positivity.

— Jamie Lee Curtis (@jamieleecurtis) December 7, 2018
I mean yes, Kevin Hart, I am going to hold you accountable for your homophobia.

— roxane gay (@rgay) December 7, 2018
Fast forward a few more hours, and Hart made the official announcement to step down, and he changed his mind on standing his ground. He apologized.
I have made the choice to step down from hosting this year's Oscar's….this is because I do not want to be a distraction on a night that should be celebrated by so many amazing talented artists. I sincerely apologize to the LGBTQ community for my insensitive words from my past.

— Kevin Hart (@KevinHart4real) December 7, 2018
I'm sorry that I hurt people.. I am evolving and want to continue to do so. My goal is to bring people together not tear us apart. Much love & appreciation to the Academy. I hope we can meet again.

— Kevin Hart (@KevinHart4real) December 7, 2018
damn dude imagine being offered to keep your job as long as you apologize for being homophobic, saying no and doubling down, getting fired and THEN having to apologize with no dignity or paycheck at the end of it all? funniest joke kevin hart will ever tell. https://t.co/CqMfO79dZt

— 𝔟𝔦𝔟𝔩𝔢𝔤𝔦𝔯𝔩 (@BibleGirl666) December 7, 2018
does kevin hart know that hosting the oscars is one of the stones in the gay infinity gauntlet

— blaine capatch (@blainecapatch) December 7, 2018
The Academy struggled to find a host for the 2019 ceremony; their announcement came much later than in years past. Currently, they haven't released a statement about the incident or named a replacement. Maybe they should check out this super up-and-coming comedian George Wallace's pitch to host. We hear he may know how to tell some jokes and whatnot…
Do you think Kevin Hart needed to apologize for his old jokes in order to secure the job of Oscars host? Did he make the right call in stepping down?