Nashville Man Fined $50 For "Obscene" Bumper Sticker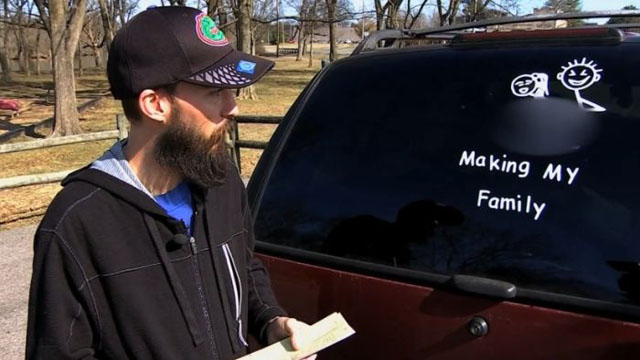 VOTE NOW! Is this Funny or Offensive?
Posted in:
Police Patrolling Humor
February 27, 2017 – Sometimes a bumper sticker is so funny that you have to snag a pic and run the risk of getting a ticket for using your phone in the car. Other times the sticker lives so squarely in the space between funny and offensive that you get fined for the content itself.
The latter happened to a Tennessee man who was given a $50 citation for what a police officer deemed an obscene bumper sticker.
Dustin Owens, a Nashville resident, had a sticker on his car similar to the stick figure families that are usually seen depicting parents, kids and even a pet. However this one was of a male and female figure engaging in some, we'll say, intimacy with the words "Making My Family" underneath.
The back of Owens' Chevy Blazer was decorated by his brother in what he called a prank.
"My brother ordered it and it was nighttime when he put it on because he was trying to make a joke out of it, and I was sleeping," Owens said.
Owens' experience with subjective ticketing happened when he was driving home from work last Friday. A Nashville metro police officer pulled him over and gave him a citation for the bumper sticker. According to Owens, the officer also told him he has 45 days to remove the sticker from his car.
"I haven't decided if I'm going to or not. I shouldn't have to. Maybe I should just change it a little bit," he pondered. "If I took the words off right there, it's two stick figures dancing, that's it." 
Tennessee law passed a bill in 2011 that prohibits obscene and offensive bumper stickers but their definition of what is deemed obscene or offensive has come under scrutiny for its subjectivity. Amending TCA Section 55-8-187, the law now charges a flat fine of $50 and states:
"Present law prohibits the display of obscene and patently offensive movies, bumper stickers, window signs or other markings on or in a motor vehicle that are visible to other drivers."
Heat Street spoke with Tennessee Rep. Martin Daniels, who has previously sponsored legislation to improve free speech on college campuses. He was not familiar with the law against obscene bumper stickers and doubted its strength if someone took it up the courts.
"It seems overly broad, and I would bet that it would be stricken down as unconstitutional, if tested," he told the site. 
For now, Owens says he doesn't have the money to fight it in court but has been voicing his opinions to news outlets saying:
"I think it's against my First Amendment rights as an American citizen. Demonstrators can stand in the middle of the highway to protest with signs that have curse words and obscene pictures, but I can't have a sticker on my truck."
With police saying they are merely enforcing the laws and not making them, how are courts being influenced to decide what should be considered obscene? Do you think this bumper sticker was worthy of a $50 traffic citation?