Newspaper Headline Typo Claims Julia Roberts' 'Holes' Get Better With Age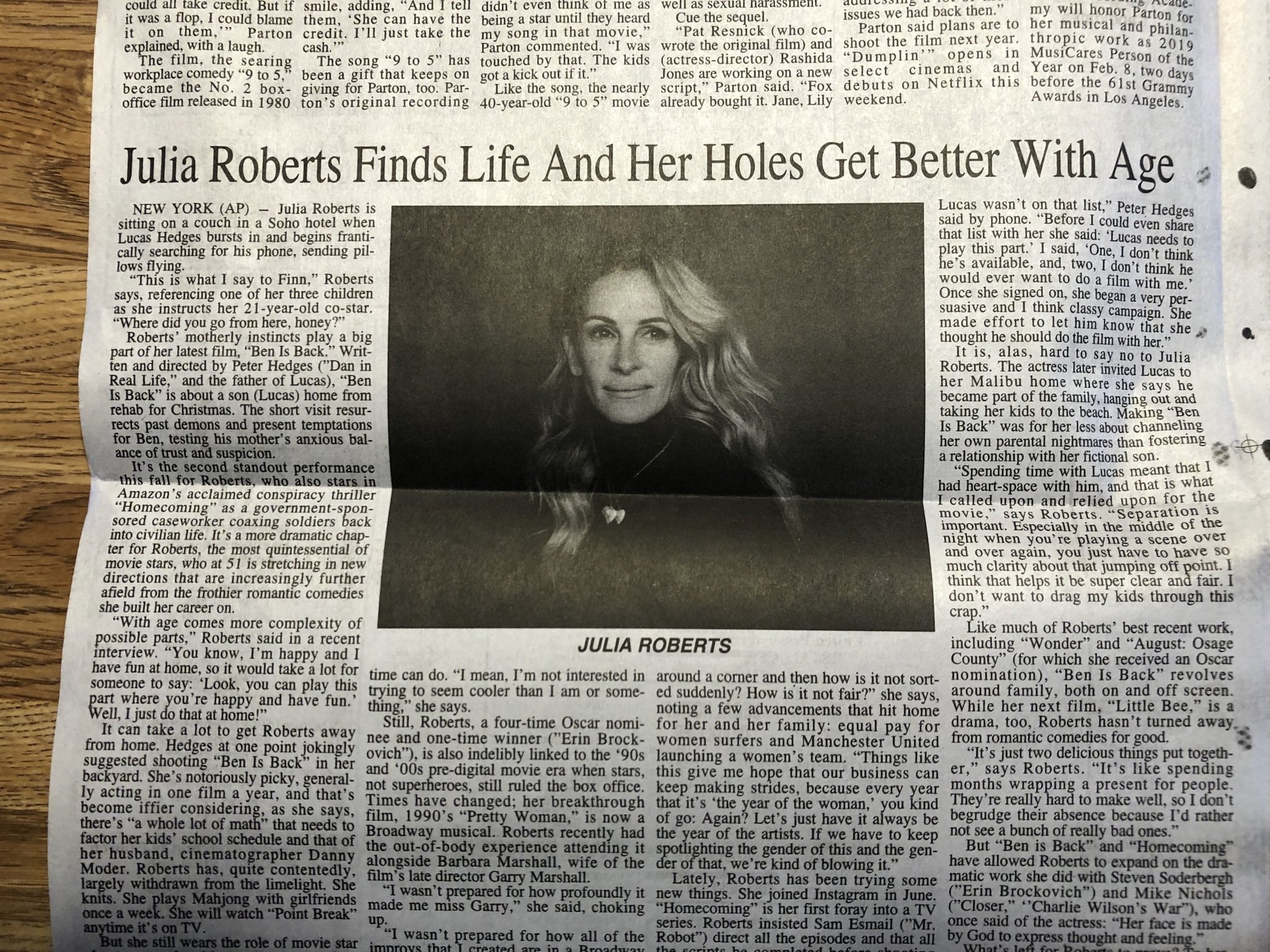 VOTE NOW! Is this Funny or Offensive?
Posted in:
A Holesome Headline
December 12th, 2018 – Julia Roberts is still making headlines, but unfortunately that isn't always good news for an actor. A recent article about the screen legend's career attempted to highlight the fact that she has continued to land great roles — a futile quest for some women as they age in Hollywood — but an alphabet mix-up really changed the beat of the article.
Instead of writing "roles," The Post-Journal accidentally used the word "holes," and hilarity quickly ensued.
"Julia Roberts Finds Life And Her Holes Get Better With Age," the headline screamed. 
In an age when it's already difficult to get people to read beyond the headline, throwing in a sexual joke won't do anything to get readers to dig into 600 words. The headline mistake was only made in print editions, but the spell check-free moment quickly went viral.
The Post-Journal issued a correction for the story, which was pulled from the AP, but the jokes had also already been put to bed.
@TheEllenShow can't believe this headline in our local paper… Julia Roberts will be glad to know her holes are getting better with age😂😂 pic.twitter.com/gvZkOsBjyN

— elizabeth (@eadavisus) December 9, 2018
I like to think all of our holes are getting better with age. Also, copyediting is important. pic.twitter.com/uNG0ZKgurx

— Eric Spitznagel (@ericspitznagel) December 9, 2018
This is why she's a movie star. My holes have only gotten worse with age.🤷‍♀️ pic.twitter.com/h3jiuEqF6P

— Busy Philipps (@BusyPhilipps) December 10, 2018
May we all be as lucky as Julia Roberts pic.twitter.com/7Cu0hARVIo

— ⛄Frosty The Hoeman⛄ (@gay_pnw) December 11, 2018
Holes are going to roll at this newspaper! But it does explain why #JuliaRoberts looks so content. #herholes pic.twitter.com/95gHEbMX3l

— Hedda Lettuce (@HeddaLettucenyc) December 11, 2018
"A headline on Page D4 in Saturday's Post-Journal should have read 'Julia Roberts Finds Life And Her Roles Get Better With Age.'"
Apart from the correction, the newspaper hasn't issued any other statement about the awkward headline, and Roberts has stayed quiet, as well. The 51-year-old actor just earned a Golden Globe nomination for her work on Hulu's Homecoming, which also snagged a nom for "Best Television Series, so hopefully focus will shift to her, uhh, roles.
If not, she can always fall back one of her most notorious early roles, and have a word with The Post-Journal. 
What did you think of the roles/holes headline mix-up? Funny or Offensive? Vote and comment now…