Mom Accidentally Sends Son To Nativity Play With Sheep Sex Doll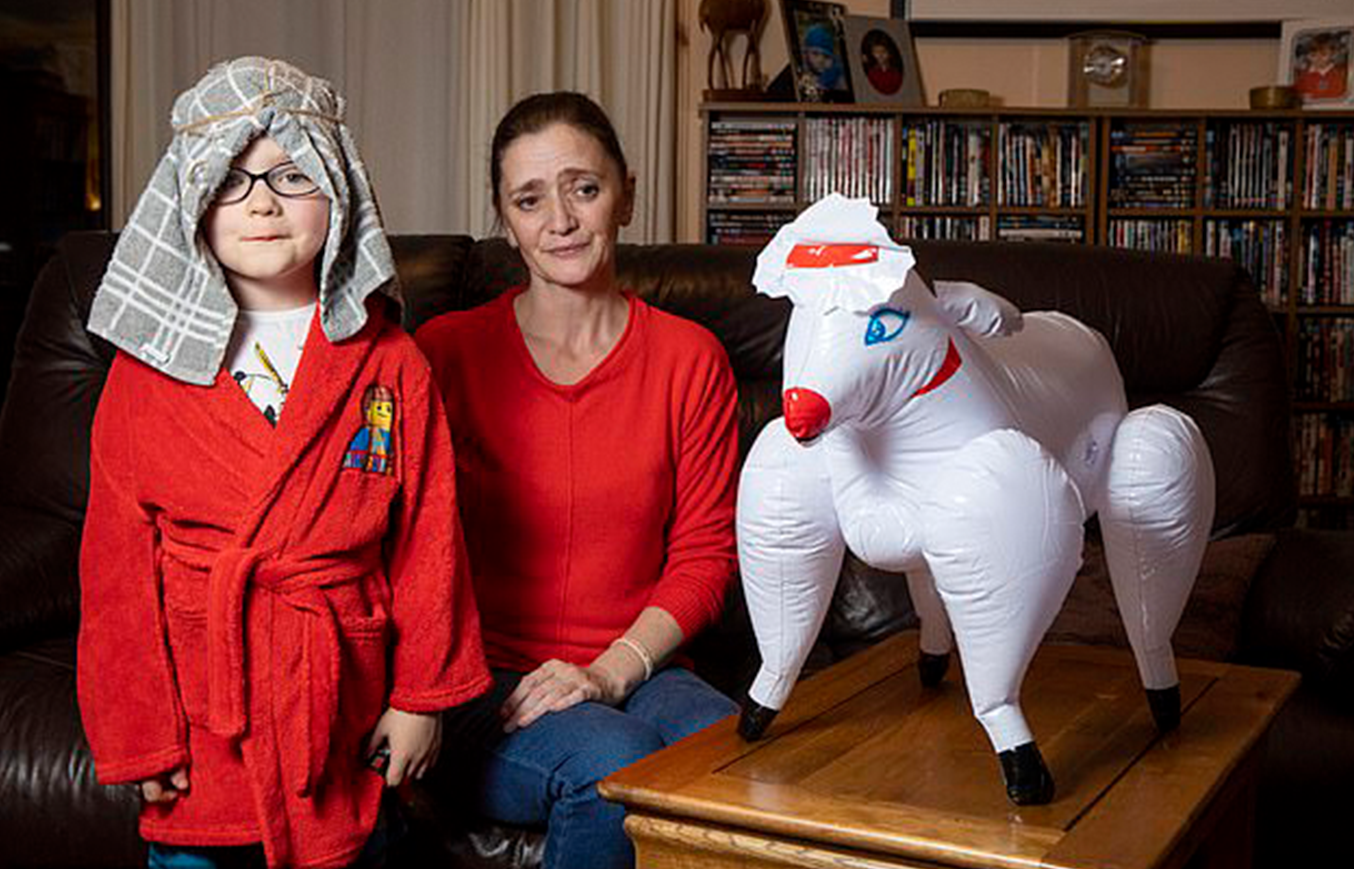 VOTE NOW! Is this Funny or Offensive?
Posted in:
O Hole-y Night
December 10th, 2018 – A mother in Scotland had a baaaaad experience with Amazon after unwittingly sending her five-year-old son to the school's nativity play with a blow up sheep sex doll. Helen Cox thought she was getting a great addition to the £16.99 shepherd's costume purchase only to find out that the sheep wasn't actually made to lay in a manager.
The "mortified" mother had her son, Alfie, try on the shepherd garb but didn't inflate the sheep before packing the items up for school. To her surprise, Alfie brought the sheep home a week before the play at his teacher's request.
Once they made it home, Cox decided to finally bring the sheep to life and discovered a hole-y surprise.
"It took forever to blow up – I was stood there blowing and blowing until the air reached its legs," she said. "I hurriedly popped the stopper back in so it wouldn't deflate and suddenly spotted the huge hole in the bum. I couldn't believe what I was seeing."
The costume was previously listed on Amazon as "Labreeze Kids Boys Brown Shepherd Costume Inflatable Sheep Nativity Fancy Dress Outfit." After the mother, who lives in Alloa with her husband and two children, discovered the red lips, dainty bow, long eyelashes, and not-so-discreet hole, she did another online search.
Cox found out that the sheep was also sold as "stag night bonkin' sheep."
"I just can't believe it. I don't know whether to laugh or cry. How am I going to explain this to his teachers? I have no idea if they've seen it was a sex toy and that's why they sent it home – I'm mortified."
Her son, on the other hand, wasn't mortified at all. As children tend to only see the wonder during the holidays, Alfie simply saw the sex doll as a cute, fun sheep toy. Cox, who is currently a psychology student, tried to take the sheep from Alfie by explaining that it didn't look like a "proper" sheep with its red lipstick and bow, but that didn't deter playtime.
After Alfie discovered the hole, Cox told him it was "for the sheep's toilet paper."
"He's probably in his room right now stuffing Lego in the hole."
The product is no longer listed on Amazon, and the awkward playtime is no longer a problem after Cox devised a new plan to take the doll away from Alfie — the 'Elf of the Shelf' will take it.
"All sellers must follow our selling guidelines and those who don't will be subject to action including potential removal of their account," an Amazon spokesperson said in a statement. "The product in question is no longer available."
Does this incident have you laughing or feeling a bit sheepish? Funny or Offensive? Vote and comment now…