Offensive Burger Creations Forced McDonald's To Pull Online Campaign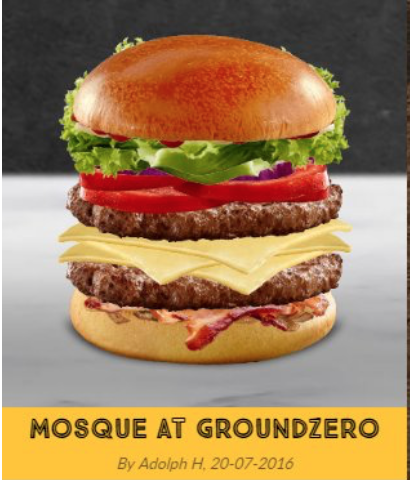 VOTE NOW! Is this Funny or Offensive?
Posted in:
Not A Very Happy Meal
November 4th, 2016 – McDonald's New Zealand thought they had a clever, fun promo that allowed customers to create their own burgers, but with great power comes great responsibility. And that didn't pan out very well for the online component of their "Create Your Taste" marketing campaign. While some people designed scrumptious and creative dishes others created what the company deemed inappropriate, offensive and, uh, awkward menu selections.
From the "Benghazi Chickenwich" and "Atheists Delight" to "Mosque At Groundzero" and "Pound My Behind Daddy," the DIY approach began to run amuck. The questionable burgers ran the gambit of targeting politics (the "Bernie Socialist Feast" is just two buns with nothing in between), sex (the "Girth" is seven hamburger patties by themselves) and trending societal issues (the "Thin Privilege" is stacked to the sky with everything).
The campaign kicked off fairly smoothly with kiosks set up at participating franchise locations. Customers were able to use a touch screen to create their dream burger. Many people were pleased with their creations and shared the ingredients on their social media pages.
The digital campaign, however, quickly came down from the McDonald's New Zealand website in February after it was flooded with inappropriate submissions. Anyone looking to compete in the online campaign is now re-directed to the site's homepage.
A McDonald's spokesperson said the "Make Burger History" page was only intended to be up for 10 weeks but people continued to use it long after that period.
"It's been great to see people continue to interact with the site beyond the end of the campaign. The overall ingenuity throughout the campaign has been impressive, it's just unfortunate some creations have been inappropriate right at the tail end," he told The New Zealand Herald. 
What do you think of the online submissions for McDonald's New Zealand "Create Your Taste" campaign? Did McDonald's make the right decision removing the page? Share your thoughts below.