Twitter Meltdown: Passenger Shares Video Of Airplane Toilet Lick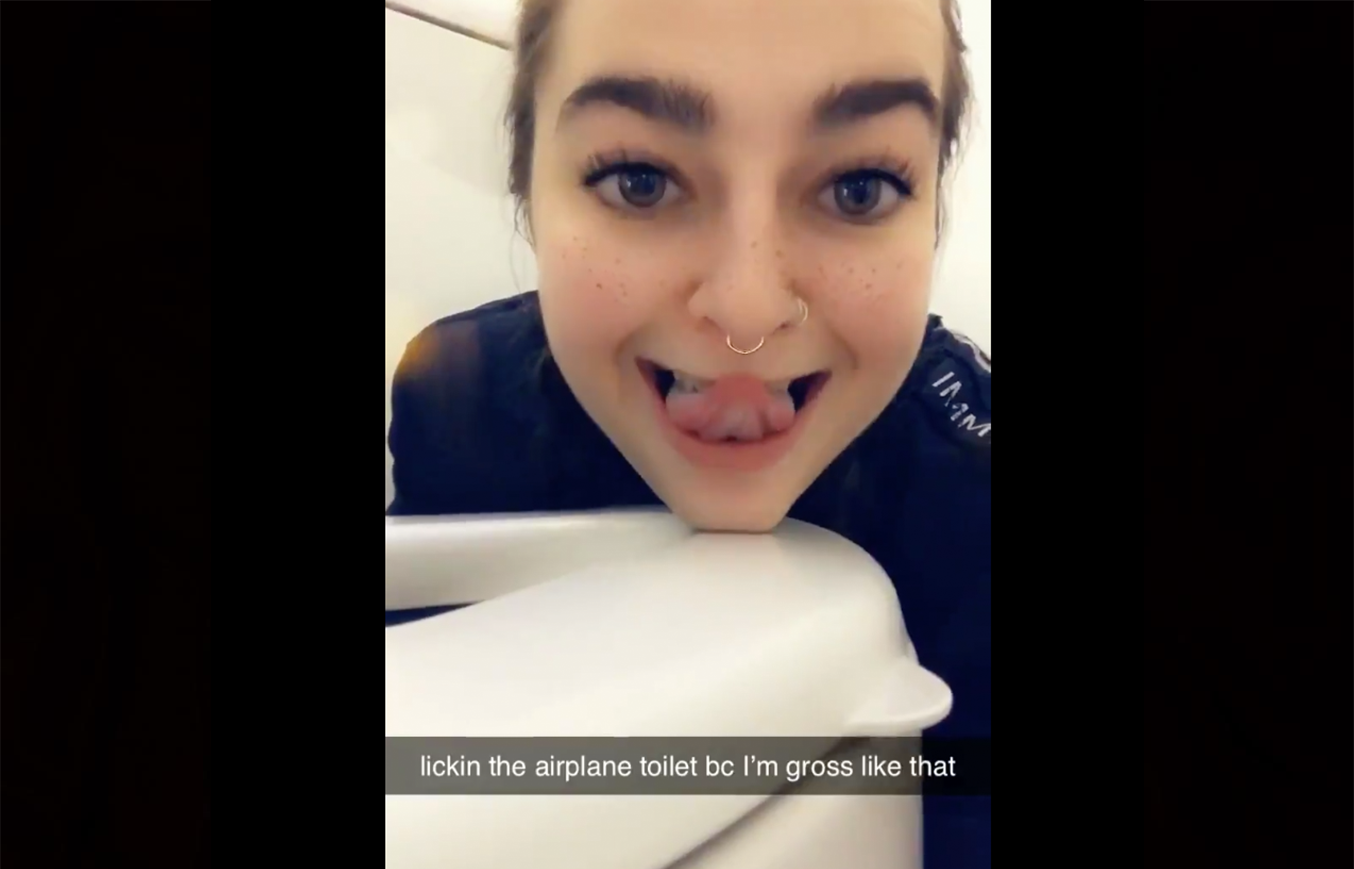 VOTE NOW! Is this Funny or Offensive?
Posted in:
Lick Pic
March 26th, 2019 – An airline passenger set Twitter on fire last week after sharing a video of themselves licking a toilet seat in an airplane bathroom. Grimy, who goes by the handle @grimiestt, is a non-binary sex worker based in Brooklyn but was headed to Barcelona when the lick seen 'round the web occurred.
The video was originally filmed using Snapchat with the caption "licking the airplane toilet bc I'm gross like that." When the brush with the flush made its way to Twitter, Grimy added another caption:
"I've licked a lotta toilets in my day but this was the first that made my tongue go numb"

The clip now has 6.89 million views, and on a page that's full of NSFW content, this post has pretty far-reaching stats. It's currently racked up 15k likes, 7.9k retweets, and 9.8k replies. The general attitude from respondents seems to fall under the category "gross" with people also expressing their confusion, concern, and condemnation.
March 18, 2019
March 18, 2019
Je suis partagé entre aller vomir ou m'ôter la vue à jamais 🤔 pic.twitter.com/MbsJX6C4kv

— CuckSlayer (@CloFlutet) March 18, 2019
It's numb because you just contracted 1200 diseases at once

— Master of the Croc (@Big__Toad) March 18, 2019
i just don't get why anyone would ever do this ever https://t.co/YIMQj6nSRH

— jam (@JamieClay_) March 18, 2019
Grimy quickly put the disgusted in their place saying that this content is nothing new. They pushed back by adding that this is simply on brand; the name "Grimy" wasn't chosen randomly. The Good Place's Jameela Jamil even got a response when she asked "What…is…this…?"
a sex worker, workin🤷🏻‍♂️ https://t.co/iSA5PTs6TZ

— grimy; keep your blood moving (@grimiestt) March 19, 2019
guys u can't come onto my page n get surprised when I do disgusting shit it is literally my brand lol I wasnt fuckin joking when I chose the name grimy😂😘

— grimy; keep your blood moving (@grimiestt) March 18, 2019
While they have muted responses following continued engagement from Twitter users, Grimy continues to comment on the viral moment. They have tracked media coverage, admonished publications and people for not using the correct pronouns, and did a cringe comparison between the toilet lick and death threat responses.
"vanilla twitter telling me "kill urself"+"electric chair" is cringier than me lickin a toilet could ever be," they tweeted.
Apart from the public shaming, people have also put hygiene at the center of the conversation. Fox News referenced an interview they did with Dr. Charles Gerba, a microbiologist at the University of Arizona, in 2012 where he found the influenza virus, norovirus, and MRSA on toilet sample research.
"Worst thing on the plane is the toilet — germiest by far," he told Fox. "Best thing to do is use a hand sanitizer, and do not use the toilet."
Are you Team Hand Sanitizer or Team Grimy? Was the toilet licking post Funny or Offensive? Vote and comment now…