Pearl-Wearing GOP Lawmakers Criticized For Mocking Gun Control Activists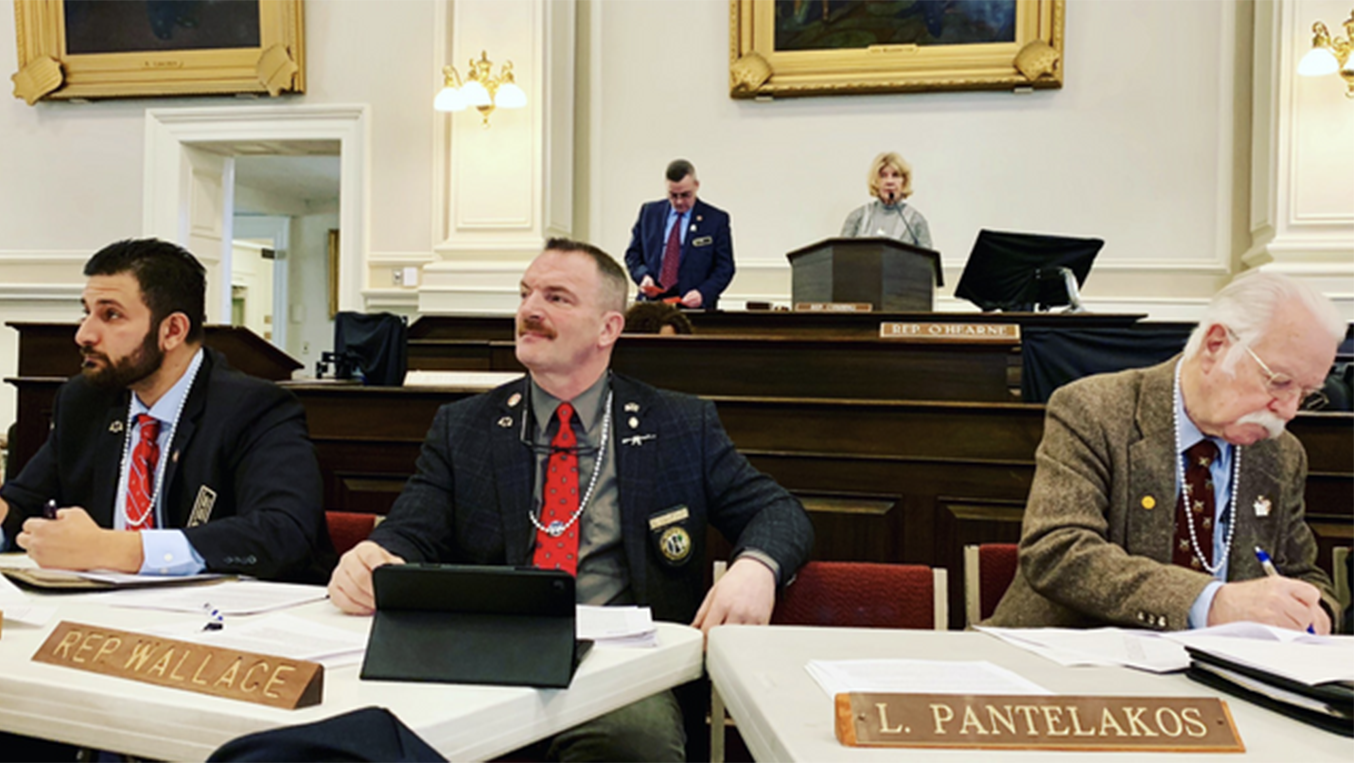 VOTE NOW! Is this Funny or Offensive?
Posted in:
Pearl Clutching Hearing
March 6th, 2019 – GOP members of the New Hampshire House of Representatives are being criticized after wearing pearl necklaces during a hearing where gun control activists testified about their own personal experiences with gun violence. Among those advocates in the room was Shannon Watts, founder of Moms Demand Action, who quickly shared photos of the gussied up lawmakers.
Watts noted that out of the 13 people on the committee, 10 of the lawmakers were men and five of them chose to add jewelry to their suit and tie combo. She believes the messaging behind the pearls was clear — to mock advocates who they believe are simply "clutching their pearls" in performance outrage.
"It really is shameful to behave that way when your constituents are being brave enough to share their stories," Watts told The Washington Post. "They clearly did not come to this hearing with open minds or compassion for their constituents."
The hearing was for House Bill 687-FN, also known as the "red flag" law, which would allow authorities and family members to obtain court orders that would block gun access for people who are likely to cause harm to themselves or others. 14 other states have already enacted similar legislation.
According to Watts, the differences in how lawmakers and advocates approached the hearing only made the pearl-wearing more insensitive. While people tearfully shared their stories of gun violence, the men sat wearing silly jewelry.
Of the 13 person ERPO hearing committee, 10 of the lawmakers are men; half of them are wearing pearls to mock @MomsDemand volunteers. Meanwhile, their constituents are in tears as they testify about gun suicides and domestic gun violence in their families. #NHPolitics pic.twitter.com/eVIS73yfoR

— Shannon Watts (@shannonrwatts) March 5, 2019
Kimberly Morin, president of the Women's Defense League of New Hampshire, pushed back on the idea that the pearls were meant to be seen as mockery. She claims that the men wore them in support of women; women who promote gun safety.
"The PEARLS are in support of the Women's Defense League. Women who ACTUALLY PROMOTE GUN SAFETY and WOMEN'S RIGHTS," she wrote on Twitter.
That spin wasn't working for Watts who said the lawmakers should have known to not make such a "foolish mistake." Joining her side of the argument were Democratic presidential hopefuls Kamala Harris and Cory Booker who tweeted their support for the moms on Tuesday.
Too many guns are falling into the hands of dangerous people, threatening kids' lives and making our communities less safe. These moms are fighting to confront gun violence and protect our children. They don't deserve to be mocked. We stand with you, @momsdemand. https://t.co/qizaz7a8vi

— Kamala Harris (@KamalaHarris) March 5, 2019
Moms who want to keep their kids safe from gun violence don't deserve this. https://t.co/oQnQatlx4x

— Cory Booker (@CoryBooker) March 5, 2019
Watts added that if the New Hampshire GOP lawmakers have no intention of changing out their necklaces and views, she hopes somebody else will be in their seat for future hearings.
"It's my hope that the Moms Demand Action volunteers who sat through the hearing today will consider running against the men who had the audacity to mock the legislative process."
What did you think of the GOP reps who wore pearl necklaces to the hearing? Was it Funny or Offensive? Vote and comment now…