Anti-Muslim Poster Tying Omar To 9/11 Displayed At West Virginia GOP Event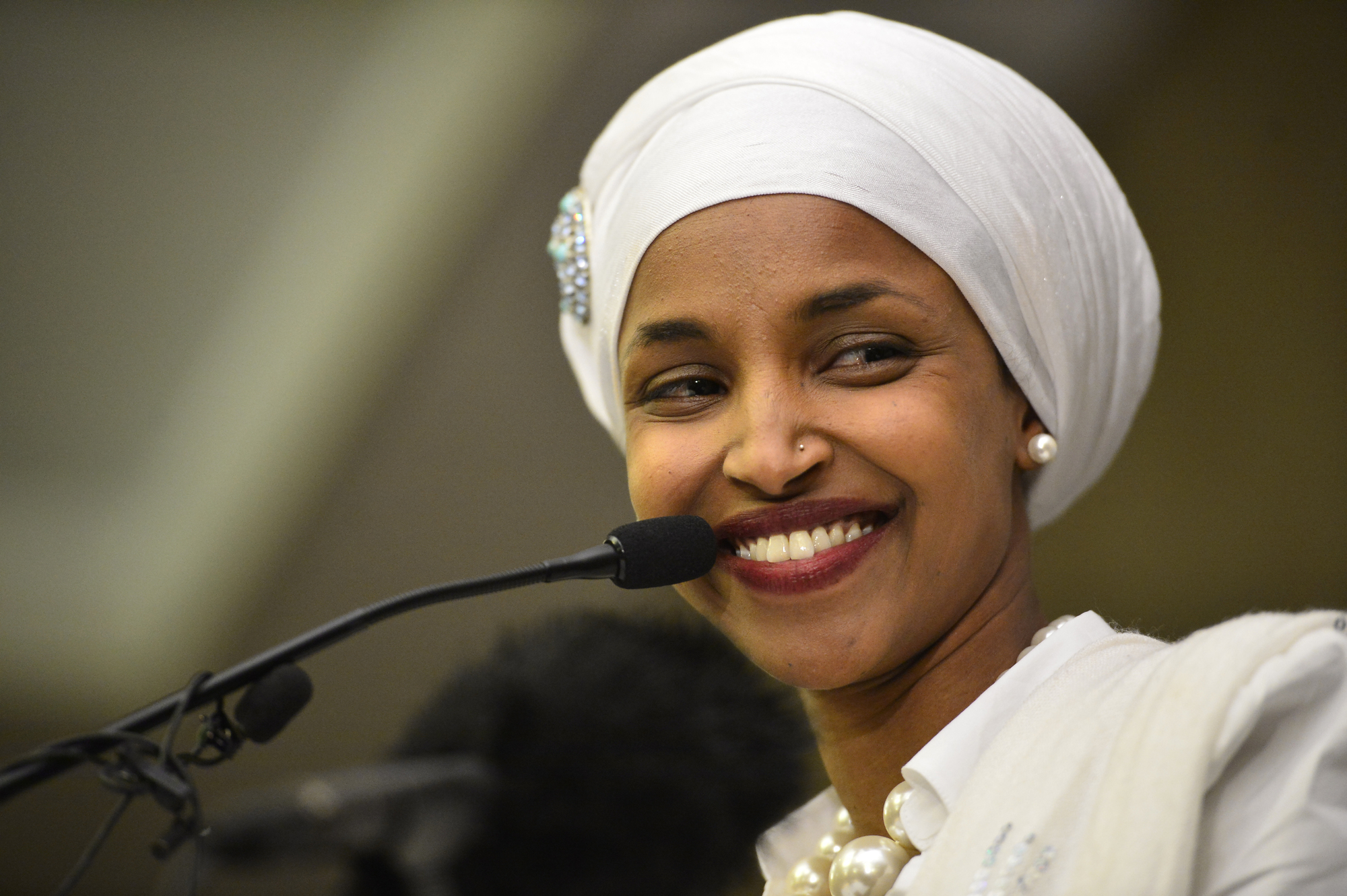 VOTE NOW! Is this Funny or Offensive?
Posted in:
Poster Led To Fighting in Capitol
March 3rd, 2019 – The West Virginia GOP is under fire this weekend after a poster linking Democratic Congresswoman Ilhan Omar to the 9/11 attacks was displayed at the West Virginia Capitol rotunda. The anti-Muslim meme went up Friday outside of the House of Delegates chamber as part of the "Republicans Take the Rotunda" event.
Republican House Speaker Roger Hanshaw said the party is investigating exactly what happened and who is responsible for displaying the meme poster, but as of this posting they haven't released any details. "Republicans Take The Rotunda" was an inaugural event for the WVGOP and photos from their Twitter feed show several booths set up as legislators met with constituents.
Discussions quickly turned to arguments as word of the poster began to spread. Set on an easel, the meme was split into two photos: the top one showed the Twin Towers being hit with the phrase "NEVER FORGET' – YOU SAID.." while the bottom photo was of Rep. Omar wearing a hijab with the caption "I AM PROOF – YOU HAVE FORGOTTEN."
Omar is a Somali-American and one of just two Muslim women serving in Congress. The mother of three, who has represented Minnesota's 5th congressional district since 2019, was quick to call out the terrorist comparison on Twitter.
No wonder why I am on the "Hitlist" of a domestic terrorist and "Assassinate Ilhan Omar" is written on my local gas stations.

Look no further, the GOP's anti-Muslim display likening me to a terrorist rocks in state capitols and no one is condemning them! https://t.co/0ouCaloWqh

— Ilhan Omar (@IlhanMN) March 1, 2019
As the incident was unfolding, most members of the WVGOP defended the poster. Even if they opposed the content, their issue was that it was a matter of free speech.
"While I may not agree with everything out there, I do agree that freedom of speech is something we have to protect," Del. Dianna Graves (R-Kanawha) said.
Representatives from the other side of the aisle disagreed, pushing for the body to take a hard stance and remove the offending poster. As Del. Michael Angelucci (D-Marion) brought up the issue with Sergeant at Arms Anne Lieberman, she reportedly made an anti-Muslim slur. As of Friday afternoon, Lieberman had resigned.
"The Sergeant at Arms of this body had enough nerve to say to us all Muslims are terrorists," Angelucci said. "That's beyond shameful. And that's not freedom of speech, that's hate speech. That has no place in this House, the people's House, and I am furious. I don't want to see her representing the people of this great state in this house again. Muslims are not terrorists. Christians have killed people. That doesn't mean Christians are terrorists."
Del. Mike Caputo (D-Marion) also made news when he injured a doorman after kicking a door that blocked off the chamber during the events on Friday.
"We have created an anger that I have never witnessed in 23 years in this body and it sickens me," he said. "It absolutely sickens me. So yeah, I kicked the door open. I'll own it."
The doorman was taken to the hospital, and the House Rules Committee is meeting today to determine whether or not the minority whip will face any repercussions.
Over on Twitter, people continued to speak out against the Omar anti-Muslim meme. The West Virginia GOP account also issued a formal statement saying they were not aware of the poster beforehand and do not support its messaging.
Yet another display of racism by the GOP. I urge my colleagues to speak up & condemn this. @IlhanMN is being targeted just because of who she is. If folks stay quiet it will only continue.What does the silence say about us? We need political courage right now to help combat this. https://t.co/P48tamj88O

— Rashida Tlaib (@RashidaTlaib) March 2, 2019
The racist poster linking Ilhan Omar to the 9/11attacks is not about free speech going astray. It represents an effort to incite violence against her. The West Virginia GOP & the hate group ACT for America should be held accountable for this. #Islamophobia https://t.co/FRWeYS8SlD

— Todd Green (@toddhgreen) March 2, 2019
These people are trying to get Illan Omar killed https://t.co/ETp8YgjlpL

— Ayesha A. Siddiqi (@AyeshaASiddiqi) March 2, 2019
STATEMENT: West Virginia Republican Party Chairwoman Melody Potter issued the following statement on the display at the State Capitol regarding Congresswoman Ilhan Omar. pic.twitter.com/jscmbAMlCg

— WVGOP (@WVGOP) March 2, 2019
How do you make the distinction between free speech and hate speech in regards to the Omar-linked 9/11 poster at the "Republicans Take the Rotunda" event?