Pete Davidson Brings Veteran Dan Crenshaw To SNL For A Late-Night Apology (VIDEO)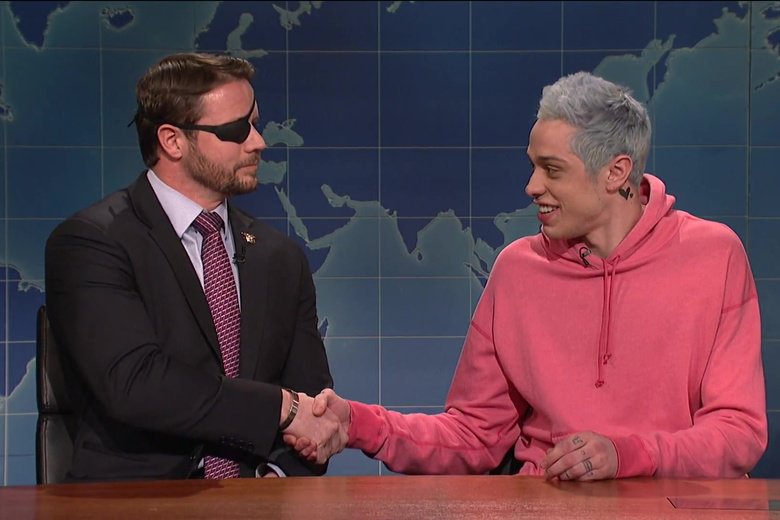 VOTE NOW! Is this Funny or Offensive?
Posted in:
"Rare display of bipartisan grace, class, and humor"
November 11th, 2018 – Pete Davidson made a rare move last night during the taping of Saturday Night Live. Just one week after making a joke about Lieutenant Commander Dan Crenshaw, who wears an eye patch after losing his eye in Afghanistan, Davidson apologized and even brought the war hero onto the the Weekend Update desk to make amends.
The SNL star began the segment by sarcastically acknowledging that his comments last week must have come as a huge shock to those who know him.
"In what I'm sure was a huge shock for people who know me, I made a poor choice last week. On behalf of the show and myself I apologize."
After a few more self-deprecating jokes, which included sympathy for his mom who has to both put up with and live with him, Davidson shifted back to a serious tone.
"I mean this from the bottom of my heart. It was a poor choice of words. The man is a war hero, and he deserves all the respect in the world. And if any good came of this, maybe it was that for one day the left and the right finally came together to agree on something: that I'm a dick." 
At that point, Crenshaw, who just won his bid to represent Houston in congress, slid over and agreed with that last sentiment.
He hasn't been alone in that thinking. Those on the left and right certainly did come together to widely condemn the joke. But unlike Fox News host and Trump confidant Sean Hannity, who said that everyone at SNL "can go straight to hell," Crenshaw showed a lot more forgiveness and levity.
After accepting Davidson's apology, the congressman-elect, pulled out his phone, which was blasting an Ariana Grande ringtone. Putting some more salt in the failed engagement wound, Crenshaw asked Davidson "Oh do you know her?"
The veteran then got his turn at "First Impressions," the segment which initially landed Davidson in hot water last week. Crenshaw played along, and landed some solid jabs as Davidson's picture appeared beside him.
"This is Pete Davidson. He looks like if the meth from 'Breaking Bad' was a person," he said. He then said that Davidson looked like a "troll doll with a tapeworm."
Following the jokes, Crenshaw reminded viewers that this can be a teachable moment. We can be reminded of forgiveness, and we can take some extra time to reach out to veterans this weekend before the observance of Veterans Day on Monday.
"There's a lot of lessons to learn here," he began. "Not just that the left and the right can still agree on some things, but that also this…that Americans can forgive one another. We can remember what brings us together as a country and still see the good in each other. It's a good time for every American to connect with a veteran. Tell a veteran 'never forget.' 

He went on to say that we should never forget the sacrifice of those who fought for us and those who we lost in 9/11; making a reference to Pete's father who died responding to the attack.
SNL's decision to make such a lengthy apology caught some people off guard, as the sketch show usually follows comedians' rule to never apologize despite negative reactions to controversial jokes. People took to Twitter to praise Davidson for his decision and to give kudos to Crenshaw for his pretty skilled comedic timing.
Thank you to Pete Davidson for apologizing to Dan Crenshaw.

Dan Crenshaw, thank you for accepting the apology and giving us all a laugh.

This is what resolving a problem looks like and we need more of this.

Apologies and acceptances are what we need along with a laugh. pic.twitter.com/RZXQaJLffz

— Red T Raccoon (@RedTRaccoon) November 11, 2018
Dan Crenshaw could have joined the outrage mob (and no one would have blamed him) and called for Pete Davidson's ouster from #SNL. Instead he went on the show. Class act. He is the future the #GOP needs. https://t.co/zNTiBKKoRG

— Sarah Longwell (@SarahLongwell25) November 11, 2018
I'll #NeverForget the sacrifice Veterans make and I'll #NeverForget Dan Crenshaw dunking on Pete Davidson. The underrated part of Dan going on @nbcsnl is that he's a star. He's so natural and funny on camera. Good on Pete & SNL. Great work @DanCrenshawTX! pic.twitter.com/4m6rwm11CS

— Robby Starbuck (@robbystarbuck) November 11, 2018
Props to both Pete Davidson and @DanCrenshawTX for an incredibly rare display of bipartisan grace, class, and humor. https://t.co/6IzDgWALha

— shauna (@goldengateblond) November 11, 2018
What did you think of the Pete Davidson, Dan Crenshaw moment on SNL? Was this the right move after last week's joke?