Video Shows People With Down Syndrome Dressed As Animals In 'Endangered Species' Bid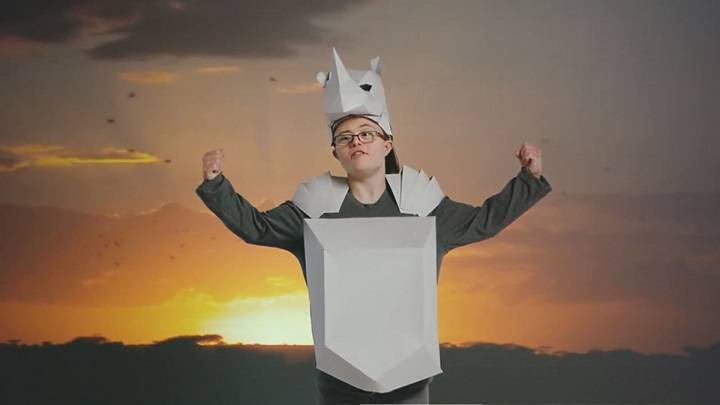 VOTE NOW! Is this Funny or Offensive?
Posted in:
"You're probably wondering why I'm dressed like a polar bear"
November 9th, 2018 –  The Canadian Down Syndrome Society has come under fire for their campaign to place people with Down syndrome on the endangered species list. Their viral video, which has now been viewed over 775,000 times, shows people with Down syndrome dressed as rhinos, pandas, lions, and polar bears reminding viewers that just like those animals they too are endangered.
"We need your help," Joshua MacDonald says in the ad. "That's why we're applying to be the first people on the Endangered List."
Over 65% of people with developmental disabilities are out of the workforce. To guarantee the support we need, we're applying to be on the Endangered List. #EndangeredSyndrome Support our application at: https://t.co/N51TZGMDzm pic.twitter.com/WcEMx3IYim

— CanadianDownSyndrome (@CdnDownSyndrome) November 7, 2018

The video goes on to show graphics explaining how two out of three Canadians with a developmental disability are out of the workforce. They are also more than twice as likely to live in poverty. If you follow the link to endangeredsyndrome.com, you'll find more statistics as wells as goals that the organization hopes to hit with this campaign.
"With the global population shrinking, so is our support," the copy reads. "Here's what we need to survive." 
The group lists employment, housing, community, education, and awareness as its critical needs saying they require "public education to challenge stigma and misperception of people with Down syndrome."
But opponents of the initiative say that this isn't the appropriate way to educate people and that by using people as props, they are actually reinforcing certain misperceptions.
The Canadian Broadcasting Corporation spoke to Francie Munoz, a woman with Down syndrome, and her father about their disapproval of the campaign.
"It doesn't matter who you are…I don't like people comparing me as an animal, it's not fair," she told CBC Toronto. "Love us for who we are, not a character, not an animal."

"In my opinion, this type of campaign, personally as a father, I don't subscribe that much to it. I subscribe to the message itself, not the way … it was presented," her father, Carlos Munoz, added. "The parents I have talked to do not appreciate the fact that our children are being compared to animals. As cute as a polar bear can be, I don't think that anybody should be making that comparison in that sense."
Many on Twitter agree with the Munoz family but others think that while the campaign may be a little dark, it will bring much needed attention.
It is so important to oppose any eugenic efforts against people with Down Syndrome, but this language of speciation/preservation is weird and upsetting: https://t.co/AmroKYM1S9

— cam scott (@vanishingsigns) November 8, 2018
They are trying to get attention and support from a world that chooses to ignore them. More power to them. If I was in their ranks this would be tame compared to my attitude, easily.

— Zac Ray (@TheLocomule) November 9, 2018
I agree. The message is important, but the manner it's being transmitted doesn't promote the debate in a good light. I hope this doesn't damage the movement and that they can find a new tact that can get the right sort of publicity. At least they're trying.

— Razzled Croaker (@Razzled_Croaker) November 9, 2018
This is a really fucked up idea. If this group wants to advocate for awareness and funding, they can do so without putting people with Down Syndrome on a list with animals that are going extinct. 😱😡 https://t.co/cpqeh1PcHH

— Voldetorte (@turtlehands) November 7, 2018
Ugh at the "Down syndrome going extinct" campaign. My son and I are the same species. He isn't a rare animal.

— David M. Perry (@Lollardfish) November 6, 2018
This is the most darky brilliant campaign I've ever seen. Canadians with Down syndrome are petitioning the government to place them on the endangered species list. #EndangeredSyndrome https://t.co/9cnRq1F7F1

— Jeremy McLellan (@JeremyMcLellan) November 9, 2018
The community was also quick to point to another company that highlighted people with Down syndrome but did so in a less "gimmicky" way. In February of this year, Gerber made 18-month-old Lucas Warren the first child with Down syndrome to be featured as the company's "Spokesbaby of the year" in its 91-year history.
Responding to criticism on Twitter, the Canadian Down Syndrome Society said:
"We also love what Gerber is doing! We are not, for even one moment, suggesting that people with Down syndrome are anything other than human. We're communicating that just as many support endangered animals, this community needs attention and support too."
The application has been sent to the IUCN Red List of Threatened Species seeking "the inclusion of people with Down syndrome as an endangered sub-species or sub-population of Homo Sapiens."
Do you think the video and its mission to include people with Down syndrome on the Endangered List is Funny or Offensive? Vote and comment now…