President Trump Mocks "Morning Joe" Hosts on Twitter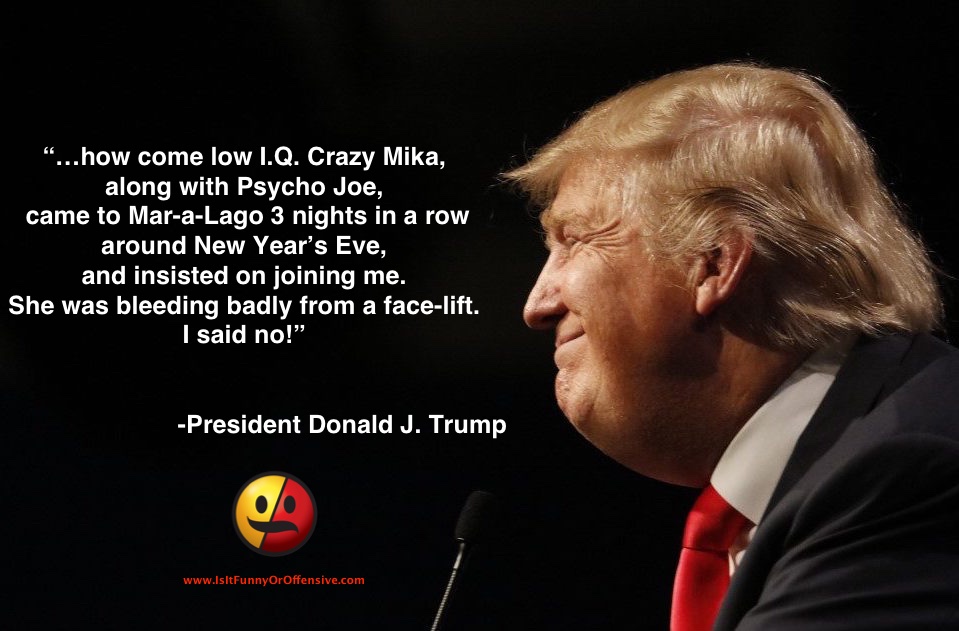 VOTE NOW! Is this Funny or Offensive?
Posted in:
Presidential Twitter Attack Draws Blood
June 29, 2017 – In his continuing war with the media, President Trump took to Twitter Thursday morning going after MSNBC's "Morning Joe" hosts, Joe Scarborough and Mika Brzezinski. First, the President attacked the hosts' intelligence:
I heard poorly rated @Morning_Joe speaks badly of me (don't watch anymore). Then how come low I.Q. Crazy Mika, along with Psycho Joe, came..

— Donald J. Trump (@realDonaldTrump) June 29, 2017
The more shocking attack came when President Trump turned to Brzezinski for "bleeding badly from a face-lift."
…to Mar-a-Lago 3 nights in a row around New Year's Eve, and insisted on joining me. She was bleeding badly from a face-lift. I said no!

— Donald J. Trump (@realDonaldTrump) June 29, 2017
MSNBC issued a statement following the tweets:
"It's a sad day for America when the president spends his time bullying, lying and spewing petty personal attacks instead of doing his job."
Meanwhile, First Lady Melania Trump, defended her husband's words through a spokesperson:
"As the First Lady has stated publicly in the past, when her husband gets attacked, he will punch back 10 times harder." said a statement from Melania Trump spokeswoman Stephanie Grisham, according to CNN.
You make the call – were the President's tweets Funny or Offensive? Vote and Comment now…