President Trump Tweets Video Of Himself Beating Up CNN WWE Style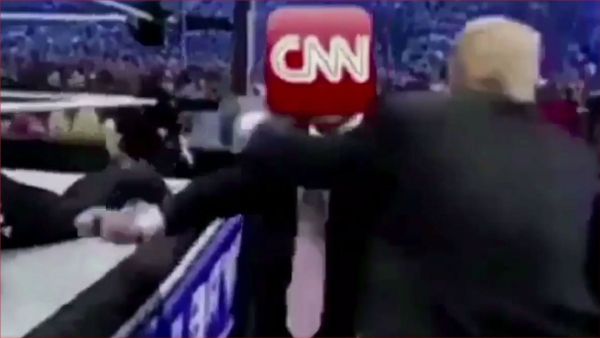 VOTE NOW! Is this Funny or Offensive?
Posted in:
WWEasy, Mr. President
July 2nd, 2017 – President Trump again took to Twitter Sunday morning to continue his attack on the media. This time, he drew inspiration from his time with the WWE and shared a video of himself attacking a figure just outside the ring. His opponent? A man with the CNN logo covering his face who fell victim to Trump's punches.
#FraudNewsCNN #FNN pic.twitter.com/WYUnHjjUjg

— Donald J. Trump (@realDonaldTrump) July 2, 2017
The president used his newly crafted acronym for the hashtag. Earlier in the weekend, Trump shared with his Twitter followers that he was thinking about changing "Fake News CNN" to "Fraud News CNN."
Perhaps letting the irony of using a fake sporting event to call out fake news pass him by, the president has used this most recent tweet to call out media coverage he feels has unfairly targeted him. Leading up to the holiday weekend, Trump spent some time on Twitter attacking MSNBC's "Morning Joe" hosts, Joe Scarborough and Mika Brzezinski.
With the escalating war Trump has waged on the free press, many have questioned his tactics and asked White House aides if his actions have gone too far or should be seen as inciting violence.
Deputy press secretary Sarah Huckabee Sanders defended the president a few days ago saying:
"The president in no way form or fashion has ever promoted or encouraged violence. If anything, quite the contrary."
CNN has responded to the latest attack with a statement saying they will continue to do their job and hopes that Trump will start doing his.
CNN response to Trump tweet about beating up a the CNN logo pic.twitter.com/pk5tN6aKus

— Hadas Gold (@Hadas_Gold) July 2, 2017
The saga took another interesting twist when people shared where the CNN logo head video originated. Several days ago a Reddit user named "HanAssholeSolo" had posted the creation.
President Trump has pushed back on those saying his behavior is threatening and not presidential by saying it's "MODERN DAY PRESIDENTIAL."
My use of social media is not Presidential – it's MODERN DAY PRESIDENTIAL. Make America Great Again!

— Donald J. Trump (@realDonaldTrump) July 1, 2017
After today's WWE CNN smackdown, the debate on whether or not these tweets are acceptable rages on.
This is not a fucking joke! You've completely lost your mind. You're promoting violence against the media. This tweet will bring you down.

— Daniel Danger Marin (@dangermarin) July 2, 2017
As soon as some moron tries to incite violence against a member of the press, i
it's going to be pinned directly on you for encouraging it.

— Daniel Danger Marin (@dangermarin) July 2, 2017
And the Counterfeit News Network goes down for the count!

— Mark Dice (@MarkDice) July 2, 2017
Dems are outraged by a gif….. yet this is, "Art"…. #MAGA pic.twitter.com/wYJdy45mwo

— Nik Lentz (@NikLentz) July 2, 2017
Reminder: 28 people were injured in a shooting at an Arkansas club.

POTUS has attacked the media again. He remains silent on the shooting. https://t.co/JRSDJJdOtE

— Kyle Griffin (@kylegriffin1) July 2, 2017
The WWE analogy is actually perfect. I don't for a second believe that the feud between Jeff Zucker and Donald Trump is real.

— Dave Weigel (@daveweigel) July 2, 2017
What did you think of Trump's latest CNN attack? True attack? True entertainment? Funny or Offensive? Vote and comment below.