Quarterback Shai Werts Cleared For Cocaine Charge On Car: 'That's Bird Poop'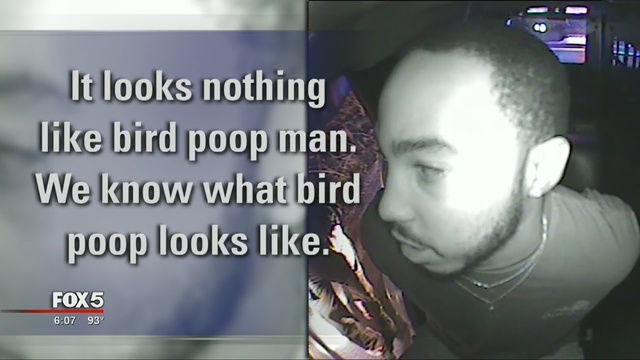 VOTE NOW! Is this Funny or Offensive?
Posted in:
A Shi**y Situation
August 23rd, 2019 – College football player Shai Werts has been cleared of cocaine charges after initially being pulled over for speeding. The Georgia Southern starting quarterback found himself in a scary situation that lead into a bizarre conversation as he maintained it was simply bird poop when officers questioned what white substance was on his windshield.
The 21-year-old was driving back to school after a visit with his grandmother in rural Saluda County, South Carolina. After being clocked going 80 mph, the routine traffic stop escalated when officers used field-testing kits to analyze a white substance.
The exchange between Werts and officers was caught on dash cam footage.
"That's bird s—. I swear to God," Werts said. "Can I tell you something? That's bird s—."

"That's no bird s—," an officer responded. "It looks nothing like bird poop, man. We know what bird poop looks like. Unless the bird inhaled cocaine."
Werts was initially suspended from GSU's team after the arrest. His scheduled start against LSU was put in jeopardy as further tests were conducted. After passing a drug test, Werts' suspension was lifted, and he was allowed to return to practice. The redshirt junior had an impressive 2018 season throwing for 987 yards and running for 908 while combining for 25 touchdowns.
Werts attempted to use his football career to reason with the officers during the bird poop/cocaine incident.
"I have no reason to lie to you about cocaine," he said. "I play football, so I don't do cocaine."
Athleticism didn't sway the officers' skepticism as they honed in on another detail. They questioned why Werts didn't immediately pull over when they turned on their lights and sirens. He didn't pull over, but he did quickly call 911 to explain that he didn't feel comfortable stopping in a dark, isolated area and was trying to get to a well-lit spot.
"I'm not going to pull over in the dark where no one around can see," he said on the dash cam video. "You know what's been going on in the world. No offense to you, but I just didn't feel comfortable, officer."
While he will still be charged with a speeding ticket, all drug-related charges have been dropped following testing from the South Carolina Law Enforcement Division. Results showed that no controlled substances were present on the samples taken from Werts' Dodge Charger.
"He was happy to hear the news," attorney W. Townes Jones IV told the Morning News about Werts' reaction to the testing. "He was confident that's what would ultimately happen."
Werts currently has no plans to take action or seek an apology from the sheriff's department. His attorney said they believe the officers were investigating within the bounds of the law at the time of the arrest. Many people, however, have not taken the incident as well. Following the arrest and subsequent vindication, there were conversations about race and the inaccuracy of field-testing kits.
According to The Washington Post, "in 2016, the New York Times and ProPublica found that field-testing drug kits, which cost about $2 a piece, are wildly inaccurate. False positives can result from officer errors, the weather or poor lighting, and are so common that as many as one in three tests might come back wrong."
Funny headline, yes. Saw the local news on this piece and the anchors were yuckin it up. But why is no one talking about the fact that a white driver would NEVER be accused of having clumps of cocaine that looked like bird poop ON THE HOOD OF HIS CAR! https://t.co/TBjhG5kOES

— RainnWilson (@rainnwilson) August 21, 2019
Shai played it right, across the board. Time for better field test kits. Shai Werts, Georgia Southern quarterback, has drug charges dropped in 'bird poop' case – The Washington Post https://t.co/SgwjUTFsyy

— Branford Marsalis (@bmarsalis) August 9, 2019
I wonder why cops in rural South Carolina would assume Shai Werts was lying when he said the white substance smeared on his car was bird poop 🤔 pic.twitter.com/vMKIdc74vm

— Troy (@Tschmitty13) August 9, 2019
What do you think the bird poop/cocaine mix-up?