Reddit CEO Forged Comments of Trump "Bullies"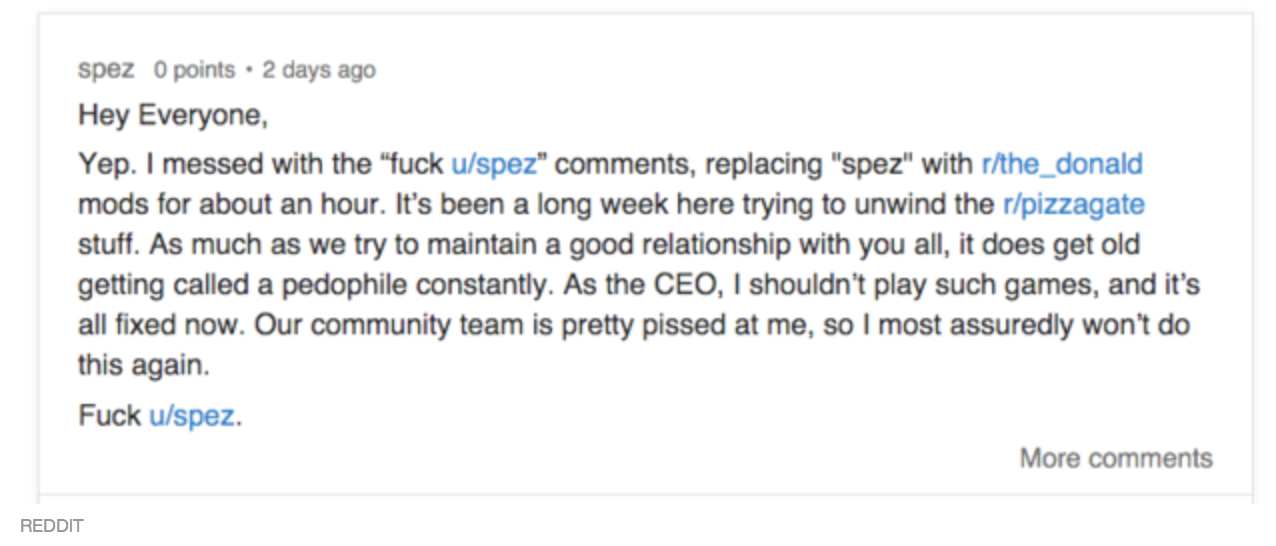 VOTE NOW! Is this Funny or Offensive?
Posted in:
Reddit Re-do
November 30th, 2016 – The co-founder of Reddit recently found out how quickly a joke can come back to haunt you. Steve Huffman, who also currently serves as the company's CEO, admitted that he used his admin status to edit user comments that took aim at him personally.
The comments were made on a subreddit called r/The_Donald, which is a heavily trafficked pro-Trump forum. Huffman admitted that he changed his own username, u/spez, with usernames of moderators for r/the_donald. So many comments (most could be more accurately labeled as insults) that were originally critical of Huffman appeared to now be critical of the forum's leaders.
Last Wednesday, after users noticed the changes, Huffman issued an apology.
Despite violating Reddit employee policies, Huffman told SFGATE that he saw the stunt as a joke and as a way to give the moderators a taste of the insults he receives on a daily basis. He quickly realized it wasn't a good idea:
 "I abused my power to give the bullies a hard time"
The "bullies," however, were not amused and have taken to their forum to sound off in new threads. Under "The Admins are suffering from low energy – have resorted to editing YOUR posts. Sad!" many users are calling out the abuse of power.
Who do you side with on this one? Let us know your thoughts on bullying, censorship and user relations as it relates to Reddit.