Richard Spencer's University of Florida Event Fuels Free Speech Debate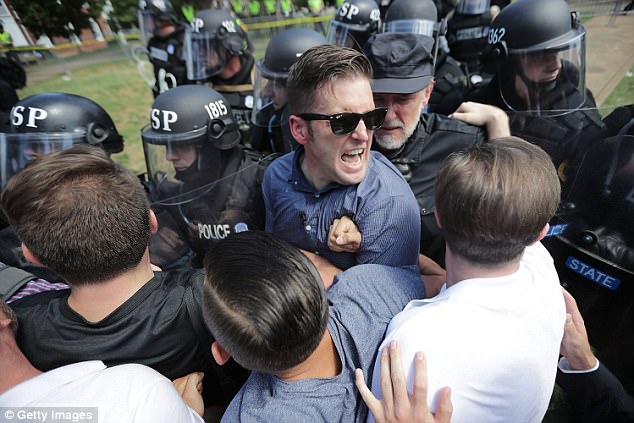 VOTE NOW! Is this Funny or Offensive?
Posted in:
Trade Your Event Ticket For Beer
October 19th, 2017 – Richard Spencer, a white nationalist and president of the National Policy Institute, will be speaking at the University of Florida today amid an already tense political and racial climate. The National Policy Institute has been labeled a hate group by the Southern Poverty Law Center, and its mission of advocating for a white state is one that many have protested over the years. The university is bracing for more protests as Spencer delivers a speech which he has described as an "important dialogue for the entire community."
While Spencer hasn't had an entire gender protest him, he has caused a governor declare a state of emergency prior to his arrival. Florida Governor Rick Scott said he made the decision on Monday, because he felt the threat of a potential emergency was imminent.
"We live in a country where everyone has the right to voice their opinion, however, we have zero tolerance for violence and public safety is always our number one priority,' he said in a statement. "This executive order is an additional step to ensure that the University of Florida and the entire community is prepared so everyone can stay safe."
"Not in our town! Not in our state! We don't want your Nazi hate!" #SpencerAtUF #Gainesville pic.twitter.com/uWhqOfPW7P

— Christopher Mathias (@letsgomathias) October 19, 2017

Spencer was not invited by the university but rather booked the Phillips Center for $10,564. The university is dishing out over $500,000 for security at the event and for the protests surrounding it. Media outlets have already spoken with many students and faculty who have explained the uncomfortable mood permeating the campus.
"There's a lot of fear, there's a lot of anxiety," Fara Moskowitz, the university's president of the Lubavitch-Chabad Student Group said. "There's a lot of just unknown what's going to happen."
The past few years have given ample material for the free speech vs hate speech debate on college campuses. Milo Yiannopoulos, Ann Coulter, Ben Shapiro and many others have fought the silencing of free speech on college campuses, but many have argued that some speech should not be protected by the 1st Amendment.
The layers to the debate seem to multiply the deeper we dive into the issues. Currently fueling the debate is the power Spencer has in deciding who gets to cover the event – a move some have deemed ironic considering his championing of free speech. The Guardian spoke with university officials at Florida who say that Spencer gets to choose which journalists will be able to cover the speech because it is his event.
However, Clay Calvert, the director of the University of Florida's Marion B Brechner First Amendment Project, said the school has "unfortunately sacrificed" journalists' 1st amendment rights.
"The university is the entity that ultimately made the decision not to allow a free access pool of journalists, and they could have negotiated that," he said. 
While thousands are expected to protest on campus, local businesses have found their own way to protest without getting involved physically. Alligator Brewing issued a trade deal for those who have tickets to the event – a plan that gained a lot of attention on Twitter.
Here's Alligator Brewing Co's response to Richard Spencer's upcoming speech. This is amazing. pic.twitter.com/moN8dzAUtv

— Socktober Koebi (@koebimoonlight) October 18, 2017
How do you think we should approach the free speech vs hate speech debate? Should the University of Florida host Richard Spencer's event? Give us your thoughts!