Sean Spicer's Lies Transform Into A Comedic Segment At The Emmys (video)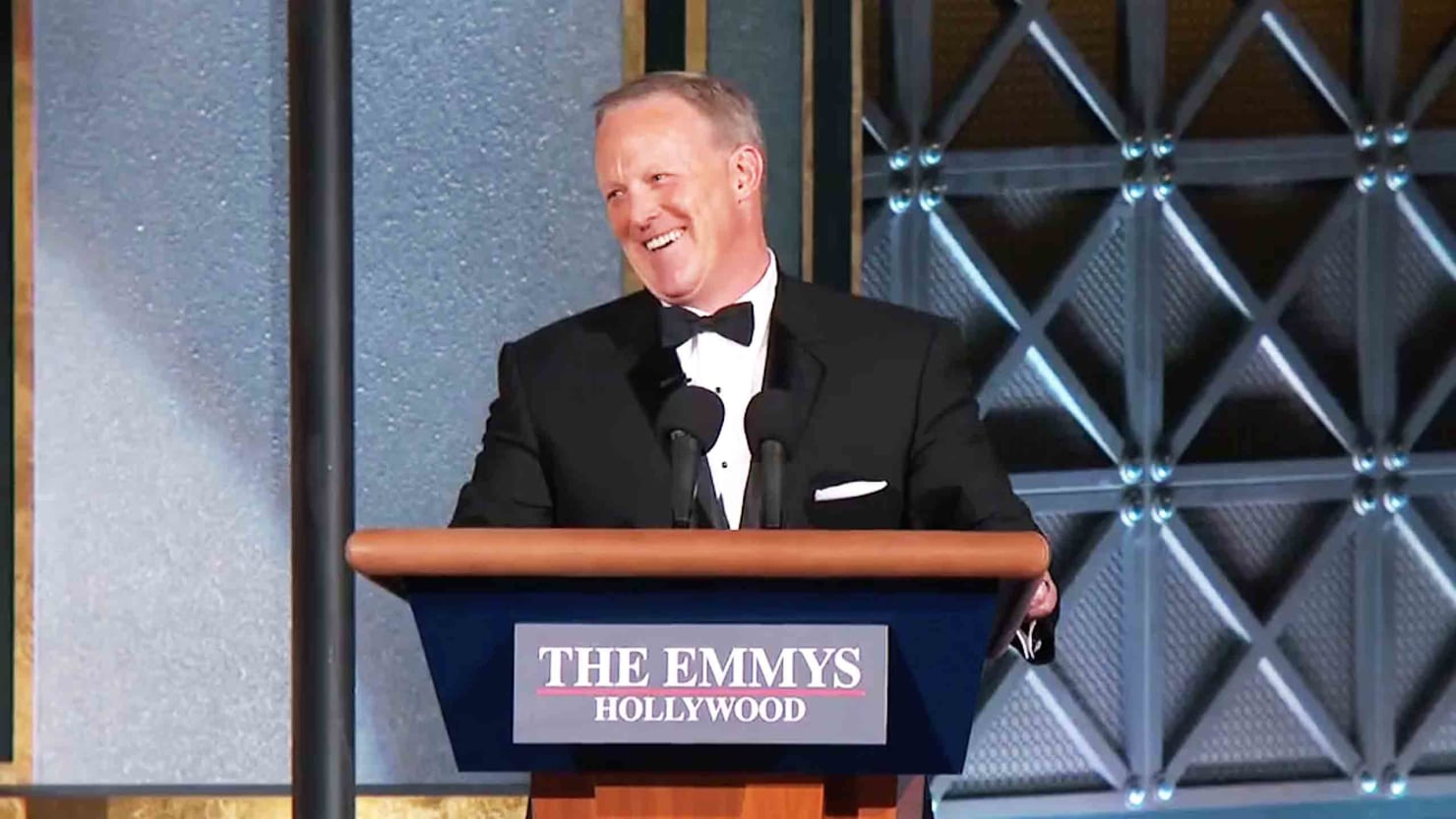 VOTE NOW! Is this Funny or Offensive?
Posted in:
Lectern Laughter
September 18th, 2017 – The 69th Annual Emmy Awards wrapped up last night with The Handmaid's Tale racking up trophies for its groundbreaking first season and Sean Spicer yukking up laughs for his groundbreaking first lie as President Trump's press secretary. While the night had many jokes and stunts that would normally fill an Emmys wrap-up article (Dolly Parton requested a vibrator from pals Jane Fonda and Lily Tomlin while they all took a dig at the boss-man in Washington D.C.), it was Sean Spicer's appearance that got the spotlight.
Host Stephen Colbert has made a show-reviving career out of mocking Trump on The Late Show with Stephen Colbert, so it was probably no surprise that he got in a few more burns on the Emmy stage last night. While reminding viewers that it's ratings that Donald Trump ultimately cares about, he realized it was too early in the show to gauge audience size. Cue Sean Spicer.
Borrowing a podium similar to the one Melissa McCarthy used on SNL, the spinner himself came out on stage to set the record straight.
COLBERT: What really matters to Donald Trump is ratings. You've got to have the big numbers. And I certainly hope we achieve that tonight. Unfortunately, at this point, we have no way of knowing how big our audience is. I mean, is there anyone who could say how big the audience is. Sean, do you know?

SPICER: This will be the largest audience to witness an Emmys, period — both in person and around the world.

COLBERT: Wow. That really soothes my fragile ego. I could understand why you'd want one of these guys around. Melissa McCarthy, everybody, give it up!
The audience didn't have to do much acting; instead giving genuine reactions of shock and laughter as Spicer entered the stage.
Anna Chlumsky's face when Sean Spicer walked out was all of us! #Emmys pic.twitter.com/3wFQKCultf

— Jarett Wieselman (@JarettSays) September 18, 2017
Meanwhile, in live-tweeting land, the analysis began, and most people didn't seem to think normalizing Sean Spicer's actions were a laughing matter. While there was recognition that this was essentially Spicer admitting that his time spent as press secretary was full of BS, people highlighted that this is another example of a white, straight male quickly being given a pass.
As Deray would say, watch whiteness work to normalize Sean Spicer! COME! ON!

— roxane gay (@rgay) September 18, 2017
Sean Spicer gets a recovery tour after lying to the public for months but the first woman nominee is supposed to go into hiding

Fuck sexism

— JeremyConstantinople (@smartflexin) September 18, 2017
Sean Spicer is an accessory to an ongoing attack on American democracy. Stop giggling and pull your head of of your ass.

— Lauren Duca (@laurenduca) September 18, 2017
Power is all about who gets forgiven. Who gets fresh starts.

— Chris Hayes (@chrislhayes) September 18, 2017
There's nothing funny about the damage he assisted in planning, defended, & celebrated when he worked in The White House. https://t.co/j4Hr8l3Lg9

— deray mckesson (@deray) September 18, 2017
I actually found this pretty gross. Using the White House to sell egregious lies isn't really funny. https://t.co/IwHF97HZLq

— Judd Legum (@JuddLegum) September 18, 2017
Is it supposed to be comical that the former White House spokesman is now tacitly admitting that he lied to the American people?

— Kaitlan Collins (@kaitlancollins) September 18, 2017
Acting like Sean Spicer is just another funny guy is the same blurring of entertainment and politics that led to Trump becoming president.

— Murtaza Hussain (@MazMHussain) September 18, 2017
one of those things, like the Fallon interview, that shows this is all a joke for people who are not vulnerable to this reign of terror https://t.co/zj2K1YPANN

— wikipedia brown (@eveewing) September 18, 2017
According to CNN, the stunt was put together in the final days before the Emmys and was an idea pitched by Colbert and his Late Show team. Sources close to the group said Colbert thought it would be funny and surprising and even expected the pushback. Colbert felt confident in his established resistance to the president and didn't worry about normalizing Spicer: "Donald Trump normalized Spicer," he said.
Although not as vocal on Twitter, there were those that agreed the stunt didn't normalize him and actually found the bit funny.
STEPHEN COLBERT DID. THAT. The entire opening of the #Emmys was tooo funny. Sean Spicer ???

— Ashley Jensen (@xxASHLEYY) September 18, 2017
Every liberal is attacking Sean Spicer for appearing at the Emmys. See Sean, liberal filth will never find us funny, they're savages.

— Mike (@mike_Zollo) September 18, 2017
Ok Sean Spicer estimating the size of the #Emmys audience was pretty funny.

— Melissa Holmes (@2MelissaHolmes) September 18, 2017
Watch the clip and let us know what you thought about Sean Spicer rolling onto the Emmy stage for a joke. Funny or Offensive? Vote and comment now…