Sexy Holiday Polar Bear Display Shocks Shoppers at Mall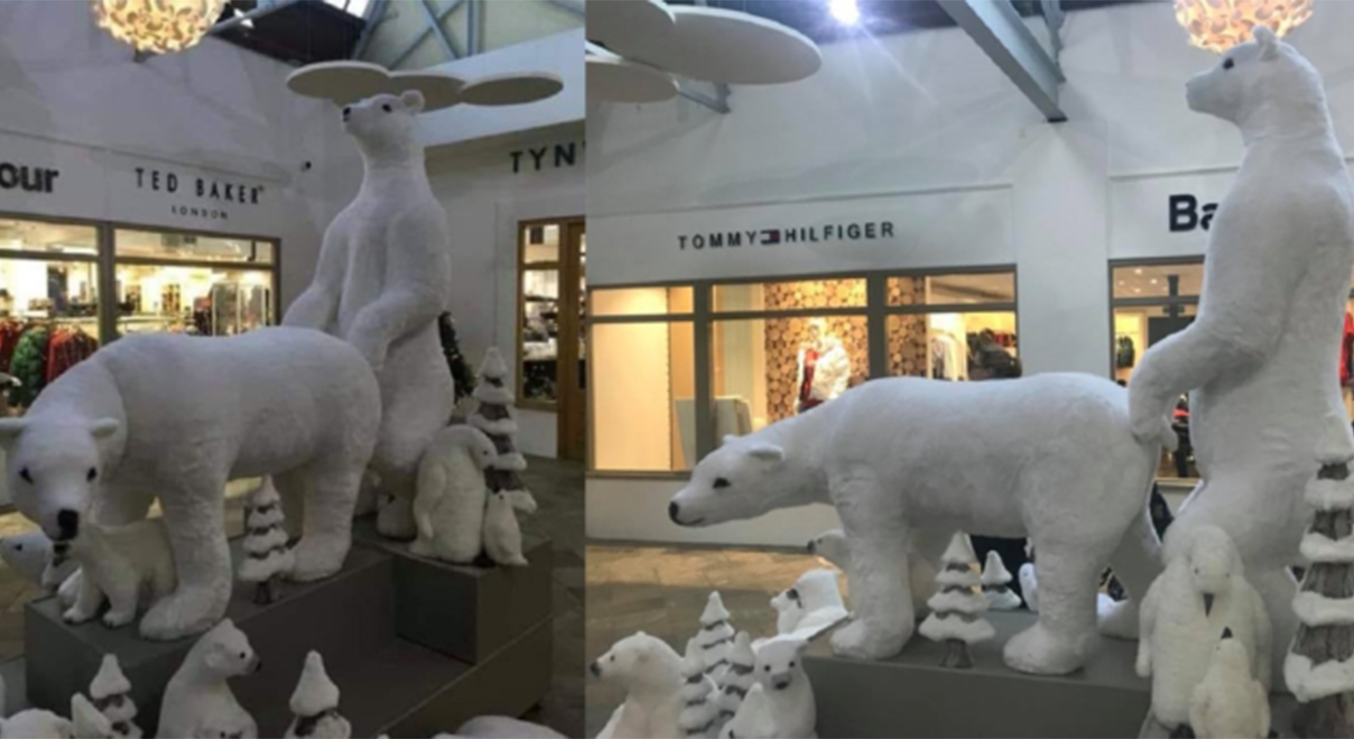 VOTE NOW! Is this Funny or Offensive?
Posted in:
"Riding the Polar Bear Express"
November 21st, 2018 – Just in time for the holidays, the Tynwald Mills shopping center is sending tidings of comfort, joy, and apologies after shoppers were exposed to some polar bear lovin' over the weekend. Pictures of the display began to spread after some customers rearranged the winter setup to show the animals engaged in sexual activity.
With one polar bear standing on its hind legs and the other in front on all fours, the internet celebrated the vulnerable species before the staff threw some cold water on them.
Tynwald Mills have done themselves proud with their Xmas display this year!!!!! 🤦🏼‍♀️🤣🇮🇲 pic.twitter.com/wxomREW1Gj

— Jo Pack (@JoPack1) November 18, 2018
Went to Tynwald Mills today and was quite amused yet disturbed by their placement of their Xmas polar bears 😳🙈🤣 #merryxmas #ohmy #naughtybears #feelingthelove #frombehind #bearbehind @Laughology pic.twitter.com/V5vvTgGmSB

— Ruth Hogg (@MrsManxTiger) November 18, 2018
On Facebook, the jokes continued even if one user was a little confused on exactly how babies are made.
Tynwald Mills, which is located on the Isle of Man, kept a jovial spirit about the mischief but apologized to any customers who were offended.
"We'd like to thank our customers for getting a little too into Christmas this year with our Polar Bears in the atrium and can reassure you the display has changed somewhat since setup," a spokesperson wrote. "Apologies to anybody offended by our somewhat interactive display. 😳 #nightattheshoppingcentre #naughtybear."
The employees have now separated the polar bears, and we're assuming they're keeping a closer eye on their activities. On social media, however, the shopping center has subtly kept the joke going by posting a photo of a new baby polar bear – dubbed a "Christmas miracle."
This obviously isn't the first time a holiday display has gone awry. Rudolph recently got tired of being left out of all the reindeer games and left his crew behind. So, managers beware, your mall displays can turn from cute to tragic and sweet to sexy in the blink of an eye.
— Bathia Mapes (@Bathia_Mapes) November 19, 2018
Do you think this new polar bear display is Funny or Offensive? Vote and comment now…