Six Year Old Drake-Themed Party Complete with Mini-Hennessy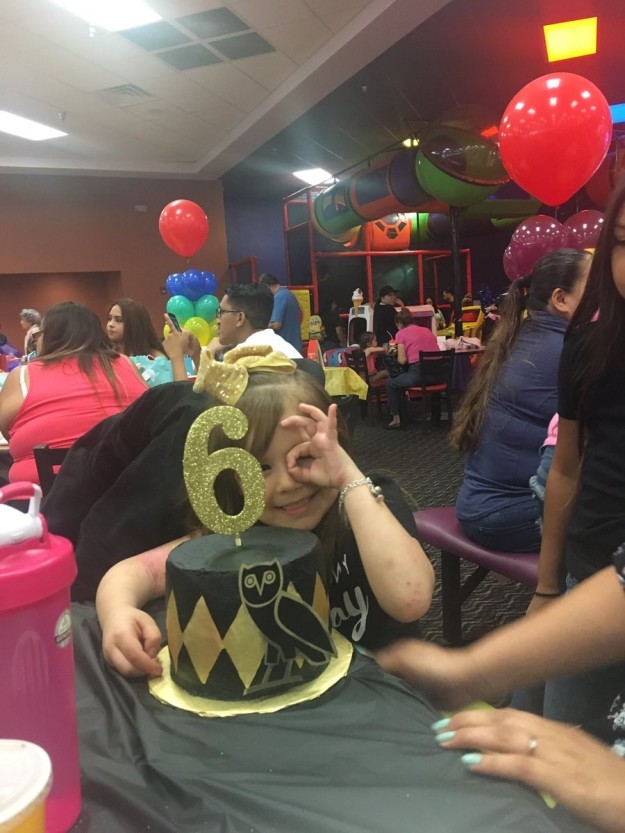 VOTE NOW! Is this Funny or Offensive?
Posted in:
If You're Reading This It's Your Birthday
September 29th, 2016 – A six-year-old girl channeled her inner 6 God by having a Drake-themed birthday party. Leah has loved Drake since she could speak so her mother decided to go all out and surprise her as she headed into her sixth year of life.
The party room was decked out with black and gold balloons, fake diamonds, money confetti, a cake with Drake's OVO symbol and even mini Hennessy bottles as balloon weights. Her mother told ABC News that despite the elaborate theme, the party didn't take too long to get together and was inspired after her friend gave Leah a Drake t-shirt.
"My friend bought her a shirt that said 'Turn My Birthday Into a Lifestyle' and she knows the lyrics to that song, and that was it from there." 
Leah completed the birthday outfit by donning a black hoodie, a gold chain and a pair of Timberlands. Her mother told Buzzfeed News that she loved the party and was "smiling from ear to ear the entire time." 
Close family friend, Abby Marquez, tweeted out photos from the party that have now been shared over 26,000 times.
"I didn't even know my friend put it on Twitter and then she messaged me later that night saying people had kept retweeting it," Leah's mom said. "Then my friends are texting me at 3 in the morning and I was like, 'Why is it doing this?' I never expected it to do this."
She turned 6 lol pic.twitter.com/VSWSSCiom0

— 4 又 7 (@abbykillzz) September 26, 2016
With the sudden media attention people were pretty vocal with their opinions on someone else's child's birthday party. Many thought it was an inappropriate theme for such a young age and placed blame on the parent while others saw it as simply making the child happy and remembering what kind of music they listened to at a young age.
We want to hear from you. Do you think this was a fun 6th birthday party or was it not appropriate for this age? Funny or Offensive? Vote and comment below.