South Park Creators Backing Off Trump: "Let Them Do Their Comedy And We'll Do Ours"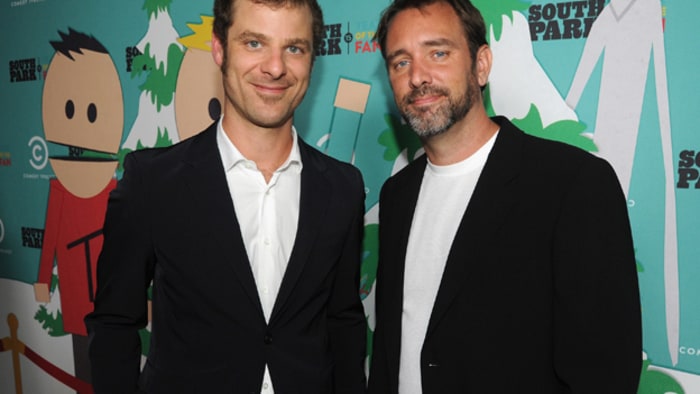 VOTE NOW! Is this Funny or Offensive?
Posted in:
Gone South…Park
February 6th, 2017 – The minds behind the long-running satire, South Park, recently told an ABC Australia interviewer that they intended to avoid directly referencing Donald Trump or his administration in future episodes. The creators of the animated Comedy Central program insisted that the actions and statements coming out of Trump's White House are so absurd that ridiculing them is almost impossible.
"It's tricky now because satire has become reality," said the show's co-creator, Trey Parker. Lamenting the state of comedic affairs in a post-Obama America, Parker's co-founder, Matt Stone, told the reporter, "We decided to kind of back off and let them do their comedy and we'll do ours."
The notoriously fearless caricaturists remarked that the challenge of spoofing Trump was simply proving too great:
"We were really trying to make fun of what was going on, but we couldn't keep up. What was actually happening was way funnier than anything we could come up with."
South Park recently wrapped up its 20th season, one that saw the popular "Mr. Garrison" character embarking on a Trump-like ascent into the political stratosphere. However, if Donald Trump's first week in office is any indication, even a show famous for sentient feces, a tryst between Satan & Saddam Hussein and obscenity-spewing adolescents appears to have its work cut out for it.
While late-night comics have made a cottage industry of Trump's missteps, outbursts and provocations, Parker & Stone are more than embarrassed by the wealth of Trump material. The South Park crew has gone on record with their collective concerns over the implications of Trump's actions, worrying that the joke may be on them and the rest of the world.
Fans of the show have said to them: "'Oh, you guys are getting all this good material,' like we're happy about some of the stuff that's happening." To the contrary, when asked if they were excited by the farsical potential of a Trump presidency, Stone replied:
"It doesn't feel that way. We're having our head blown off like everyone else."
Do you think the South Park creators are making the right decision? What effects could satire have on the Trump presidency? Sound off in the comments section below.