Syphilis Tsunami Billboards Make Waves Across The Country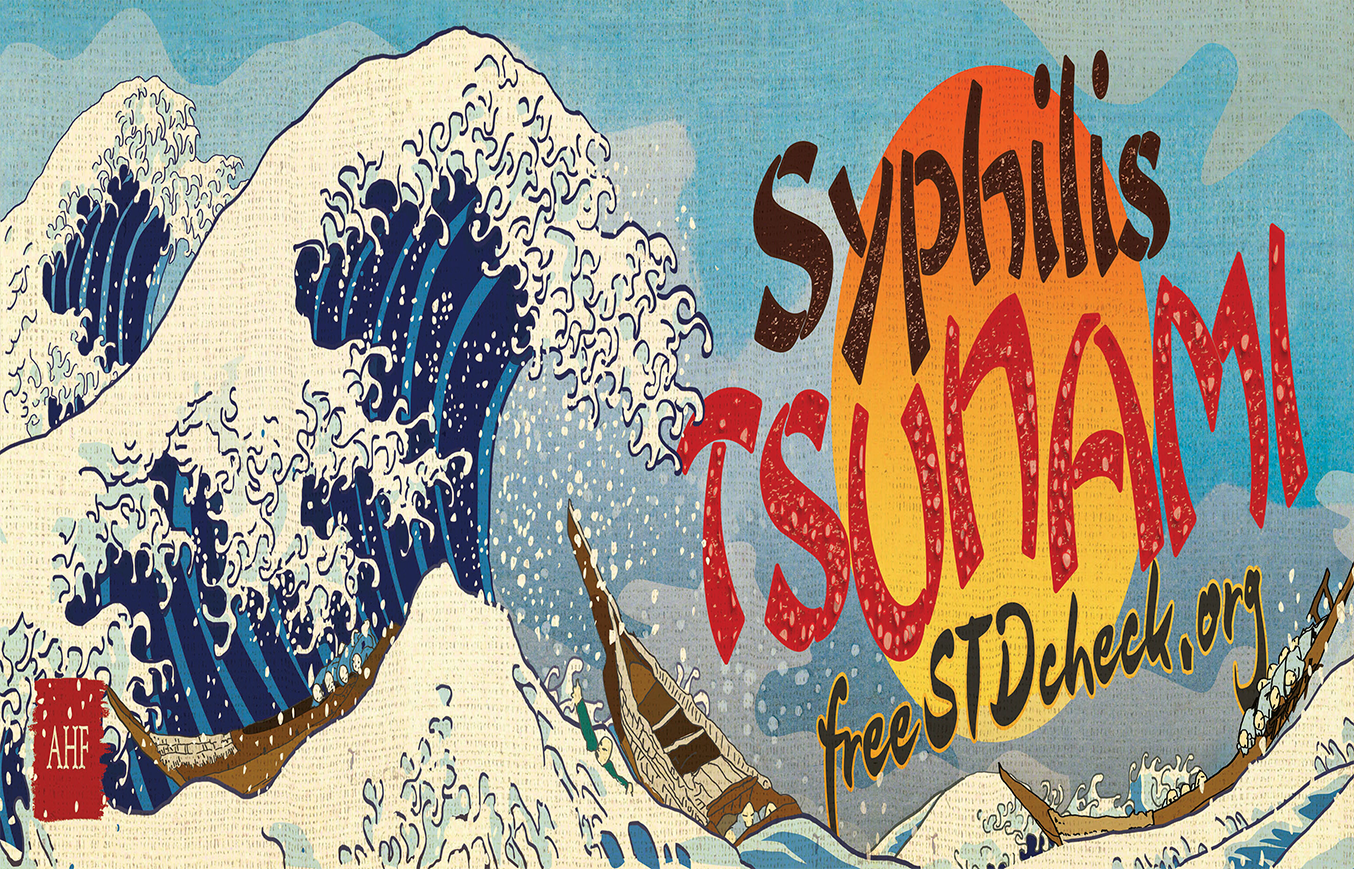 VOTE NOW! Is this Funny or Offensive?
Endless Bummer
June 27th, 2017 – The warning may not be on your nightly newscast, but the AIDS Healthcare Foundation (AHF) is letting it be known that a syphilis tsunami is in the forecast. Billboards have popped up around Los Angeles and will soon be, eh, spreading across the country in an effort to bring attention to the rising rate of syphilis cases in the United States.
AHS has directed viewers of the billboard to go to freeSTDcheck.org to learn more about the growing public health crisis. In April, according to their site, "the Centers for Disease Control and Prevention (CDC) noted an estimated 33% increase of infectious syphilis cases from 2014-2016. They also highlight Pfizer's, the manufacturer of Bicillin L-A, refusal to meet demand. Bicillin L-A is the most sought after medication for the disease.
Those statistics, however, are not what's causing some pushback from viewers of the billboard. People have begun to call it out for cultural appropriation, insensitivity in handling a serious issue, and others are still trying to muster up a response.
The image is an homage to world-renowned print "The Great Wave off Kanagawa" by Katsushika Hokusai and is one of the most recognizable works of Japanese art in the world.
.@aidshealthcare "Syphilis Tsunami" ad references Hokusai's Great Wave, uses Oriental font. Good cause doesn't justify racist appropriation

— Todd Kushigemachi (@toddkush) June 26, 2017
#TheGreatWaveKanagawa painting deserves better than #SyphilisTsunami pic.twitter.com/s7iIR6bhiZ

— Jacob Carlisle R. (@SuperFunUnicorn) June 21, 2017
If anybody in LA wants to talk about the Syphilis Tsunami billboards, just know that I'm here

— Julia Alexander (@julialalexander) June 24, 2017
Syphilis Tsunami is a great band name. #tweetsfromeurope https://t.co/4YHpcMMGev

— Jeff, resisting (@JT__Orlando) June 25, 2017
Our new billboard: Syphilis Tsunami. Not even sure where to start with this one… pic.twitter.com/mDWcI3XciF

— Behold666 (@behold666) June 25, 2017
I refuse to find out what "Syphilis Tsunami" is pic.twitter.com/lugMdIVkaB

— Biscuit Lair Li'l ? (@karengeier) June 26, 2017
Sex sells in advertising, but this new initiative from the AHF continues a trend that bucks that approach. The organization ran into some backlash in the past for controversial billboards using products and companies for their own use. In the fall of 2015, Tinder and Grindr sent a cease and desist letter saying billboards made unsubstantiated claims meant to do damage to their apps.
AHF President Michael Weinstein maintains that the billboards are necessary in order to keep pressure on public health officials.
"For several years, AHF has been sounding the alarm on the rising rates of syphilis and other STDs through our outdoor advertising campaigns, including our 'Syphilis Explosion' billboards that made headlines around the world, and yet we continue to see an inadequate response from the CDC and the drug companies to address this growing public health threat," he said.  "Clearly, we need to keep making the public aware of syphilis and encourage sexually active individuals to get tested for STDs regularly and be treated. By posting these billboards in highly visible areas, we also want to keep pressure on public health officials to push Pfizer to produce sufficient quantities of the medication needed to address the syphilis epidemic."
Do you think the Syphilis Tsunami billboards from the AIDS Healthcare Foundation go too far? Funny or Offensive? Vote and comment below.