Jerrod Carmichael Sounds Off On NBC Pulling Mass Shooting Episode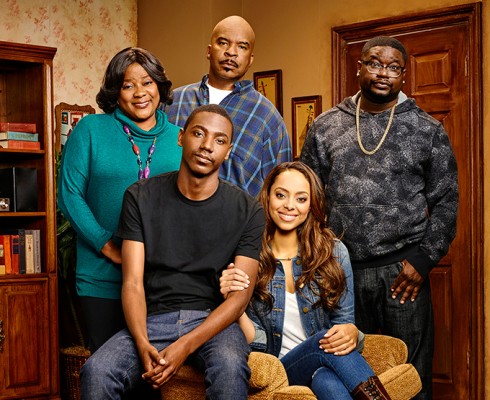 VOTE NOW! Is this Funny or Offensive?
Posted in:
Comedy & Tragedy
June 26th, 2017 – Jerrod Carmichael had a lot to say about how creative artists can address real-time tragedies when he stopped by the set of Chelsea. While sitting down for a one-on-one interview with host Chelsea Handler, the stand-up turned writer/actor discussed a timely episode of The Carmichael Show which was set to air the day of the mass shootings at a GOP baseball practice in Alexandria, Virginia and at a UPS facility in San Fransisco.
At the time of the taping, NBC was deciding whether or not to pull the episode and Carmichael expressed his hope that the network would be open to a deeper discussion. The episode in question is titled "Shoot-Up-Able" and finds the main character surviving a mass shooting and dealing with police as he processes what happened to him.
Ultimately, NBC pulled the show – a decision that Carmichael believes was "criminal." Recognizing that the interview segment may have a more serious tone than the audience was expecting, he explained to Handler how he hoped his sitcom could lend itself to a meaningful conversation.
"I thought that tonight's episode would have an opportunity to talk about these tragedies in a meaningful way. You know, to really lend itself to conversation," he said. "A lot of times when things like this happen and someone wants to talk about it in an outlet that's not the news, people will say, 'too soon.' But when is it not too soon? Unfortunately these things happen constantly." 
He explained that the lesson for the character in the episode is that even though he wasn't physically harmed, he's still a victim. And that universally we can all understand the fear people feel after experiencing a tragedy.
"Right now, NBC wants to pull the episode. I understand a corporation making that decision. But to me what that says is you don't think that America is smart enough to handle real dialogue and something that reflects real family conversations. Something that feels honest and true and still respects the victims. We handle the episode with as much love and integrity as we possibly could. But to just pull that is just criminal. It seems to do a disservice to the viewer. It does a disservice to you. It does a disservice to all of us." 
The two continued to discuss topics the show delves into including race and the n-word, and why he doesn't see any topic as off limit. A week prior, the series aired an episode using the n-word unedited six times with Carmichael telling Chelsea that he doesn't want a word to have that much power over him.
"The responsibility as an artist is to have intention and have perspective behind whatever thought," he began. "So whatever you talk about, you don't just bring up topics as buzzwords, you have a thought behind them. You have an intention and reason for saying them. So I don't believe anything is off limits as long as you have a point. I think discourse and conversation is so important and often overlooked now. And I think artists, comedians, musicians have this opportunity and responsibility to lend themselves to conversation." 
NBC now has the episode scheduled for June 28th  – two weeks after Republican congressman Steve Scalise was seriously injured and the topics of gun control and heated political rhetoric were again making headlines.
Do you agree with NBC pulling the episode the day of the multiple mass shootings? What do you think about Jerrod Carmichael's views on the opportunity for creative storytelling to lend itself to meaningful conversations?