Texas HS Valedictorian Reveals Undocumented Status on Twitter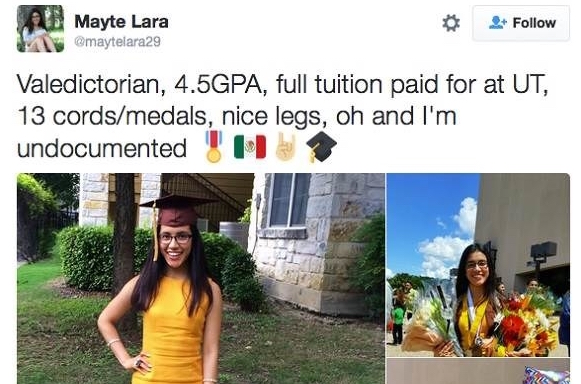 VOTE NOW! Is this Funny or Offensive?
Posted in:
HONOR TROLL 
June 16, 2016 – Mayte Lara Ibarra of Crockett High School in Austin, Texas just learned a valuable lesson on the perils of social media. After posting a list of her academic accolades on her Twitter account, including the GPA that helped her become Valedictorian and secure a full scholarship to the University of Texas, she confessed to her status as an undocumented immigrant.
Almost immediately online trolls began a concerted harassment campaign attacking the high school grad.
@maytelara29 Congrats on your accomplishment. After we deport you, perhaps you can return in a way that doesn't make you a criminal.

— Wolf-Alpha Project (@WolfAlphaProjct) June 4, 2016
She's also a criminal having broken federal law to enter this country. You're a typical Marxist, an agent of chaos https://t.co/JfjRDrSVX1 — MR (@MikeRotondo86) June 10, 2016
While there were a few messages congratulating Ibarra on her accomplishments the bulk of the messages were directed at condemning the teen's immigration status and included calls for her and her family to be deported. One Twitter user went so far as to forward Ibarra's original tweet to the US Immigration and Customs Enforcement Agency. Many of those commenting included pro-Donald Trump hashtags like 
#TrumpTrain, #OnlyTrump, and #Trump2016 lest there be any confusion as to their ideological bent. As for Ibarra the negative response was enough to cause her to deactivate her Twitter account and withdraw from social media. She said she didn't imagine her comment would trigger this kind of backlash and only wanted to, in her words:
"Show others that you can accomplish anything, regardless of the obstacles you have in front of you."
@maytelara29 I did it legally, nobody should get a short cut. pic.twitter.com/UZC5ipnqNY

— Cool Arrow (@cuervo_jones) June 5, 2016
Ibarra wasn't the only recent high school grad to talk openly about their status as an undocumented immigrant. Another Texas high school valedictorian, Larissa Martinez, emboldened by the incendiary rhetoric coming from self-identified pro-Trump/anti-immigrant commenters, put a twist on the GOP candidates own catch phrase and most controversial policy proposal telling her classmates:
"America can be great again without the construction of a wall built on hatred and prejudice."