Spicy Wings and FCC Dings: Justin Timberlake Reflects on Fight Against "Dick in a Box"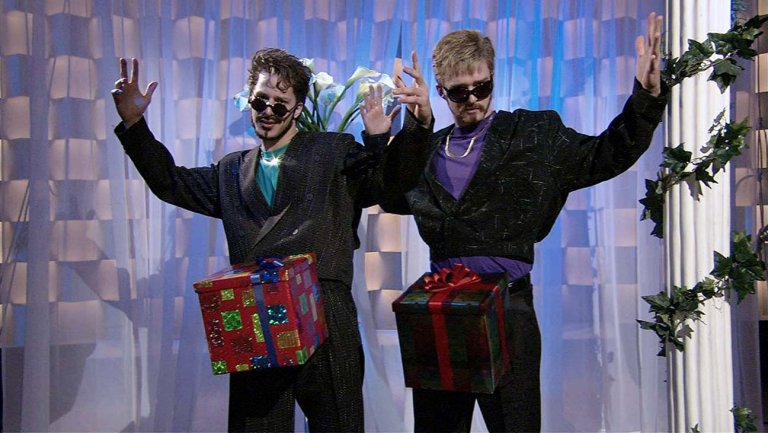 VOTE NOW! Is this Funny or Offensive?
Posted in:
Step One: Get That Bleep Machine Ready
April 9th, 2020 – Hey, girl. Justin Timberlake has something real important to tell you. The performer sat down for an episode of YouTube's Hot Ones, where celebrities answer questions as their mouths slowly explode from chicken wings covered in spicy hot sauce, and he shared some insight on the battle between the FCC and one of his most famous Saturday Night Live sketches: Dick in a Box.
"D in a B," as Timberlake jokingly refers to the digital short, originally aired on Dec. 16, 2006 and quickly became a bizarre NSFW bop we all sang during the holiday season. There have been several deep dives over the years detailing the creation of a sketch where two men trapped in a 90s R&B video gift their ladies their junk.
The Lonely Island member Akiva Schaffer has credited Timberlake for seeing the idea through when others in the writers' room were hesitant.
"The joke was crass and stupid," he said in an interview with Billboard in 2014. "We were not confident in the least. Timberlake was the only one who was confident. We showed him the script for it, and he read it. We were almost embarrassed to show it to him, but he went, 'This is great. We're doing this.' I feel like he's the only one who didn't have doubts."
Fighting the effects of a mighty ghost pepper, Timberlake went on to talk about the development of the now iconic sketch. He did a very convincing Lorne Michaels impression and said the producer pretty much demanded a sketch with The Lonely Island guys. While Andy Samberg and Timberlake "hit it off immediately," they struggled to come up with a good idea.
Jorma Taccone, another Lonely Island member, suggested they play off the popcorn dick movie prank.
"And I said, 'That's super creepy, bro.' To which we then said, 'Yeah, that is super appropriate for two guys who are are super misled about what's appropriate,'" Timberlake told host Sean Evans.
The crew finished filming D in a B at 3a.m. Saturday, and it was at that point that the FCC came and definitely didn't want to unwrap their gift. Officials told Timberlake and the team that the sketch couldn't air because, well, you can't say "dick" on TV. Their response was a simple "Oh, right."
The final agreement was bleeping out the word, which brought the total number of bleeps in the ditty to 16. But much like how our desire to do something only grows when we're told not to do it, Timberlake believes the sketch became funnier when the "big wigs" put restrictions on it.
"The irony of that is, I think, the funnier version is the bleeped-out version," he said. "I fully believe that that idea would not have been seen all the way through if the big-wigs would have known what we were doing."
Watch the Justin Timberlake Hot Ones episode below, and then take a trip down memory lane and fire up "Dick in a Box."
Give us your thoughts on "Dick in a Box." Is it funnier with the FCC making SNL do a bleeped-out version?