Tracy Morgan Leaves Little to the Imagination During 'Today' Show Coronavirus Interview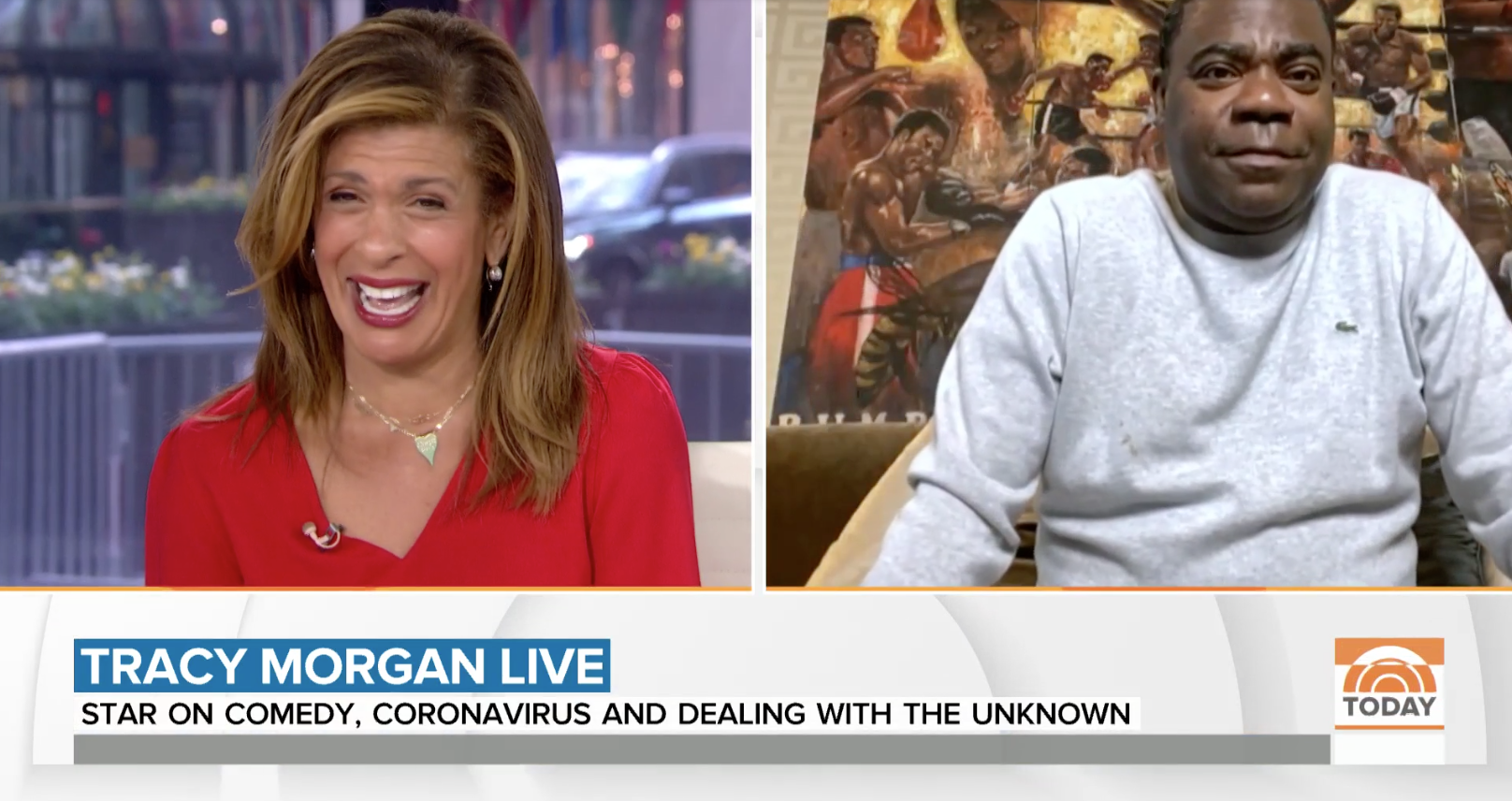 VOTE NOW! Is this Funny or Offensive?
"We're role-playing a lot"
April 7th, 2020 – In the era of Corona, Tracy Morgan has not isolated himself from wild ramblings about impregnating his wife. While it's nice to see some consistency in our ever-changing, pandemic-centered lives, the Today show may be not re-book the comic for his takes on quarantine life.
This morning, Hoda Kotb had the former 30 Rock actor live on-air to discuss self-isolation, his personal experience with medical workers, and the return of his current show The Last O.G. And, sure, he throws in some thoughts on sex, role-playing, and President Trump – unrelated, of course.
Kotb opened the interview by asking Morgan what life was currently like at home. Without skipping a beat, the actor responded in true TGS fashion but managed to not call Kotb "Liz Lemon."
"Oh, well, me and my wife have been quarantined in here for like three weeks, so she's pregnant three times," Morgan said. "Every week she got pregnant."
Morgan also shared some details from their Coronavirus role-playing sessions.
"And also we're role-playing a lot now. She's playing a young maiden whose grandfather was infected with coronavirus, and I'm the scientist who discovered the cure. And she'll do anything to save her grandfather's life. And I mean anything."
Kotb laughed and replied with an "OK, well, you are a creative one" before trying to get Morgan to talk about the extravagant amenities he can entertain himself with inside his home. He didn't want to talk about the bowling alley, but he had a lot to say about his sharks and, surprisingly, his gorilla.
"This tiger in the Bronx Zoo got me scared so I'm going to get all my pets tested," he said. "I'm getting my sharks, I'm getting my moray eel tested. I just bought a 600-pound silverback gorilla and I'm going to take him down to NewYork-Presbyterian to get tested."
While talking about testing, Kotb used the moment to shift the conversation to our brave nurses and doctors. Morgan took a slightly more serious tone as he spoke about his respect for first responders, including the ones who helped save his life after a horrendous traffic accident in 2014.
Morgan dropped in a few more jokes about finally being a surgeon after acquiring an N95 mask before talking about the season three premiere of The Last O.G. He also defended President Trump's response to the Coronavirus.
"I spent a lot of time in the hospital and I know what goes on in there," he said. "And these people, they work hard to take care of you. And I'm very proud of them, they are my heroes."

People wanna criticize the president but imagine being the president of your country and your country got sick," he said. "We all gotta pull together as people. It's difficult for him. Now's not the time for blame."
Morgan's interview quickly spread around Twitter and he is still a top-20 trending topic this afternoon.
you have to wonder what the thought process was behind putting a quarantined Tracy Morgan on live TV but I'm sure glad they did pic.twitter.com/OqFaN9O0my

— John Anthony (@chocobohomo) April 7, 2020
Tracy Morgan said he impregnated his wife 3 times in 3 weeks, wants to get his gorilla tested for 'rona, has a N95 mask, and said we shouldn't place blame on Trump for how he's handled the pandemic. Hoda gracefully got through that interview, but I know she was like… pic.twitter.com/Bcrvrj6WTM

— Jennifer D. Laws (@jenniferdlaws) April 7, 2020
Did you find Tracy Morgan's Today show interview Funny or Offensive? Vote and comment now…