Trump 2020 Campaign Selling 'Pencil-Neck' Adam Schiff T-Shirts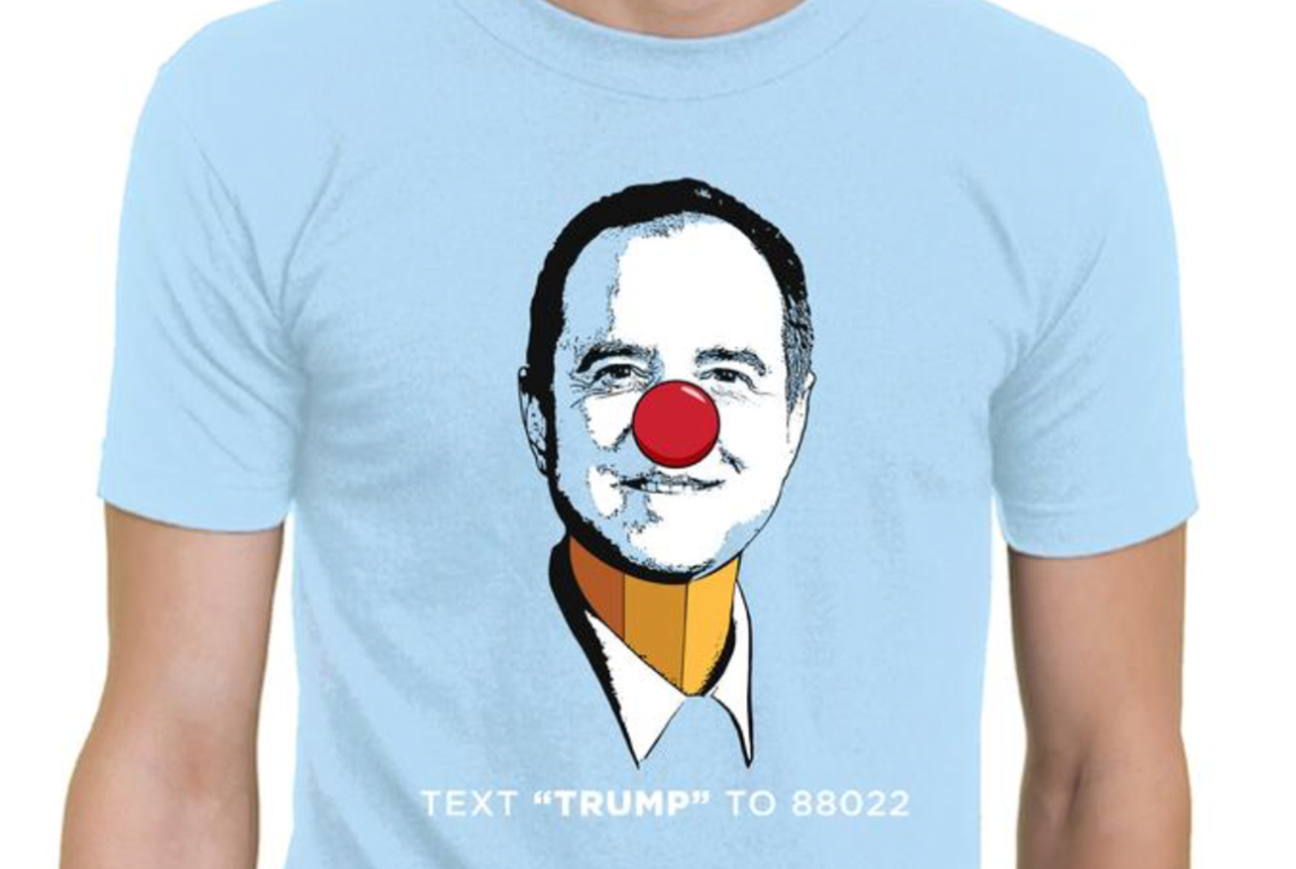 VOTE NOW! Is this Funny or Offensive?
Posted in:
Merchandising Schift
April 3rd, 2019 – In the lead-up to the 2020 election, we're sure to be inundated with rallies, tweets, sound bites, and, sure, merch. Donald Trump's gear seems to be staying on brand with his latest campaign release: a "Pencil-Neck Adam Schiff" tee.
President Trump's 2020 presidential campaign began selling the shirts after the presidential president himself upgraded Rep. Schiff's nickname during a rally in Michigan on Thursday.
"Little pencil neck Adam Schiff," Trump began. "He's got the smallest, thinnest neck I've ever seen. He is not a long ball hitter."
For $28 you can own the blue t-shirt showing Schiff's illustrated clown-nosed face on top of a yellow pencil neck. No word on which staffer from the "Trump Make America Great Again Committee" wrote the product description, but it probably wasn't too difficult a task.
The description is a pretty straightforward lift from President Trump's tweets.
"Little Pencil-Neck Adam Schiff

He spent two years knowingly and unlawfully lying and leaking. He should be forced to resign from Congress!

Everyone should buy a Pencil-Neck Adam Schiff shirt today!
NO COLLUSION. 100% Pencil-Neck!
Limited Edition. While supplies last.
Proudly Made in USA"
Trump is no stranger to nicknames — deeming Hillary Clinton "Crooked," Ted Cruz "Lyin'," Maxine Waters "Crazy," and Jeb Bush "Low Energy" — and this isn't his first zinger for the Californian representative. In the past, Trump has called Schiff "Little Adam Schiff (he saved the "Liddle" spelling for Bob Corker) as well as "little Adam Schitt."
Saving the playful profanity for Twitter, the Trump committee went with "Pencil-Neck" for their shopping site. They're also selling limited edition "Witch Hunt" and "No Collusion" t-shirts, which are simply Trump tweets slapped on a tee for $30.
Schiff has been a reliable target for Trump and Republicans since becoming the House Intelligence Committee Chairman. Following special counsel Robert Mueller's investigation, which could not establish that members of the Trump campaign conspired with Russia's election meddling, Schiff was quoted as saying that "undoubtedly there is collusion."
Every Republican leader on the House Intel Committee called on Schiff to resign as chairman. No word from First Lady Melania Trump on whether he should step down or if the "Pencil-Neck" tee should be given out at "Be Best" events.
Do you think the "Adam Schiff Pencil-Neck" t-shirts are Funny or Offensive? Vote and comment now…