'Trump Baby' Blimp To Fly Over London During POTUS Visit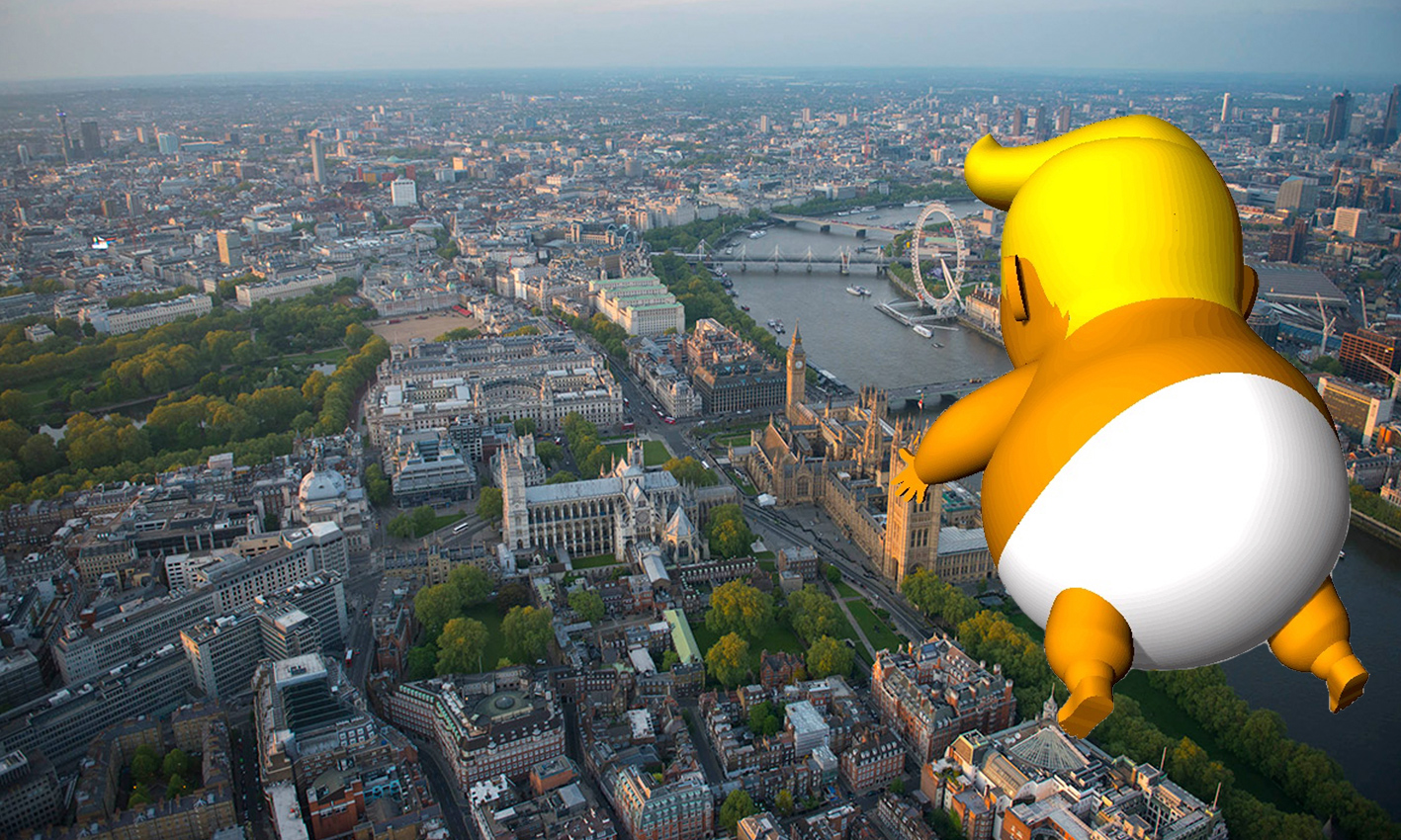 VOTE NOW! Is this Funny or Offensive?
Posted in:
Don't Look Up, Mr. President
July 5th, 2018 – As Americans were celebrating the birth of a nation on Wednesday, our friends across the pond were doing some rejoicing of their own over the birth of a Trump Baby blimp. The 19 ft. inflatable is now set to fly above Parliament Square Garden next Friday while President Trump is in England for a working visit.
London Mayor Sadiq Khan gave the green light to the orange balloon after nearly 11,000 petition signatures and £19,000 were gathered in support of a city-wide protest. The diaper-wearing, combover-styling blimp will fly for two hours in the morning hours of July 13th and will likely be the star of the "Stop Trump" march in Central London.
Parents, er organizers, of the Baby Trump blimp initially hit a wall with the Mayor's office when they hatched their soaring plan. They detail the battle with Khan's team on their online petition page saying that the mayor didn't view a flying Baby Trump as an actual protest. Baby Trump's team urged concerned citizens to sign the petition in an effort to help the politician realize the impact that this display could have.
"Donald Trump is a big, angry baby with a fragile ego," the copy begins. "He's also a racist demagogue who is a danger to women, immigrants and minorities and a mortal threat to world peace and the very future of life on earth. Moral outrage is water off a duck's back to Trump, but he really seems to hate it when people make fun of him.

So when Trump visits the UK on Friday the 13th of July this year, we want to make sure he knows that all of Britain is looking down on him and laughing at him."
Mayor Khan has had a publicly contentious relationship with President Trump over the past couple of years. The two had a war of words last year over Trump's botched travel ban and the response to a series of terrorist attacks in London. Khan has been vocal about his opposition to rolling out the red carpet with an official state visit for Trump but, he did initially push back on the use of mockery for his arrival.
"We didn't get off to the best start with the mayor's office over this, who originally told us that they didn't recognise Trump baby as legitimate protest," Leo Murray, who spearheaded the Trump Baby campaign, said. "But, following a huge groundswell of public support for our plan, it looks like City Hall has rediscovered its sense of humour. Trump baby will fly."
Fellow baby flyer Nona Hurkmans is also happy that the Mayor, in addition to thousands of other activists, recognize what this project is about.
"We are just a small group of friends who set out to use humour to take a stand against the rise of racist and fascist politics both here in the UK and over in the US," she said. 
The Trump Baby Crowdfunder site has raised so much money that they've decided to take the blimp on the road. With donations far exceeding their expectations, organizers have said that they plan on shipping the Trump Baby blimp wherever the U.S. President goes.
"We now plan to keep this crowdfunder rolling so that we can cover the shipping and helium costs to get #TrumpBaby to follow little Donald around the world, haunting his diplomatic engagements wherever he goes! #TrumpBaby can become a permanent feature of this dreadful Presidency, a constant, unmissable reminder of the contempt with which this embarrassment of a man is held by everyone outside of his deranged, bigoted base."
The actual Trump will follow up his London visit with a trip to Scotland so he can take in another round of golf on one of his courses.
Trump is going to London July 13. These activists are ready – with a giant, crowdfunded blimp of Trump as a baby. pic.twitter.com/EzqQboW85a

— VICE News (@vicenews) June 28, 2018
Will you be looking up to the sky with laughter or down to the ground in despair? Funny or Offensive? Vote and comment now…