Trump Campaign Wants To Sell You Space Force Swag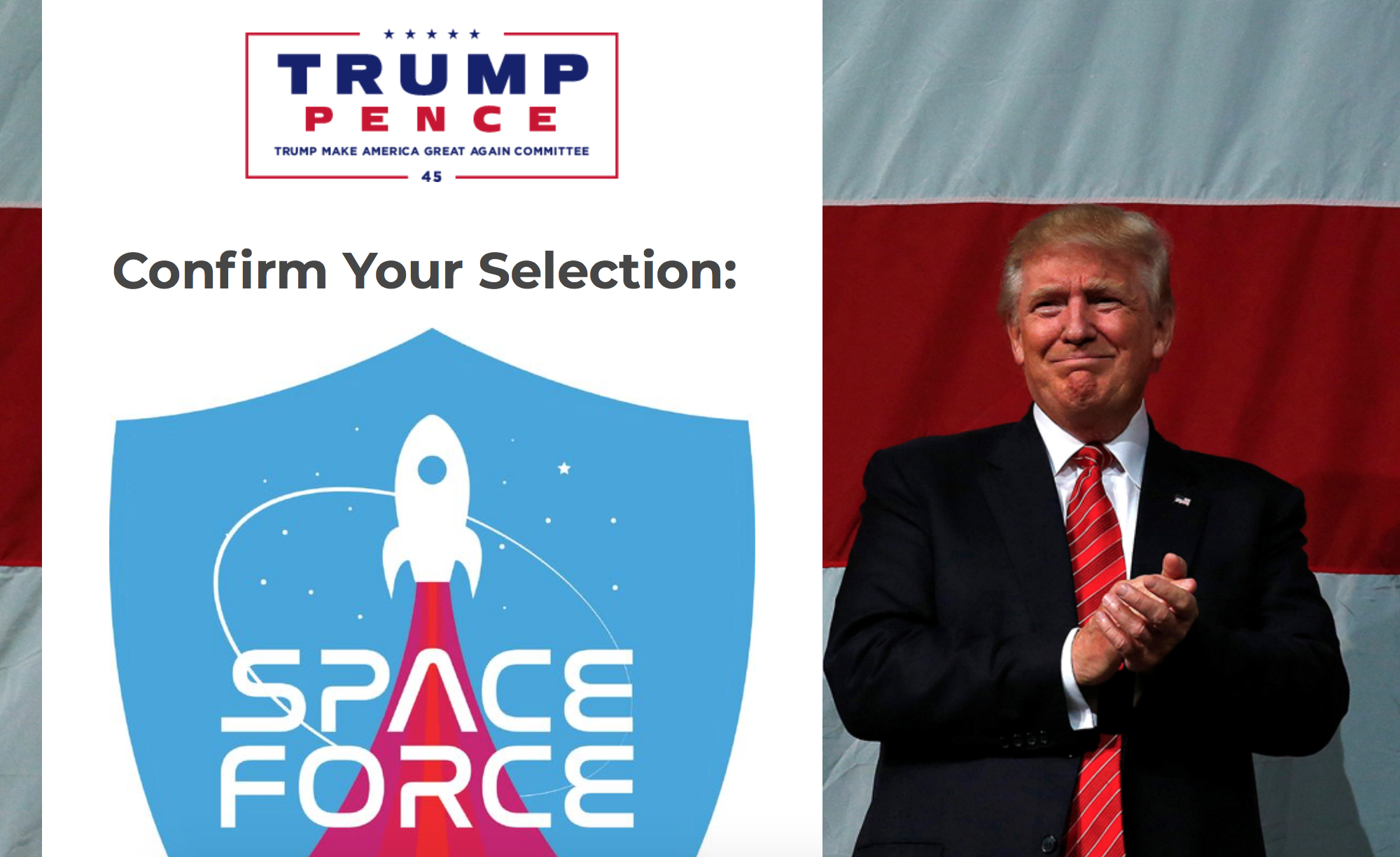 VOTE NOW! Is this Funny or Offensive?
Posted in:
Does The Cash App Work On Mars?
August 12th, 2018 – Vice President Mike Pence announced Thursday that the Trump administration is calling for the establishment of Space Force by 2020. The idea of creating the United States Space Command has garnered little support over the past few months, but Pence dutifully supported the president's wishes while speaking at the Pentagon. Or, perhaps, he was angling to be Command Module Pilot.
"The time has come to write the next great chapter in the history of our armed forces, to prepare for the next battlefield where America's best and bravest will be called to deter and defeat a new generation of threats to our people, to our nation," he told the audience.
Even with President Trump tweeting "Space Force all the way," there are still a number of steps that must be taken to create our nation's sixth branch of the armed forces. Most importantly, legislation would have to be passed by Congress, allocating $8 billion for space security systems to be implemented over the next five years.
Rolling their sleeves up to begin the work, the Department of Defense released a report detailing the first stages of the administration's plan while the Donald J. Trump for President, 2020 campaign reached out to supporters asking them to buy a new line of merchandise.
Brad Parscale, Trump's 2020 campaign manager, sent an email out asking people to vote for their favorite Space Force logo design.
"President Trump wants a SPACE FORCE — a groundbreaking endeavor for the future of America and the final frontier.

As a way to celebrate President Trump's huge announcement, our campaign will be selling a new line of gear.

But first we have to make a final decision on the design we will use to commemorate President Trump's new Space Force–and he wants YOU to have a say.

Vote for your favorite logo."
The Trump Make America Great Again Committee provides each email recipient with six logo options, and takes voters to donaldjtrump.com to confirm your selection.
Despite a misleading headline from Fox News Insider, former astronaut Scott Kelly shared his opposition to Space Force in an interview with Martha MacCallum. Fox News' coverage from the interview said that Kelly, who is a former U.S. Navy Captain and commanded the International Space Station, had "mixed reviews" of Trump's Space Force initiative saying it was a "good idea."
But if viewers watched the actual interview, Kelly was responding to MacCullum setting up the idea of not falling behind.
"The president obviously is passionate about this idea…he said he doesn't want us to fall behind China or Russia when it comes to potential warfare of any kind, cyber or otherwise in space," she said to Kelly. 
He responded by saying:
"Well, I think that is a good idea – not falling behind. You know, I also think we currently have a great capability within the US military and US Air Force and adding another layer of government bureaucracy to the tune of $8 billion initially is probably not a good use of our taxpayer dollars."
The veteran went on to explain that we actually used to have a space command, but in 2002 that division was put back into the Air Force because the program wasn't performing like the government had hoped it would.
"For me, when [Space Force] was mentioned, it was all kind of a head scratcher," he added. "We usually have experts that get together and discuss these things and panels; not just one person saying 'we should have a new branch of the military.' It's not logical. Today, we see that his campaign is gonna sell Space Force swag. To me, that tells you pretty much what the reason behind this was; it's political."
Scott's twin brother, Mark, who is also a retired astronaut and Navy Captain, seemed to echo similar sentiments.
Ex-NASA astronaut Mark Kelly on the Space Force: "The only person that I've heard say this is a fantastic idea is the Commander in Chief, the President of the United States. Everybody else says it's redundant, it's wasteful. We don't have the need out there right now." @MSNBC

— Kyle Griffin (@kylegriffin1) August 9, 2018
Mark Kelly: "This is a dumb idea. The Air Force does this already. That is their job. What's next, we move submarines to the 7th branch and call it the 'under-the-sea force?'" (via Business Insider) https://t.co/tK5c0QcZyy

— clevelanddotcom (@clevelanddotcom) August 11, 2018
And now we'll stay on Twitter, but turn our attention to those who aren't astronauts but have a lot of thoughts on Space Force and its money-making merch.
Another #SpaceForce community upload…is it #funny or #offensive?https://t.co/fNTvozNWHg via @IsItFOO#SpaceForce2020 #SpaceFarce #SpaceBalls

— IsItFunnyOrOffensive (@IsItFOO) August 10, 2018
Jeremy Piven's Twitter avatar should be the Space Force logo pic.twitter.com/UHvS2hCbak

— Jensen Karp (@JensenClan88) August 11, 2018
.@BorowitzReport: Pence Calls Space Force Necessary to Protect U.S. from Gay Aliens https://t.co/uAloBi68Ye pic.twitter.com/KhvW4ILWgx

— The New Yorker (@NewYorker) August 11, 2018
One of Trump's Proposed Space Force Logos Appears to be an Homage to Trump's Hair https://t.co/bECLUvysua via @TPM pic.twitter.com/fRxgHHGvIS

— Josh Marshall (@joshtpm) August 9, 2018
— Levi Gibian (@LeviGibian) August 9, 2018
If the Trump campaign's design for a Space Force logo looks familiar, that's because it is. pic.twitter.com/ZI6WnyqJm3

— Christina Wilkie (@christinawilkie) August 9, 2018
I explain below why Space Force's motto should be "Space, the final frontier…for Trump to exploit government for personal gain." @newsweek https://t.co/K4rMBr7n6i

— Norm Eisen (@NormEisen) August 10, 2018
One giant name in space, however, seems very on board with Space Force.
One giant leap in the right direction. #SpaceForce https://t.co/3ZAvB2Oex4

— Buzz Aldrin (@TheRealBuzz) August 10, 2018
What are your thoughts on Space Force joining the armed forces? Will you be buying Space Force swag from the Trump campaign or making Space Force jokes on Twitter?