Australian Golf Course Tees Up Naked Golfing Event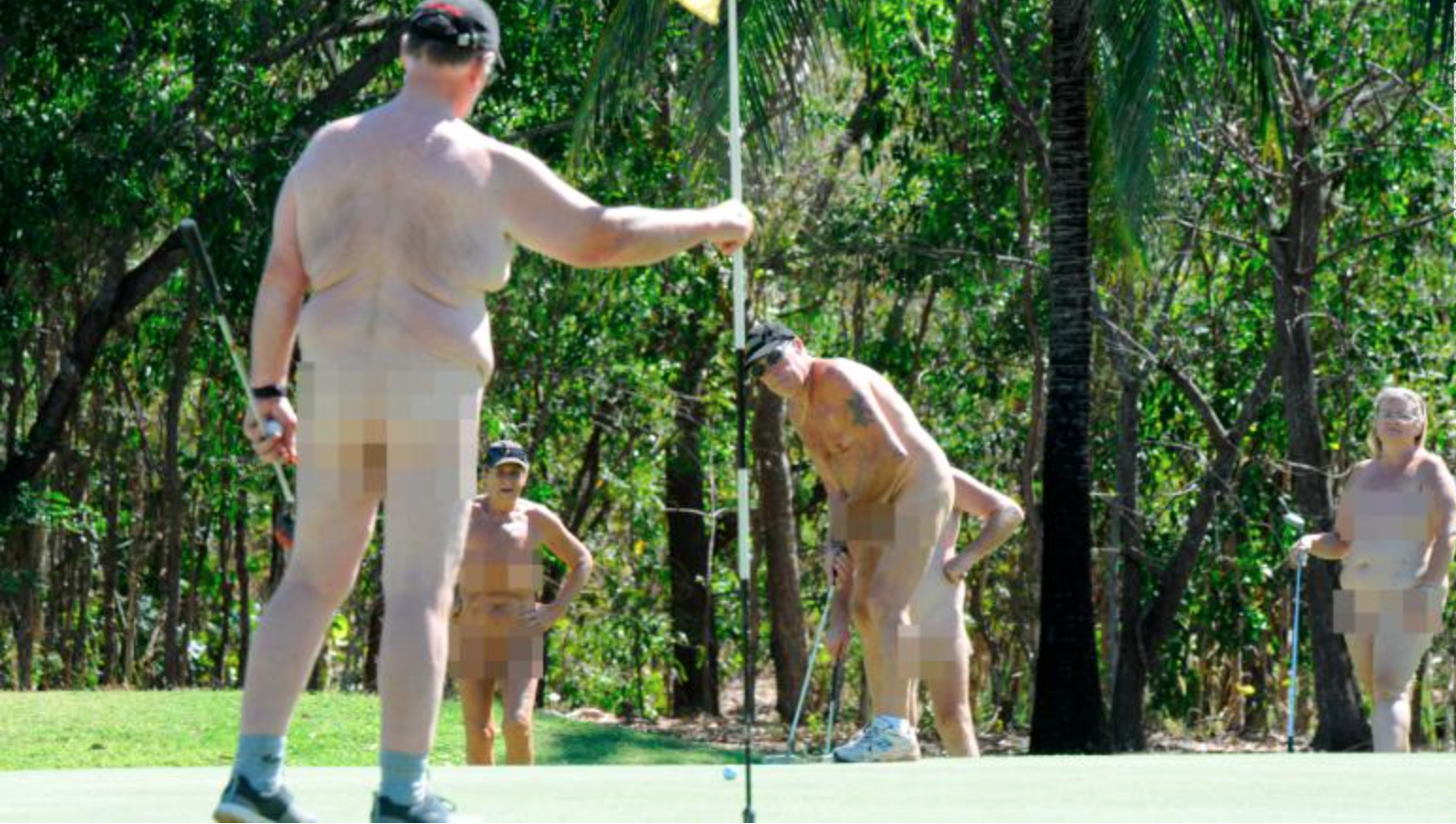 VOTE NOW! Is this Funny or Offensive?
Posted in:
A Fine Back Nine
August 8th, 2018 – We all know "suns out, guns out," but one Australian couple has reminded people that you can also carry out the phrase "suns out, buns out." 69-year-old nudist Bruce Jensen and his wife Julie spent several months coordinating with a golf club in northern Australia in order to host the "Wandering Bares Cup."
"We presented the event before the club committee, it took months of negotiating but they finally said we could play naked golf," Jensen told CNN Sport.
The couple runs the Brujul Nudist Retreat in Darwin and have organized the nude golfing event for three years.
"No need to kit out with the formal requirements of correct attire on the golf course just find yourself some clubs," the event description says on the Australian Naturist Federation page.
CNN reported that the event took place at the Humpty Doo Golf Course this year where management did put one stipulation in place. Since the eighth and ninth fairways are located by the clubhouse, naked golfers were asked to bounce straight on to the 10th hole.
"But as it was such a success, I'm going to push to play in those fairways next year," Jensen told CNN. "The clubhouse is keen and already trying to schedule us in for next year."
With naked golfers missing out on grabbing a bite at the clubhouse, Bruce and Julie stepped up to the plate. Included in the $65 ticket was lunch and dinner prepared by the barers themselves. The couple toasted some different buns for participants over the two-day event.
The pair has been involved in the nudist movement for several decades after Bruce checked out a nudist day at Dudley beach in his 20s. After a bit of convincing, his wife Julie got on board and the two have found a community of like-minded people that they see as family.
"Once you remove that last piece of material, you remove all of your inhibitions," he said.
Nudist activities are nothing new, whether in Australia or the United States. From naked gym classes to naked gardening, more people seem to be open to being, well, a little more open.
For the Jensens, they recognize that not everyone will want to participate (and if they do, they might run into new challenges e.g. chafing between your club bag and your skin), but Bruce remains thankful that he can play golf in a more liberated manner.
"It puts a different connotation on how you're swinging."
Bare, er, share your thoughts on naked golfing events! Funny or Offensive? Vote and comment now…