President Trump Laughs After Rally Supporter Suggests Shooting Migrants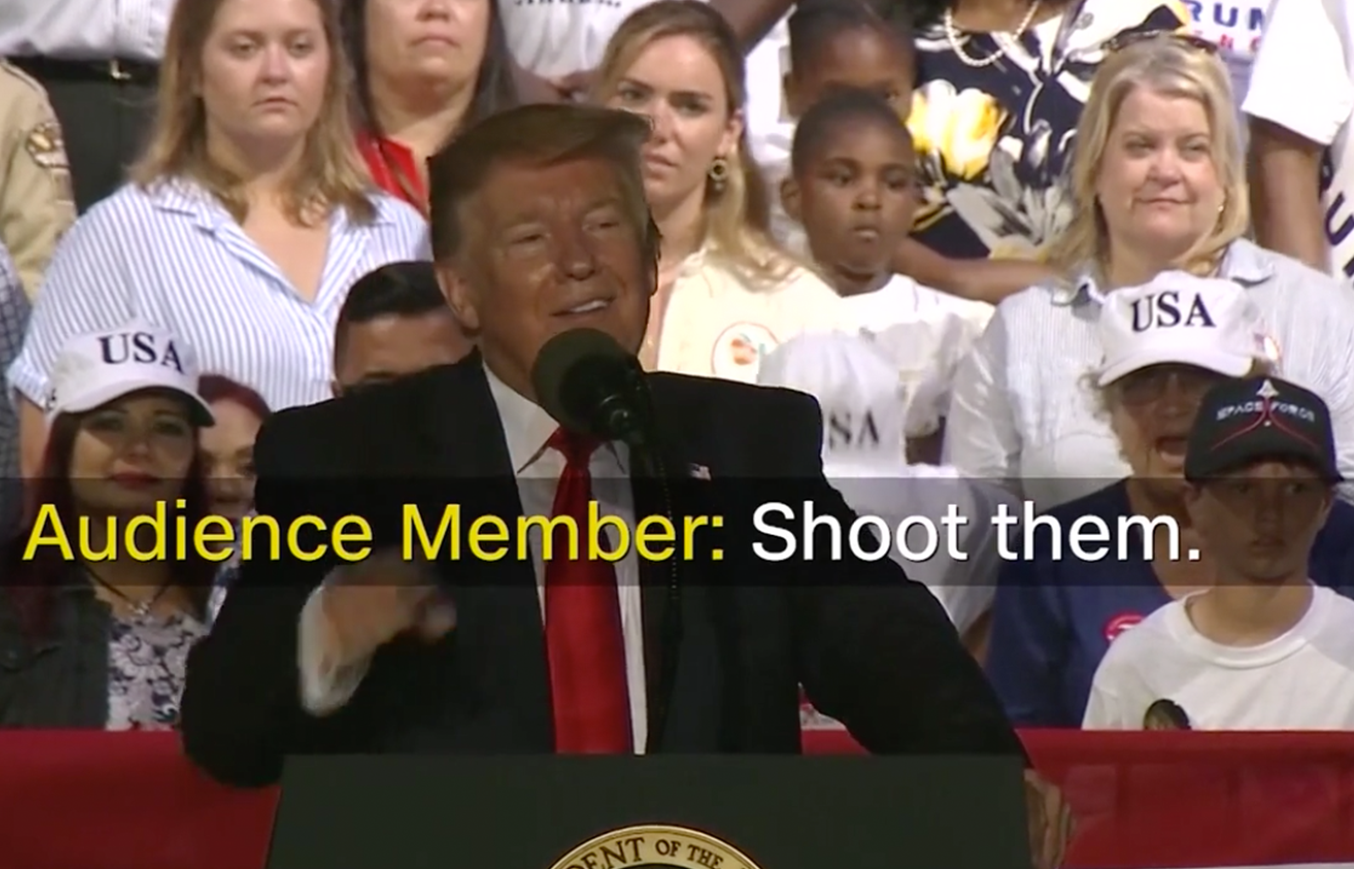 VOTE NOW! Is this Funny or Offensive?
Posted in:
"Only in the Panhandle!"

May 10th, 2019 – Donald Trump doesn't laugh at much but found material that worked for him during a rally in Florida Wednesday night. The president was in Panama City Beach speaking to a crowd of roughly 7,000 when the issue of migrants crossing the US-Mexico border came up.
Trump again laid out his defense for the border wall claiming that sometimes tens of thousands of migrants will approach the southern region where only two or three border agents are placed. Upset that human beings have legal protections, he wondered how we could deal with the situation.
One supporter in the crowd had a suggestion:
"Shoot them!" they shouted.
The idea made the President pause his speech and let out a laugh followed by a head shake. As the crowd ate up the remark with laughter, Trump recognized the area.
"That's only in the Panhandle you can get away with that statement. "Only in the Panhandle!"
Donald Trump jokes with supporters about shooting migrants at the border https://t.co/OPJUT3dN8U pic.twitter.com/74BH0FqVXy

— Newsweek (@Newsweek) May 9, 2019
While many critics saw this exchange as a troubling red flag, Trump campaign officials were quick to point out that the President first said that border agents didn't, and wouldn't, use guns against migrants. Matt Wolking, deputy communications director for the Trump campaign, responded to criticism on Twitter by quoting Trump's line before the "shooting" comment.
Trump said: "Don't forget, we don't let [border security agents] & we can't let them use weapons, we can't. Other countries do, but we can't. I would never let them do that. But how do you stop these [caravans of migrants with a couple agents]? You can't." pic.twitter.com/yhz15s5MRI

— Matt Wolking (@MattWolking) May 9, 2019
That defense, however, didn't fly with everyone. Opponents say that Trump's decision to riff instead of condemn the threatening comment gives permission to people to inflict violence on migrants.
"We're at the point where the President and thousands of supporters are laughing and cheering at the idea of shooting immigrants the same week militia groups were discovered to be actually considering it," liberal activist Jordan Uhl wrote on Twitter. "The logical next step is it actually happening."
Trump officials have long defended the president after his controversial moments surrounding suggested violence. Press Secretary Sarah Sanders, who recently admitted to Special Counsel Robert Mueller that she lied about hearing from disheartened FBI officials in regards to James Comey, has previously said that Trump has never encouraged violence.
"The president in no way, form or fashion has ever promoted or encouraged violence. If anything, quite the contrary," she said at a 2017 press briefing.
In 2016, Trump told a rally crowd "If you see somebody with a tomato, knock the crap out of them" after a fruit flying incident.
Do you think Trump's riff after the "Shoot them" migrant comment was Funny or Offensive? Vote and comment now…