Jokeback Mountain
October 17, 2017 – A recent article in The New Yorker alleges that President Donald Trump once "joked" that Vice President wants to hang all gay people. The profile on the Vice President hi-lights Trump's apparent custom of mocking Pence, especially when it comes to conservative issues like abortion and homosexuality. Citing two anonymous sources, during a conversation with a legal scholar about gay rights, the President motioned to Pence and joked:
"Don't ask that guy – he wants to hang them all!"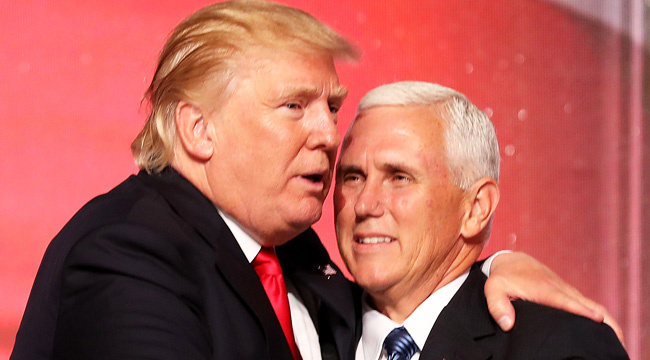 The vice president's spokeswoman, Alyssa Farah, said in a statement to The Indianapolis Star that The New Yorker story contains false statements:
"Articles like this are why the American people have lost so much faith in the press. The New Yorker piece is filled with unsubstantiated, unsourced claims that are untrue and offensive."
Not everyone was buying the denial:
Referring to #LGBTQ people, Donald Trump joked Mike Pence wants to "hang them all." That's not funny, that's evil. https://t.co/n4w3iSiLyZ pic.twitter.com/0uR8klf5Ga

— HumanRightsCampaign (@HRC) October 16, 2017
 You decide, was the President's alleged joke Funny or Offensive? VOTE and COMMENT now…
Share the love!